The Loop
Jordan Spieth makes another QUADRUPLE bogey at the Masters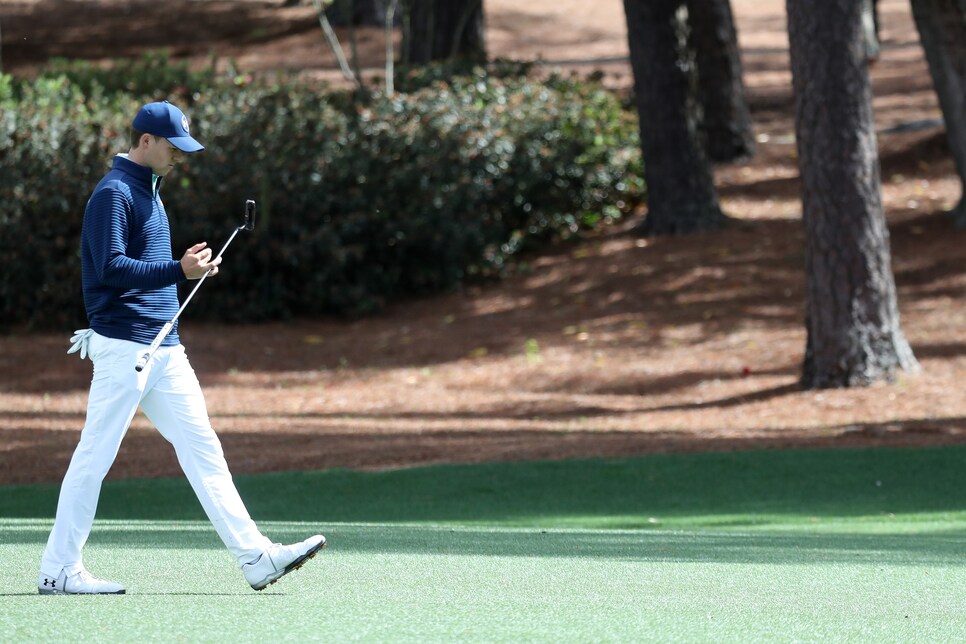 AUGUSTA, Ga. -- Before a disappointing Sunday last year, Jordan Spieth had led the Masters for seven consecutive rounds. But that remarkable run has given way to a troubling trend for the young star at Augusta National: Big numbers on the back nine. Really, REALLY big numbers.
Spieth was doing his normal Spieth stuff in Thursday's opening round, birdieing No. 13 (he made a solid par in his return to 12, by the way) to get to one under. A sloppy three-putt on 14 dropped him back to even, but he was still in great shape on a difficult scoring day. Until No. 15.
After laying up with his second shot, Spieth's approach came up short and spun back into the pond guarding the green. Not wanting to make the same mistake again, his fifth shot (after taking a drop) flew the green. From there, he chipped on and had a second straight three-putt. The damage added up to a nine, giving Spieth quadruple bogeys in consecutive Masters rounds.
"You think of it as a birdie hole, obviously being a par 5. And unfortunately I still thought of it as a birdie hole today and it really isn't, when you lay up. So I didn't take my medicine, and hit it about 15 feet right with a club that takes the spin off," Spieth said. "Instead I was stuck in the 15‑is‑a‑birdie‑hole mentality, and it kind of bit me a little bit. I struck the shot well, I just hit the wrong club. I struck it very solid, I used a club that would spin instead of one that would maybe take the spin off."
With the pin on the left side of the narrow green and most players hitting their approach shots off downhill lies, only 56 percent hit the green on Thursday. Usually one of the easiest holes, 15 played as the 6th-toughest in the first round.
Spieth birdied 16 and made a 10-footer for par on 18 to salvage a 75, his highest opening-round score at this event by four shots. The 23-year-old's chances of winning a second green jacket aren't finished -- although, no player has ever won the Masters in a year he's made a quadruple bogey -- he'll just have to do it in a different manner than when he led wire-to-wire in 2015.
"I think I learned a lot about the golf course today and the expectation for where to take advantage and where not to," Spieth said. "And the weekend it looks like there's going to be no wind. It looks something like single digits might win this tournament. And I certainly can post single digit under par at this point -- got three rounds to go."