News
Jordan Spieth is among friends and among leaders with opening-round 66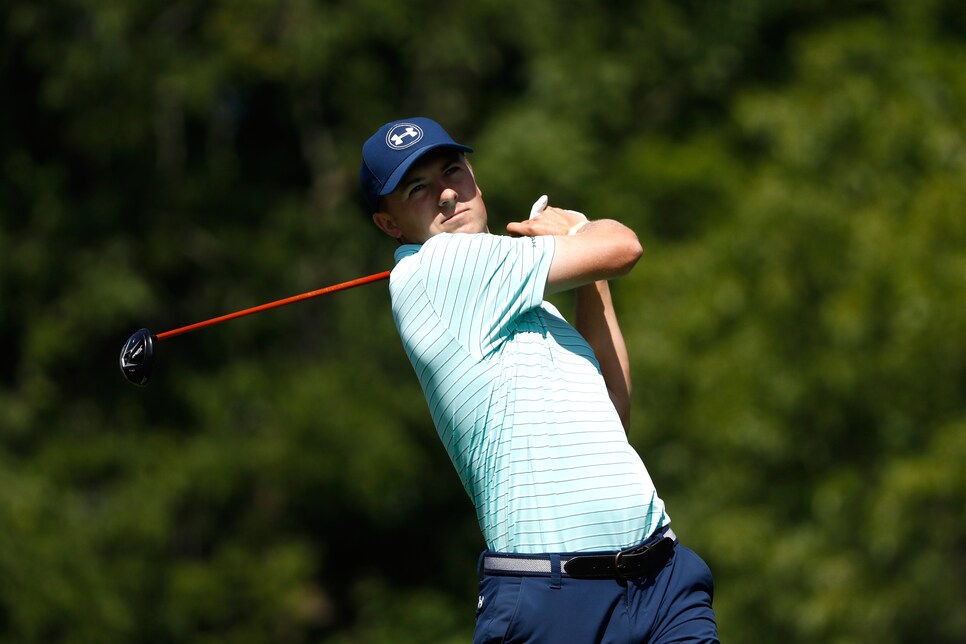 DUBLIN, Ohio – Golf's "Golden Child" is at it again.
Thanks to a slam-dunk birdie at the par-3 12th hole to begin his day and five birdies in his last eight holes at the end, Jordan Spieth began the 42nd Memorial Tournament Thursday with a six-under-par 66, his best opening round in relation to par in more than a year. The round also marked his second–lowest score at Muirfield Village Golf Club, following his closing 65 in 2015 that gave him his best finish in the Golden Bear's event, a share of third place.
Golden Bear. Golden Child. Hmmm. How is that synergy?
Spieth, who played his first Presidents Cup at Muirfield Village in 2013, trails 2015 Memorial winner David Lingmerth and Jason Dufner by a stroke, but his effort represents his best back-to-back effort since he shot 65-65 in the middle rounds on the way to winning the AT&T Pebble Beach Pro-Am in February, his last victory.
"We just stayed to the game plan," said Spieth, who has won just three times since finishing 2015 with two majors, the FedEx Cup title and the Jack Nicklaus Award as PGA Tour Player of the Year. "Knew we were playing well. Just needed to give myself opportunities.
"I felt like I scored the way I played today. I got an awesome break on my third hole today, number 12."
Yeah, about that. Spieth already has quite a reputation for holing out from off the green, but he pilfered a stroke at the 12th after missing the green long and finding the back bunker. The goal for his second shot was to keep the ball out of the water and within 15 to18 feet of the hole for a look at par.
"The last thing I said before I hit it was, 'The idea is to have the pin stop it.' And I hit it and it just landed right in the hole. I've never done that before. So that was awesome," Spieth, 23, said. "And I knew that I would immediately take crap from Kiz and Justin. Justin said he was so flustered he wanted Kiz to putt first. Because they already give me the nickname Golden Child, so they were feeding off that from that hole on."
Spieth was paired with good friends Justin Thomas and Kevin Kisner, winner of last week's event at Colonial. Earlier this year at the Tournament of Champions at Kapalua Resort, Spieth arrived at his parking spot at Kapalua Resort, the one reserved for the defending champion, and found "Golden Child" scribbled on his nameplate. The perpetrator was never identified, but Spieth suspected Thomas.
When the bunker shot disappeared into the hole at 12, Thomas buried his head in his hands. They had a fun day. Winner of three events this season, Thomas carded a 67. Kisner had a 70 as he comes down from winning his second tour title last week.
"Playing with both those guys," Thomas said, "you have to back off a little bit and get refocused, because you're joking around and trying to enjoy it, that you almost forget that you're in the middle of a golf tournament. There's times like that where it's difficult."
With his T-2 last week at Colonial, Spieth is emerging from a desultory stretch in which he missed the cut in his previous two starts, including his hometown event in Dallas, the AT&T Byron Nelson. A catalyst to his turnaround is returning to his trusty old putter after making an alignment adjustment in his putting setup. He gained 1.5 strokes on the field at Colonial.
On Thursday, on the slick and sloping Muirfield Village putting surfaces, he needed only 25 putts as he converted eight birdies against two bogeys. He came into the week averaging 29.64 putts in the first round, ranked 163rd on tour. Slow starts are hard to avoid when the ball takes longer to go into the hole.
"If you're gaining strokes on the field, you're going to have a chance to win tournaments," Spieth said with certainty more than ebullience. "And the last couple of rounds last week and the first rounds this week are very optimistic. We look forward to the rest of the week, and obviously, the U.S. Open."
Well, sure. If he continues to keep the scoring pedal down with the putter, the rest of the week could, turn out, well … golden.