News
Jordan Spieth has no trouble getting off to good starts. But can this one finally lead to a good finish?
Jordan Spieth plays his second shot on the 15th hole during the first round of 2020 Memorial.
Andy Lyons
"A day like today I can get a lot of confidence from," Jordan Spieth said Thursday after overcoming an early mishap to open the 45th Memorial Tournament with a two-under 70 at Muirfield Village Golf Club.
Spieth's uneven golf over the last few years makes one wonder if he truly feels this way or if he is trying to talk himself into such sentiment. For now, assume the former, because on a blustery morning in Dublin, Ohio, Spieth was relatively steady when a lot of his high-powered peers struggled. His score put him two off the lead after the morning wave wrapped up play. He deserved to feel buoyed by the effort.
The outing, which included an eagle, a double bogey, three birdies and a bogey, was especially important given the way he missed the cut last week at Muirfield Village in the Workday Charity Open, a result that dropped him out of the world top 60 for the first time since July 2013. Spieth hovered around the cutline throughout his second round but looked securely inside it with two holes remaining. But he played a poor bunker shot at the par-3 eighth hole, his 17th hole of the day, leading to a double bogey. He finished at even par; two under made the cut.
It was only the second time in eight starts at Muirfield Village that Spieth missed the cut, the other coming two years ago in the Memorial. Thursday's 70 marked the sixth time he has begun the Memorial with a sub-par round, and he did it on a setup considerably more exacting than a week ago when the greens were slower and the rough more manageable.
Spieth eagled the par-5 11th hole, his second of the day, converting from four feet after an approach from 211 yards. But he gave it right back when he doubled the par-3 12th by coming up short in the water.
He shook it off quickly with a birdie at No. 13 from 12 feet. Key moment.
"Yeah, I was fine," Spieth said of the miscue. "You go into a day like today, even when you know the golf course was going to be challenging, it's almost like going into a major championship. You've just got to be a prepared for a little bit of everything, and it felt like I stayed really cool after 12 and then moved on and made a nice birdie on the next. Hit my best drive of the day, hit a wedge in there and made about a 12-footer. When that one went in, it was really nice. I felt like I was playing under-par golf. I felt like I hadn't missed a shot, so it was nice to be under par and not still at even.
"Just knowing that the wind is going to pick up, you want to be a couple under making the turn there."
Spieth was seen working on the putting green at Muirfield Village on Sunday as the final round of the Workday Charity Open was being played. But it was his ball-striking that earned him a score that was tied for the third-best in the morning wave. He lost strokes to the field on the greens Thursday, but he was 3.882 in strokes gained/tee to green, which ranked second in the field in the early going.
"I think putting is as challenging as anything in these conditions," he said, noting how the wind and the increased speed of the greens from a week ago made things tricky.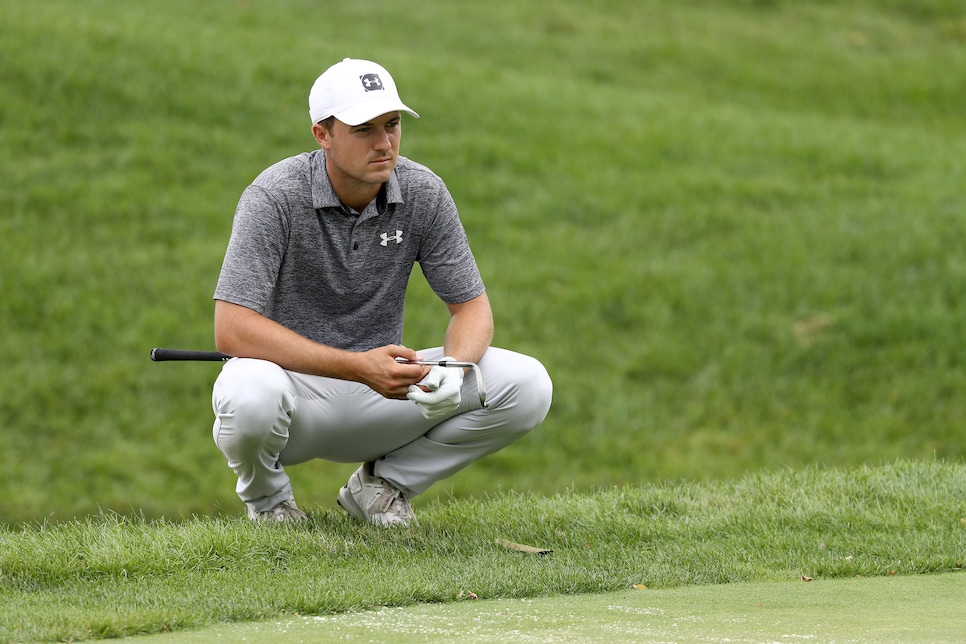 Jordan Spieth lines up a chip shot on the fourth hole during Thursday's first round at Muirfield Village.
Jamie Squire
He hit eight fairways and 12 greens and generally stayed out of trouble after the 12th. So, just maybe, he did have a reason to feel a little more confident about his game. He has worked hard to find a swing that is more reliable. It's still a work in progress. But he is encouraged.
"I've actually made a lot of progress. It may not kind of look like that via results, but I've made a lot of progress in how I'm seeing sight lines, committing to lines. … All in all, now it's just about trying to kind of find the timing element as I go up the bag. The rest of the game is starting to feel kind of back to normal, and I'm kind of piecing together my swing, but the timing element is what's kind of left for me. That just comes from on-course reps."
He's had plenty of reps this truncated season. Workday was just his second weekend off in 12 starts. Reps matter. But reps like Thursday matter more.