Sentry TOC
Jordan Spieth in contention at Kapalua after cracking his driver in pro-am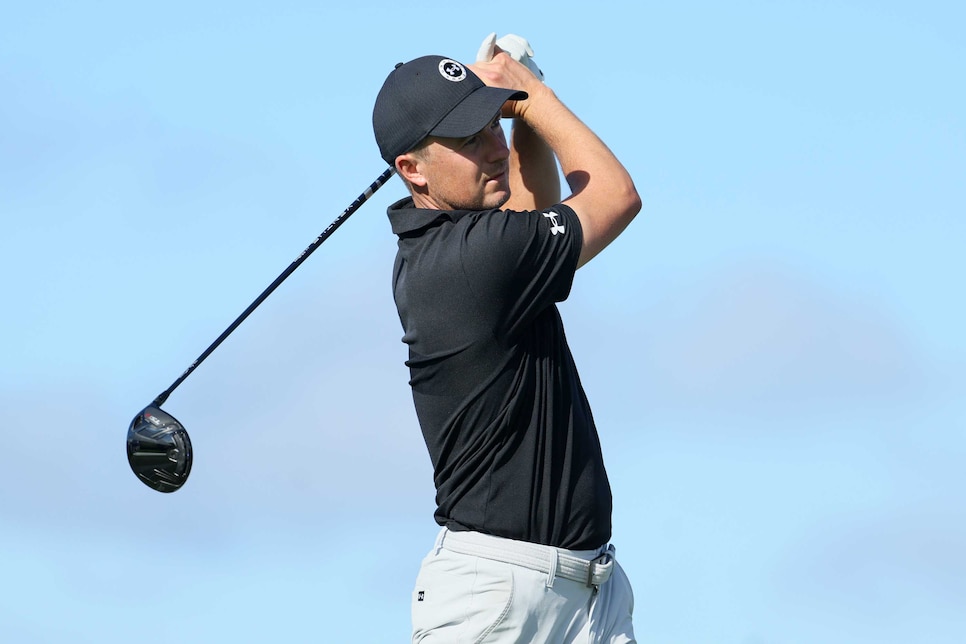 KAPALUA, Hawaii — Jordan Spieth is always going to do those "Jordan things," like he did on Thursday on the 16th hole at the Plantation Course at Kapalua Resort when he hit a sky shot from just outside of a greenside bunker and watched the high-risk flop find its way into the cup.
He ranked it among the top 10 in difficulty, and "I guess, top 10 cool shots for me, maybe, that I've hit." Which is saying something when you think about all of the cool shots Spieth has executed around the greens in his career—or off the edge of canyons, etc. (See Pebble Beach, 2022.)
Cool also is what he is pulling off through two rounds of the Sentry Tournament of Champions. Winner in Maui in 2016, Spieth has put himself in contention through 36 holes after a second-round seven-under 66 on Friday that featured eagles on two par-5 holes, the fifth and the 15th. At 13-under 133, the three-time major winner sits in fourth place and trails leader Collin Morikawa by three strokes.
Spieth is doing this in the most unconventional manner, well, at least for him. Always reasonably long off the tee but not among the players who are thought of as bombers, Spieth is among the leaders in driving distance, ranking sixth in the field with an average of 314.9 yards. He is ninth in strokes gained/off the tee.
In Thursday's opening round, he raised eyebrows by walloping his drive on the iconic par-5 18th hole 392 yards, longest of the day.
Here's the kicker: he's doing that with a spare driver. Spieth cracked his game club during Wednesday's pro-am, and though he's making it work so far, the Texas native isn't comfortable with the replacement. He was testing drivers after Friday's round, mostly because he's missed 17 of 30 of the very wide Plantation Course fairways.
"I'm still looking for a keeper," he said after returning from the range late Friday afternoon.
As for whatever length he's found, Spieth said his ball speed off the driver has increased the last year, though not intentionally. He also admitted that he has put on a few pounds of muscle in the last year, so that might be a contributing factor as well.
Whatever the case, his two eagles on Friday were the result of strong tee-to-green play. The total combined length of his two eagle putts was 9 feet, 11 inches.
And, of course, he still is short-gaming his way around, too, ranking second in strokes gained/around the green.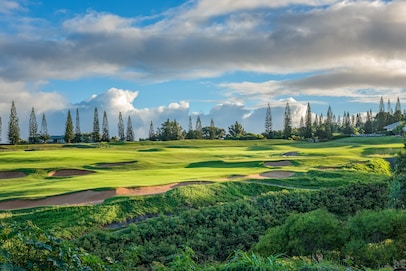 From Golf Digest Architecture Editor emeritus Ron Whitten: Most golf fans are familiar with Kapalua Golf Club's Plantation Course, home of the PGA Tour's opening event each year. Located on the north shore of the Hawaiian island of Maui, the Plantation was built from open, windswept pineapple fields on the pronounced slope of a volcano and is irrigated by sprinklers pressured solely by gravity. As the first design collaboration by Bill Coore and Ben Crenshaw, it unveiled their joint admiration for old-style courses. The blind drive on the fourth, the cut-the-corner drives on the fifth and sixth are all based on tee shots found at National Golf Links. So, too, are its punchbowl green and strings of diagonal bunkers. It's also a massive course, built on a huge scale, Coore says, to accommodate the wind and the slope and the fact that it gets mostly resort play. So it's a big course.
But what sets it apart in my mind are the little things. When I played the course years ago with Coore, it took only one hole for me to appreciate one of its subtleties. We were on the tee of the par-3 second, an OK hole but nothing riveting, nothing like the canyon-carry par-3 eighth or the ocean-backdropped par-3 11th. The second sits on a rare flat portion of the property. The green sits at a diagonal, angling left to right, and there's a string of bunkers staggering up the right side of the green. I suppose a lot of present-day architects would not have placed that forwardmost bunker on the hole, in the interests of playability for high-handicap resort golfers. But most of the old-time architects probably would have used such carry bunkers, especially in the days before irrigation, when greens were hard as a rock and every approach shot had to be bounced aboard. Another reason why studying the history of architecture might just help your score.
View Course
Coming off a 5-0 performance in the Presidents Cup, Spieth, 29, seemed primed for the new season, and here he is on a layout he considers among his top five favorites outside of the majors with a chance to add to his total of 13 PGA Tour titles.
Of course, there's still plenty of work to do. He won seven years ago shooting 30 under par. It might take something that low again. He sounded like he was up for it.
"I just love … you know, it's probably my favorite resort course that we play," he said. "Because it can still be a challenge with the wind. And when it's not, it's fun to play. It's scorable, but it's fun. You still have to hit nice shots. You still have to make putts. To shoot 30 under, for me I'm not a big … like [it] has to be 10 under to be a great golf course winning score. I think if it requires you to hit quality golf shots and there's not too many freebies. I think this one does that."
Well, we know he has the shots. Whatever clubs he's using.