Absolute Scenes
Jordan Spieth explaining the arrest of Borat on the 17th hole has us feeling a sense of normalcy again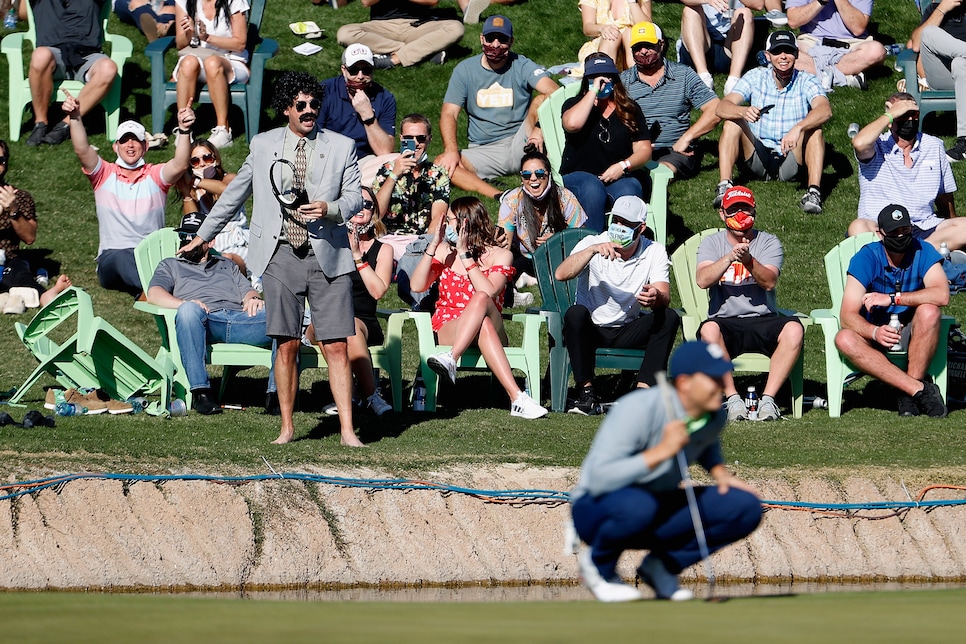 Jordan Spieth's third-round 61 at TPC Scottsdale featured everything a peak Jordan Spieth round used to deliver. The bounce-off-the-walls energy, the conversations with his golf ball, the wayward drives and subsequent escapes, and the long putts dropping from everywhere. The fact fans were on hand to enjoy it was a nice bonus, and had everyone feeling a sense of normalcy again.
The signature moment, which all the great Spieth rounds produce, came at the short par-4 17th, where he bailed out right off the tee, then safely chipped one on to 30 feet. As Spieth stalked a potential third straight birdie, a fan across the pond had fallen out of his chair, which caused quite a ruckus. Spieth, of course, went on to bury the putt, then immediately pointed at the guy like he pointed at caddie Michael Greller to "go get that" back at the 2017 Open Championship. Many began to wonder who exactly he was pointing at. He explained in his post-round press conference.
"17, yeah, the guy's chair broke," Spieth said. "And so it broke and he fell backwards and everyone went nuts. We were all laughing. So then I was laughing a bunch, got back into my putt, and when I made it I was pointing at him. I didn't realize he was getting arrested at the time because I hadn't seen him since he fell out of the chair.
"I looked up and he was getting arrested, so when I pointed at him it got him going even more, which was not the plan. I thought he was going to just yell louder. Then they wanted him to jump in the water and then he was trying to and resisting. I don't know what happened overall."
One of Spieth's playing partners, Billy Horschel, still had a birdie look of his own. "I told Billy I felt horrible that he still had to putt when that was happening in his through-line. That wasn't my intention. I thought he was just standing out of the chair that he was sitting in when it broke. But he was dressed like Borat I think, so definitely came to have a good time.
"I don't think he's having a great time right now. That was an unfortunate set of circumstances."
The fan in question was, indeed, dressed like Borat. Here are a few A+ pictures from Getty: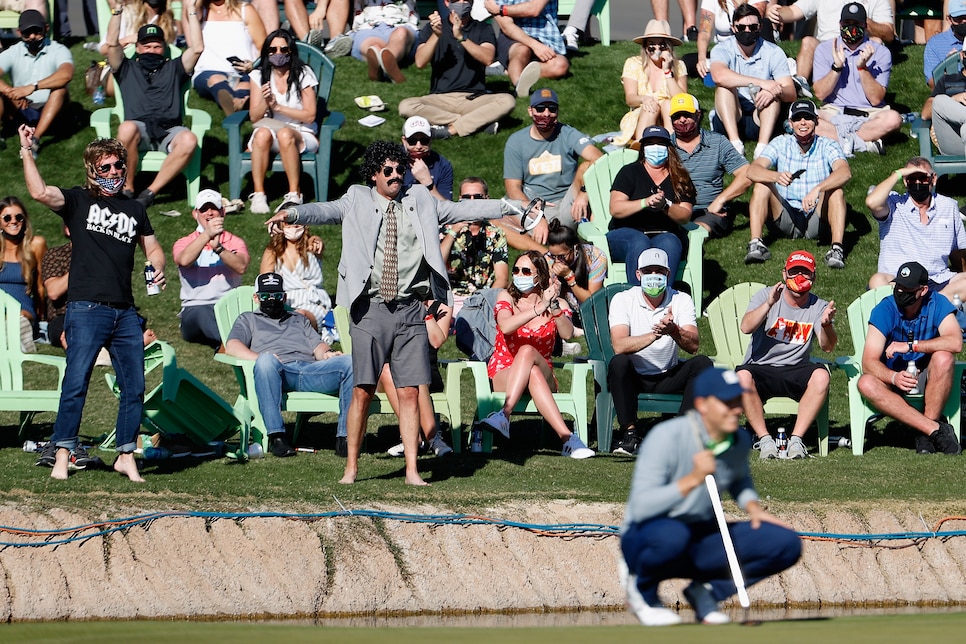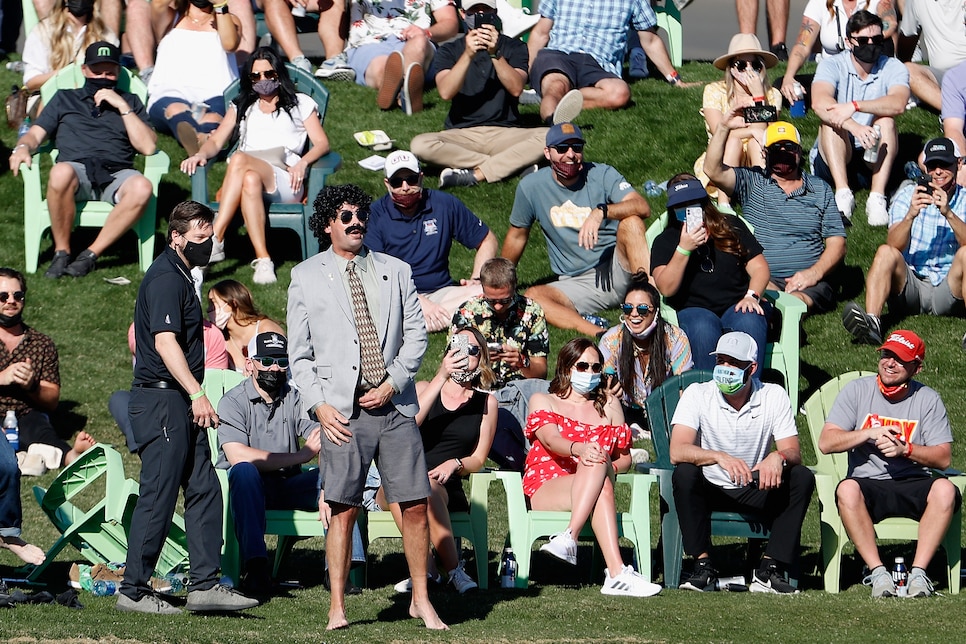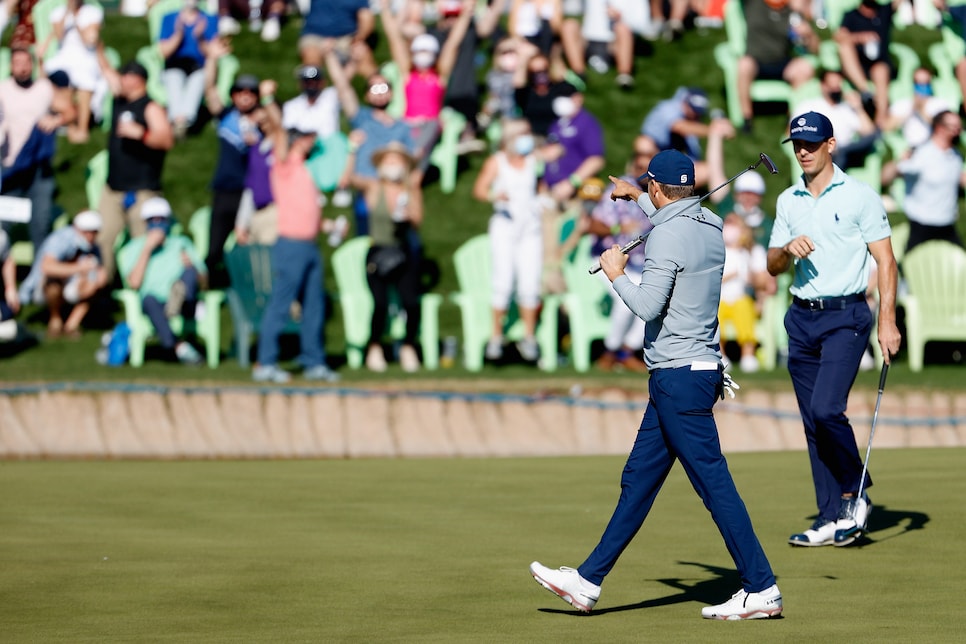 Here's the full sequence, captured by @FantasyGolfPod on Twitter:
Jordan Spieth draining BOMBS and pointing to drunkards dressed in costumes at the Waste Management Phoenix Open is as close to normal we've been in a long time.