The Loop
Jon Rahm's big hugs, Tiger Woods' Torrey Pines return, and Luke Donald goes fishing with Michael Jordan
Welcome to another edition of The Grind, where we're embarrassed to say we actually believed the Jags were going to beat the Patriots. Thanks a lot, John Malkovich. While this Giants fan tries to find some reason to get excited (read: some gambling angle) for a Super Bowl between the Patriots and Eagles, I'm at least glad this year's break before the big game allows another sporting event to get the full spotlight it deserves. Tiger Woods is officially returning to the PGA Tour, folks. And golf fans don't need any fancy teaser by CBS to get us hyped to watch.

That said, we wouldn't mind CBS pulling out all the stops to promote its weekend coverage at Torrey Pines. Provided, of course, Tiger Woods makes it to the weekend. OK, here's what else has us talking.
Jon Rahm: A year ago, Rahm arrived at Torrey Pines ranked No. 137 in the Official World Golf Ranking. Now he's all the way up to No. 2 following a playoff win over Andrew Landry at the CareerBuilder Challenge. Amazing. In addition to Rahm's golf game, we're also buying Rahm's reactions: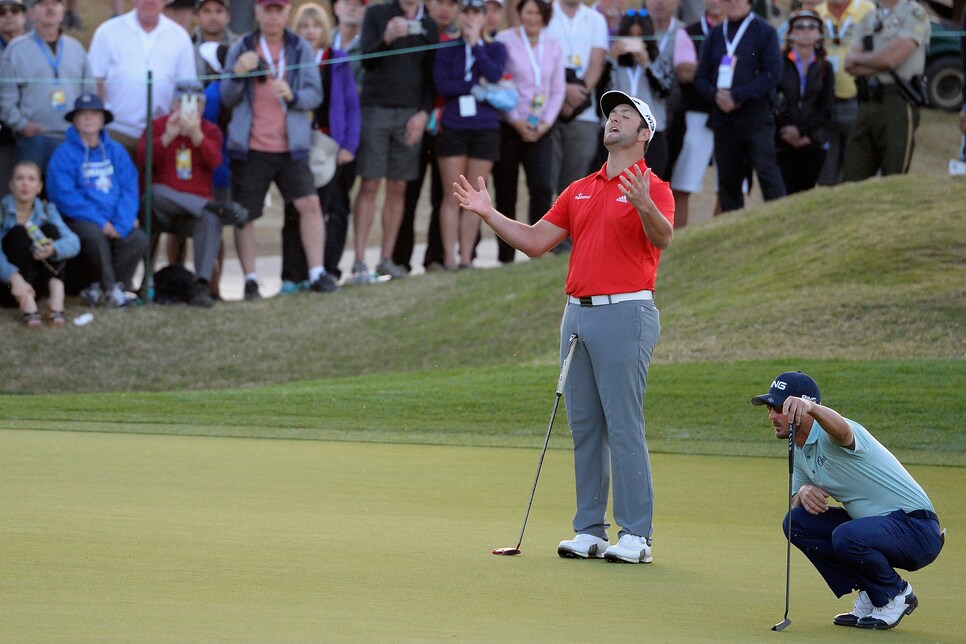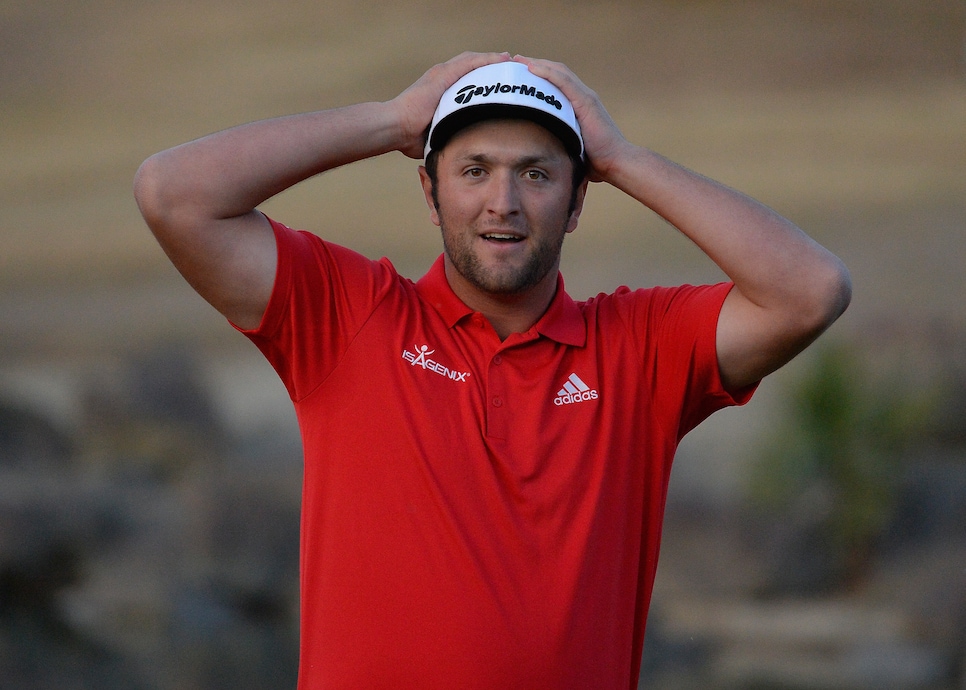 I needed one of those after that finish to the AFC Championship Game . . .
Tommy Fleetwood: While Rahm drew most of Sunday's headlines, Fleetwood actually authored the more impressive victory. Facing a star-studded final round leader board and some serious wind, Fleetwood fired a back-nine 30 to win the event for a second straight year, climb to a career-high 12th in the OWGR, and lock up his spot on the Ryder Cup team. Not that he hadn't already. Look at his phone case, which features captain Thomas Bjorn:
Team Europe: How about the week Thomas Bjorn's team had? We already mentioned Rahm and Fleetwood, but Rory McIlroy (T-3) looked sharp in his return after a long layoff, and Sergio Garcia won by five shots in Singapore. This has a lot of people talking. "Europe is firing on all cylinders!" "Europe is peaking too early!" Of course, the only right answer is we're making judgements way, way too soon.
Rooftop mini golf courses: Check out what a psychology professor at UMass had installed on the roof of her Jersey Shore vacation home in order to get her kids to visit more: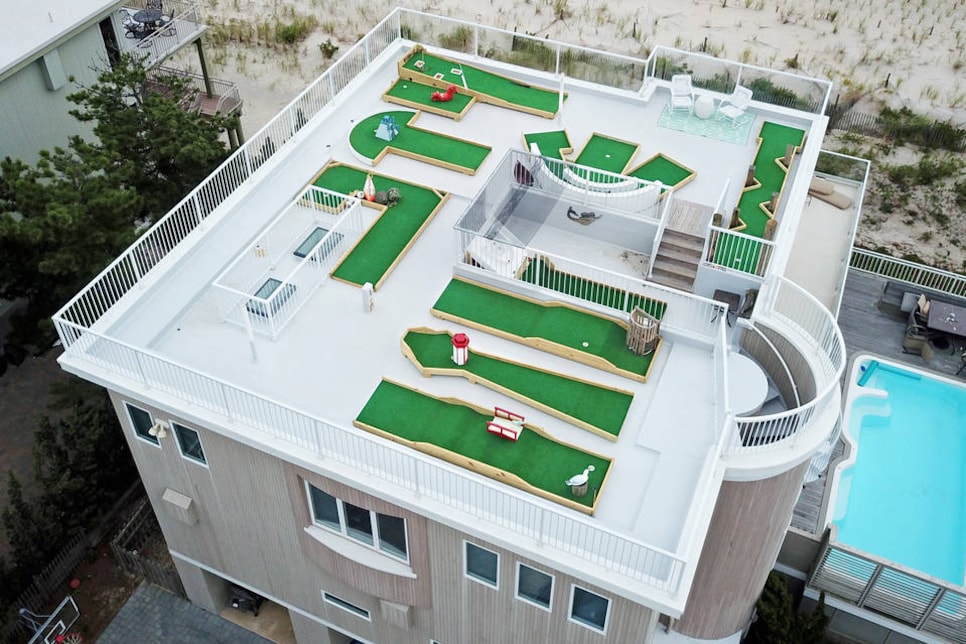 Talk about a brilliant mind trick.
People warning Team USA: Rory McIlroy said the 2018 Ryder Cup "won't be as easy as they think," and our John Huggan penned a column titled "The Americans should be careful what they say about the Ryder Cup. It could come back to haunt them." Yes, there's a general feeling that the balance of power has tilted to the Americans and there was one hyperbolic column by Alan Shipnuck that declared the event decided for the next decade, but who exactly on Team USA has said anything of the sort? Stop being such instigators, guys. Actually, on second thought, keep it up. It's fun.
Brooks Koepka's wrist: Meanwhile, American golf didn't have such a great week, lowlighted by Koepka's announcement that a torn ligament in his wrist will keep him out a couple of months. After a nine-shot win in Japan in November, I chalked up Koepka's subpar performances in the Bahamas and Hawaii to perhaps a bit too much fun in the sun. My bad, Brooks. Here's hoping you're back in time for the Masters.
Curtis Strange: We get the temptation to take the younger generation to task on certain things (flat brims, for one), but this was a bit much:
There's nothing wrong with giving guys the silent treatment – something that obviously worked for the two-time U.S. Open champ and Hall of Famer – but to each his own. If talking helped both guys play so well under pressure, good for them. And it certainly didn't take anything away from the fiery Rahm's competitive spirit.
The PGA Tour heads to Torrey Pines for the Farmers Insurance Open, AKA the next installment of THE TIGER COMEBACK TOUR.
Random tournament fact: Tiger Woods has won at Torrey Pines EIGHT times as a pro, including the 2008 U.S. Open. This fact won't be so random once you hear Jim Nantz say it for the 317th time this weekend.
RANDOM PROP BETS OF THE WEEK
-- Tiger Woods will win this week: 40-to-1 odds (Actual bet)
-- Tiger Woods will make the cut this week: 1.1-to-1 odds (Actual bet)
-- We will see a LOT of replays of that famous putt on 18 in 2008: LOCK
Yep, that's a giant gator and a large python hanging out on a golf course. Good luck sleeping tonight.
Note to golf architects: If you're going to put devilish 20-foot-deep bunkers on your course, the least you can do is make going in them fun:
Yeah, yeah, cue the "sliding into DMs" jokes. More importantly -- and impressively -- Grayson hit his ensuing bunker shot to two feet.
"So far I've only lost against Superman this year." – Jon Rahm on his win and runner-up to Dustin Johnson to start 2018. We love listening to this guy as well.
THIS WEEK IN TOUR PROS LIVING THE LIFE
Luke Donald is so cool (that's not a joke) that when he posts photos after fishing with Michael Jordan, he doesn't even mention MJ:
THIS WEEK IN TOUR PROS BEING FRUGAL
Zac Blair is still buying golf shoes on eBay:
Not that there's anything wrong with that. . .
THIS WEEK IN DUSTIN JOHNSON-PAULINA GRETZKY TOUR PROS PUBLIC DISPLAYS OF AFFECTION
More like "This week in tour pros taking advantage of tropical tournament locations to get engaged." Tommy Fleetwood popped the question in the Bahamas after the Hero World Challenge in December and the Web.com Tour's Mike Johnson used the same location to do the same following a T-9 in his first event of the season:
Congrats, Mike. Both on the T-9 and the engagement.
Jerry Kelly beat Colin Montgomerie thanks to a two-shot swing on the final hole at the first event of the PGA Tour Champions season. He needed that with Wisconsin basketball having a rare down year. . . . Sung-Jae Im became the second-youngest winner in Web.com Tour history. Considering the youngest is Jason Day, he's in good company. . . . Former nuclear missile operator Tom Whitney finished T-7 at the CareerBuilder Challenge. We're guessing the pressure of making a cut isn't as great has having the fate of the world in your hands. . . . And finally, an important soda PSA: The new Diet Coke "Feisty Cherry" is surprisingly good: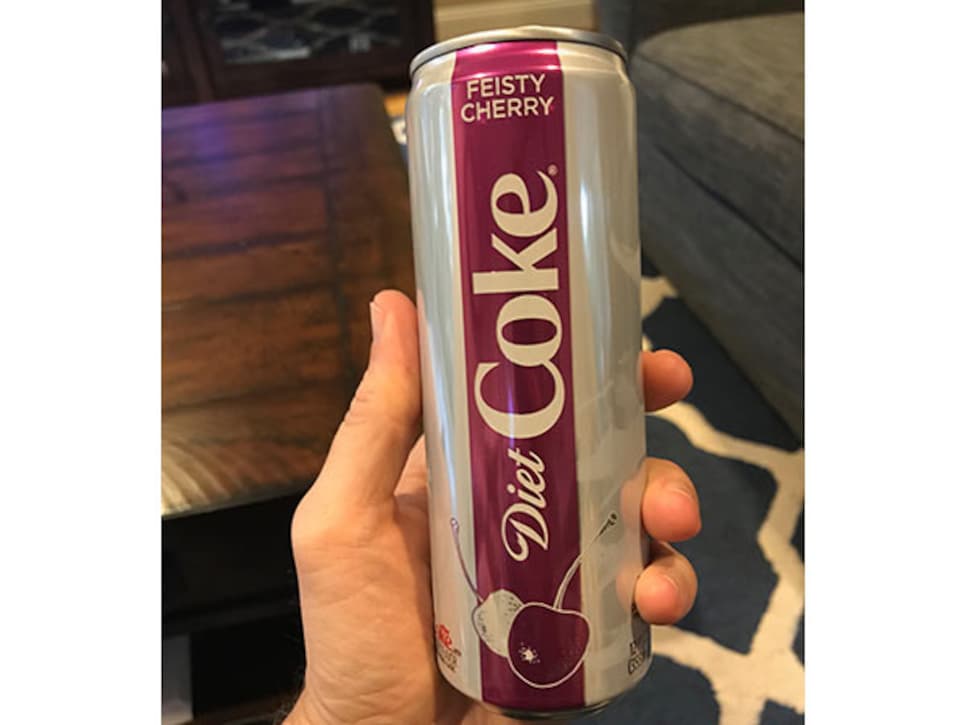 No, it's not as good as the GOAT of diet sodas, Cherry Zero, but it's a nice alternative.
RANDOM QUESTIONS TO PONDER
Is Coca-Cola thinking about phasing out Cherry Zero?
How has John Malkovich never won an Oscar?
How much should I bet on Tiger making the cut this week?