News
The Americans should be careful what they say about the Ryder Cup. It could come back to haunt them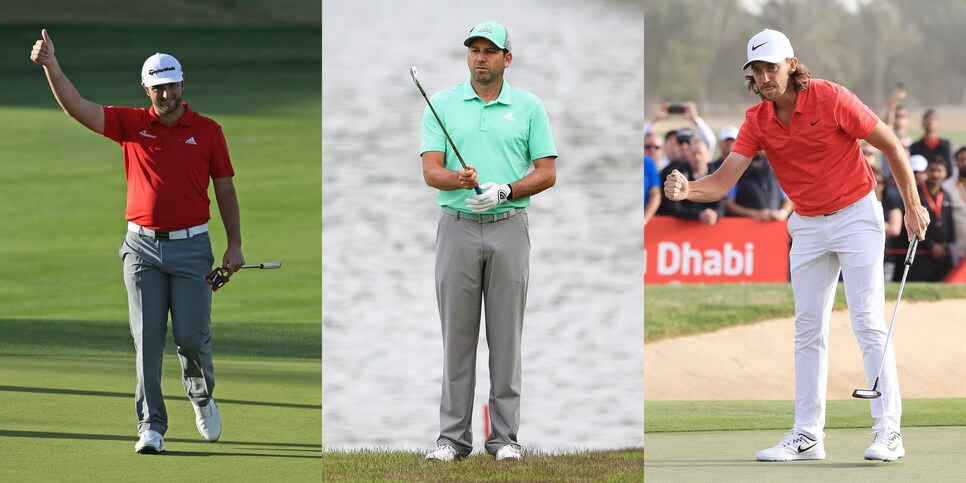 Photo By: Getty Images (3)
ABU DHABI — Not long after Tommy Fleetwood's repeat victory in the Abu Dhabi HSBC Championship, claimed on the same day that Jon Rahm won at the CareerBuilder Challenge and Sergio Garcia emerged triumphant at the Singapore Open, making it a sweep for European around the globe, Rory McIlroy was quick to pay tribute to the hirsute Englishman's play and future in the game.
"Tommy is a great addition to the world of golf, a great addition to the European Tour and he'll be a great addition to the Ryder Cup team in September," said the Irishman in the wake of his own T-3 finish.
In the day and weeks that followed the U.S. team's utterly predictable win over a clearly inferior International squad in last year's Presidents Cup, it appeared to many in Europe that too much was being read into events at Liberty National. Maybe it was the inspirational presence of the Statue of Liberty. Maybe it was the conclusive manner of the American's victory over a team that, whisper it, did not come close to playing to its limited capabilities. Maybe it was just the relief of winning. Whatever, the clearly talented but still mostly callow nephews of Uncle Sam were suddenly being touted as maybe the greatest golf team of all time, one the poor old Euros couldn't possibly hope to defeat.
To those with clearer heads, it sounded a bit much to assume about a group of lads who remain untested in the Ryder Cup's most demanding arena. Sure many of them performed well at Hazeltine National when the Americans came out on top for the first time since 2008. But until the U.S. team has won away from home—something an American side has not done in a quarter of a century—in a hostile environment on a course the opposing players will know very well, then the likes of Jordan Spieth, Justin Thomas, Dustin Johnson and the rest have merely the potential for Ryder Cup greatness. Right this minute, hailing them as better than, say, the 1981 U.S. team that contained 11 past or future major champions, does seem more than a bit fanciful.
All of which has provoked much sniggering in the Old World. While none of Europe's best have commented publicly (they know better), it is a fact that the waves of hyperbole over the last few months have done nothing but increase the determination of the home players to see off those pesky colonials come September.
Which is probably the last thing American captain Jim Furyk wants to hear. A seasoned campaigner who has suffered more than most in close-run Ryder Cup matches, the former U.S. Open champion will surely be hoping his charges can contain their enthusiasm for trumpeting their own talents over the next few months and, not to put too fine a point on it, shut up and play.
Besides, the European team that will tee-up at Le Golf National is already shaping up to be considerably stronger than the relatively hapless bunch that played in Minnesota in 2016. The numbers do not lie. As of this morning, nine Europeans are ranked amongst the world's top-20 golfers. Only eight hail from the United States.
A solid core remains in the shape of European major champions McIlroy, Garcia, Henrik Stenson and Justin Rose. Throw in Rahm, Paul Casey, Fleetwood and Tyrrell Hatton, and skipper Thomas Bjorn is right to (privately) feel a bit bullish about his team's chances of victory.
As should be clear from all of the above, the 2018 edition of golf's most anticipated contest is more than likely to be close. Let's hope so. In our game there is nothing more exciting than a Ryder Cup that comes down to the last few singles matches on Sunday afternoon.
Now, can we all just stay calm and wait for it all to unfold? Geez …