RAHM ON MICKELSON
Jon Rahm on Phil Mickelson's latest swipe at the PGA Tour: 'I truly don't know why he said that'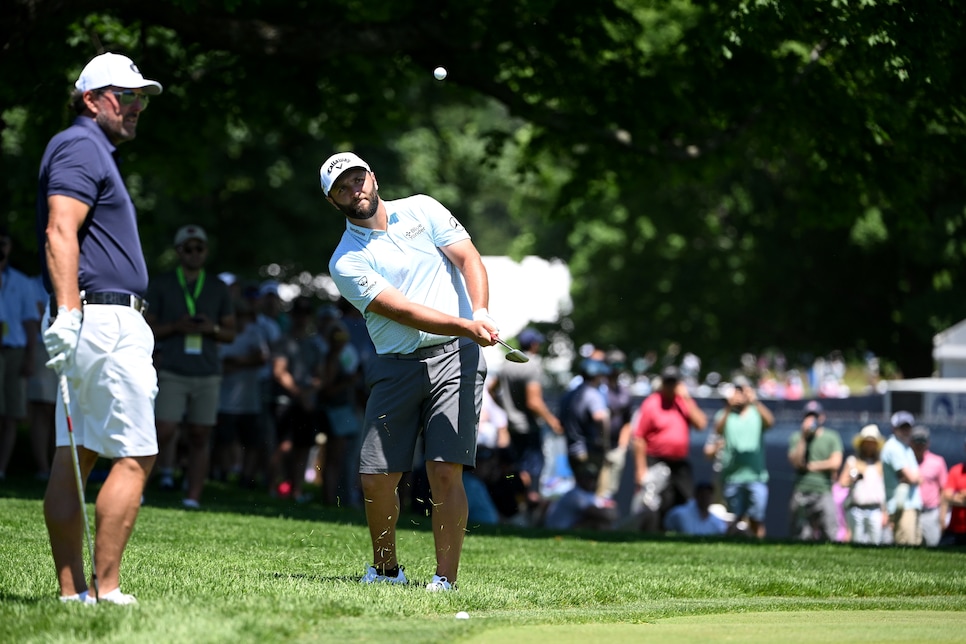 RIDGELAND, S.C. — Jon Rahm and Phil Mickelson are friends, despite Rahm remaining on the PGA Tour and six-time major winner Mickelson joining LIV Golf. They have been tight since first meeting when Rahm was playing college golf at Lefty's old stomping ground, Arizona State. Mickelson's brother Tim was ASU head coach at the time.
Rahm has been outspoken in his defense of Mickelson. In April, after Mickelson made inflammatory comments about Saudi Arabia financiers of LIV and also the PGA Tour, Rahm said Mickelson's legacy "shouldn't change because of a couple of comments."
But on Tuesday, Rahm took umbrage with Mickelson and criticism he threw at the PGA Tour last week ahead of the LIV Invitational series event in Saudi Arabia. Mickelson said that the amount of top players defecting to LIV indicated LIV was "trending upwards [while] I see the PGA Tour trending downwards and I love the side that I'm on." LIV's biggest signings to date have included World No. 3 Cameron Smith, Brooks Koepka, Dustin Johnson, Bryson DeChambeau and Joaquin Niemann.
Rahm, never one to mince his words, wasn't having any of Mickelson's remarks.
"I love Phil, but I don't know what he's talking about," Rahm said Tuesday at Congaree Golf Club, site of this week's CJ Cup. "Changes don't necessarily mean trending downward. There are some changes being made, but it doesn't necessarily mean it's going down, right? I truly don't know why he said that."
The changes Rahm was referring to were three significant moves the PGA Tour made to combat the growing threat of LIV. The biggest development, which was driven by Rory McIlroy and Tiger Woods, will see the tour move to a new schedule in 2023 featuring 12 elevated events with $15 million to $20 million purses, in addition to the four majors and the Players Championship.
The top 20 players, as determined by the Player Impact Program (PIP), will commit to those 17 tournaments as well as play in three additional PGA Tour events of their choosing. The PIP will also grow from $40 million to $100 million, while an Earnings Assurance Program will guarantee all exempt PGA Tour players who play at least 15 events will be paid a minimum of $500,000 for the season regardless of whether they earn that much in tournament prize money.
Mickelson, though, hinted no tour could compete with the billions behind the Saudi Public Investment Fund (PIF), which funds LIV Golf. LIV will hold a $50 million team championship at Trump Doral next week to cap its inaugural season.
"The game of golf is very lucky to have the PIF invest in the game," Mickelson said. "The sport of the game of golf is being influxed with billions of dollars now. And the ability to go global and make golf a truly global sport is really beneficial for the game."
Despite LIV's sovereign wealth fund, the PGA Tour's core group of stars is cemented for the foreseeable future, evident in the elite field at the CJ Cup. The 78-man event, which has a $10.5 million purse and no cut, boasts names like McIlroy, Rahm, U.S. Open champ Matt Fitzpatrick, Jordan Spieth and Tom Kim to name only a handful of stars.