Takeaways
Jon Rahm stays hot, Sergio Garcia makes a big move and Patrick Cantlay goes on a tear with his putter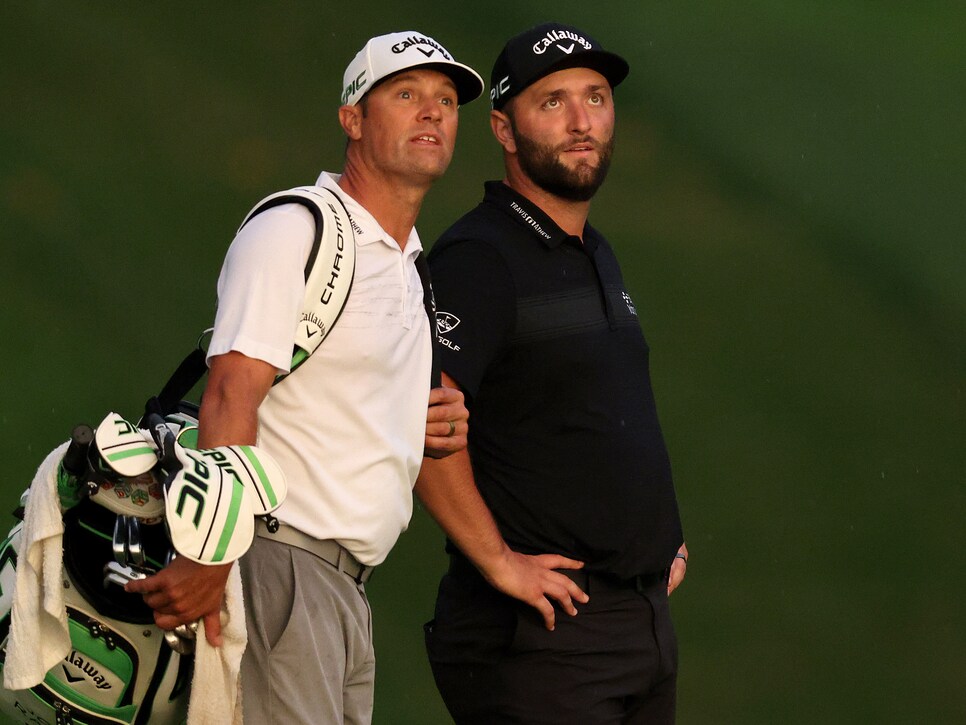 Jon Rahm and caddie caddie Adam Hayes look into fading light on the 16th hole during the second round of the BMW Championship.
Rob Carr
Go low or get lost. That was the deal Friday in the BMW Championship, where the PGA Tour's debut at Caves Valley outside Baltimore continued to produce leader boards full of red numbers.
The field caught a break again Friday, playing a second straight day of lift, clean and place, and players took full advantage, combining to be 154 under par when play was suspended due to darkness with 15 players still to finish their second rounds on Saturday morning.
One of those players, World No. 1 Jon Rahm, continued to show why he's the best in the game at the moment. The U.S. Open champ has played 33 holes of bogey-free golf to open the second FedEx Cup Playoffs event. In fact, had it not been for two late bogeys at The Northern Trust on Monday, he might this week be playing for his second win in a row.
Win streak or no, Rahm certainly looks like a man on a mission as he aims to defend his BMW title, fully embracing Ted Lasso's mantra of "being a goldfish" and riding a hot putter to 14 under par total so far. He'll have a 15-foot birdie putt on at the 16th hole, with freshly mown greens awaiting him when play restarts Saturday morning. That'll be to tie Bryson DeChambeau's lead—you may have heard he shot a PGA Tour career-best 60 on Friday afternoon.
Rahm won't shoot 60 (in the second round, at least), but he certainly looks like the man to beat heading into the weekend. Looking forward, he may also be the man to beat at East Lake next week and (look away, Americans) at the Ryder Cup four weeks from now.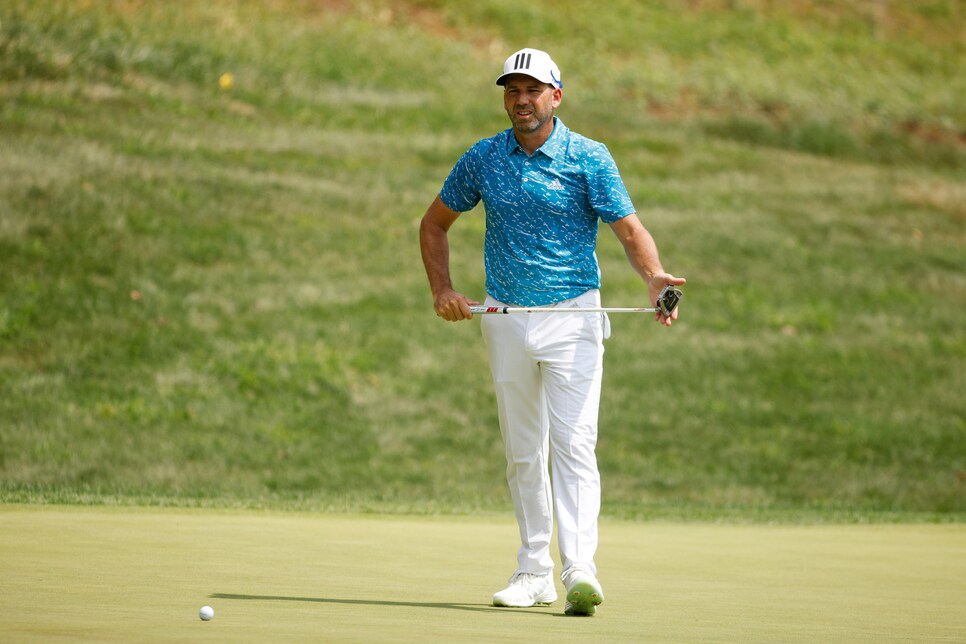 Sergio Garcia prepares to putt on the eighth green during the second round of the BMW Championship.
Cliff Hawkins
The race to East Lake heats up
Speaking of East Lake, with two days left to round out the 30-man field for the Tour Championship, players are fully into the home stretch.
The biggest positive mover of the week so far is Sergio Garcia, with rounds of 65 and 67 putting him T-4 and a projected 27th in the FedEx Cup standings after starting the week in the No. 44 slot. Must be a Ryder Cup year. Hudson Swafford has similarly improved his standing, entering the week at No. 40 and playing his way up to No. 28 with rounds of 67 and 66.
Unfortunately, for players to play their way into the playoffs, that means there have to be guys who are playing their way out—or at least getting passed over.
Charley Hoffman has slipped from No. 29 to No. 31, though he'll have two and a half holes of his second round to finish Saturday. Billy Horschel is teetering, as well, slipping from No. 27 to No. 29 as he sits T-57 in the 69-man field this week.
None of these guys are grinding for a check each week just to get by, so missing the Tour Championship wouldn't be that bad. But it could still be career-changing. Money aside, qualifying for East Lake triggers exemptions into the Masters, U.S. Open and Open Championship and several other high-profile tournaments in 2022.
Phil Mickelson, despite saying he was ready to "ball out" at the BMW, has not, in fact, done so. Tied for 46th with five holes to play in the second round, his hopes of playing his way to Atlanta are all but crushed. And with that, it would appear that his hopes of earning a captain's pick to the Ryder Cup are also gone.
Sorry, Phil. But hey, Kiawah, right?
Ryder Cup positioning tightens
There's the main goal: winning the golf tournament. Then there's the game within the game: earning enough FedEx Cup points to make it into the top 30 and to East Lake. And then there's the game within the game within the game: earning enough Ryder Cup points to make it onto one of the rosters.
Five Team USA spots are locked up by Collin Morikawa, Brooks Koepka, Dustin Johnson, Justin Thomas and DeChambeau. One more automatic qualifying spot will be filled at the conclusion of the BMW as the points race comes to a close. Tony Finau, fresh off his win at Liberty National, currently occupies that spot. Xander Schauffele and Jordan Spieth are in hot pursuit, but whichever two don't qualify on points are all but guaranteed to get the nod from captain Steve Stricker.
The final four spots are where it gets interesting. Patrick Reed would be a lock, but was recently hospitalized with bilateral pneumonia. Patrick Cantlay, who entered the week at No. 11 on the points list, is making a strong case this week, just one off of DeChambeau's lead after Friday. Sam Burns is closing strong, while Kevin Kisner, Harris English, Billy Horschel, Scottie Scheffler and Daniel Berger are all jockeying for position at the BMW, hoping for a last shot at impressing Captain Stricker at East Lake.
On the European side, the nine players who would fill spots via automatic qualifying are: Rahm, Rory McIlroy, Viktor Hovland, Paul Casey, Tyrrell Hatton, Matthew Fitzpatrick, Lee Westwood, Shane Lowry and Tommy Fleetwood.
One would be safe to guess that stalwarts Ian Poulter and Garcia are going to occupy two of the three captain's picks. Veteran Justin Rose could take that last spot, but his PGA Tour season is over, and this isn't a Ryder Cup updates post, so I'll spare you the brain work.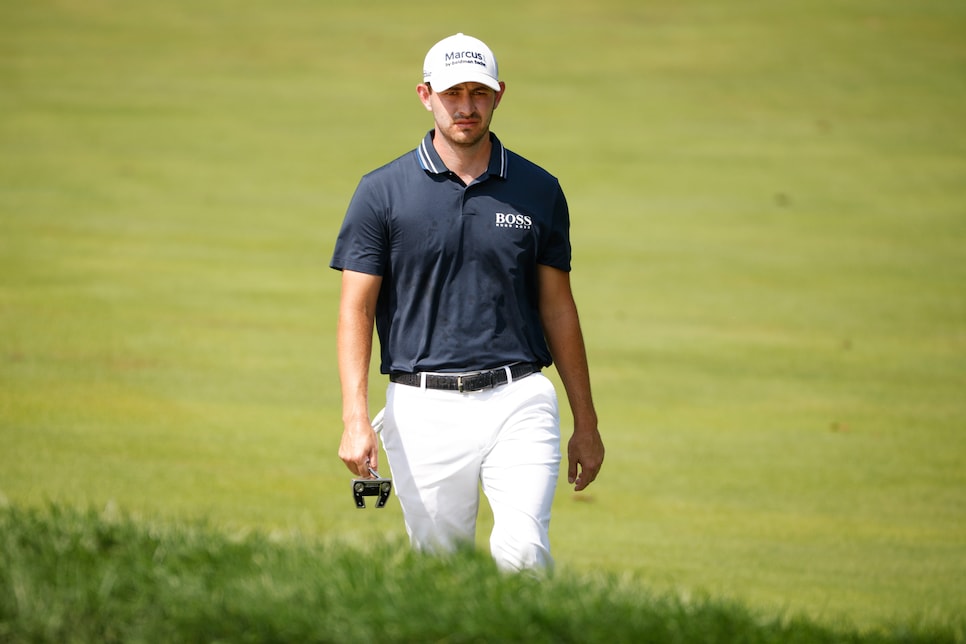 Patrick Cantlay walks on the first hole during the second round of the BMW Championship.
Cliff Hawkins
Patrick Cantlay continues to be a silent assassin
Seriously, this might have been the quietest, most ho-hum 63 ever. The No. 10 player in the world rarely shows any emotion at all but seems to have a knack for going stone-faced heaters like he did Friday. He was nine under par through 14 holes before playing his final four at even par and was making putts from everywhere. Not only is he leading the field in strokes-gained/putting, but he's almost doubling up Rahm, who's second. Cantlay didn't miss inside of 10 feet all day, which contributed greatly to this crazy stat, courtesy of stats guru Justin Ray:
DeChambeau will continue to bomb his way around Caves Valley over the weekend and Rahm's still the man to beat, but don't sleep on Cantlay, who won't smile or frown at all the whole time.