News
Johnny Miller on Tiger Woods not playing in Safeway Open: "You always have to handle Tiger a little with kid gloves"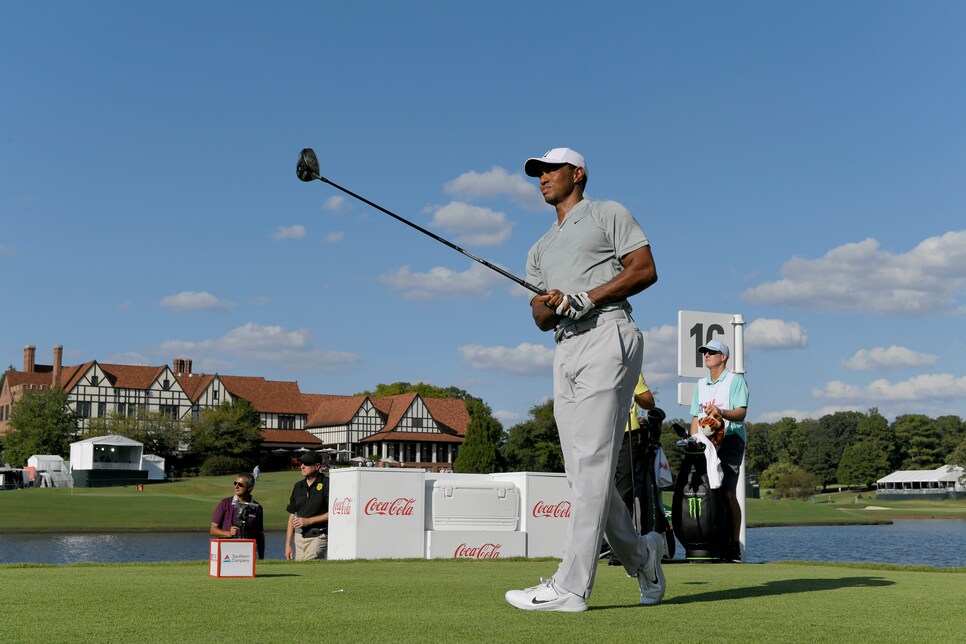 ATLANTA—Tiger Woods is co-leading the Tour Championship, the first time Tiger has been atop a score board after 36 holes since 2015. Following East Lake, Woods will head to France to play in the Ryder Cup, representing the red, white and blue in the biennial event. That will mark six events in an eight-week span for the 42-year-old; according to Woods' team, Paris will be the end of Woods' season.
And Johnny Miller is not happy about it.
Miller is the patriarch of the Safeway Open, the tour's opening event to its new campaign that begins immediately after the Ryder Cup. Considering Woods' schedule, along with the mean prospect of flying from Paris to Napa, it's understandable the 14-time major winner won't be teeing it up at Silverado. Still, Tiger's absence has left a bit of a sour taste in Miller's mouth.
The commitment being an agreement in 2012, when Woods and seven other high-profile players skipped the then-Frys.com Open to play in Turkey. The group, which included Rory McIlroy, Justin Rose and Webb Simpson, was given three years to play in Napa, and all but Tiger have met the requirement. Woods was given an extension due to injuries, and was committed to play in 2016 before backing out the week of due to lack of progress in his recovery.
"Tiger's team knows he hasn't fulfilled the obligation," Andy Pazder, the PGA Tour's chief tournaments and competitions officer, told the Chronicle. "Because he was out a number of years due to injury, we've given him additional time...His team is aware of the obligation and plans to play in an upcoming year."
Miller, who's at East Lake this week, told the Chronicle he hopes to speak with Woods on the matter.
"We knew he wasn't going to come all the way from Paris after playing in all the playoff events, then the Ryder Cup. He's going to be burnt crisp," Miller said. "Hopefully, he'll have enough honor to come play next year. We'll take him whatever year we can get him."