U.S. Open Rewind
These restorations of the clubs Johnny Miller used for his 63 at Oakmont might be more real than the real thing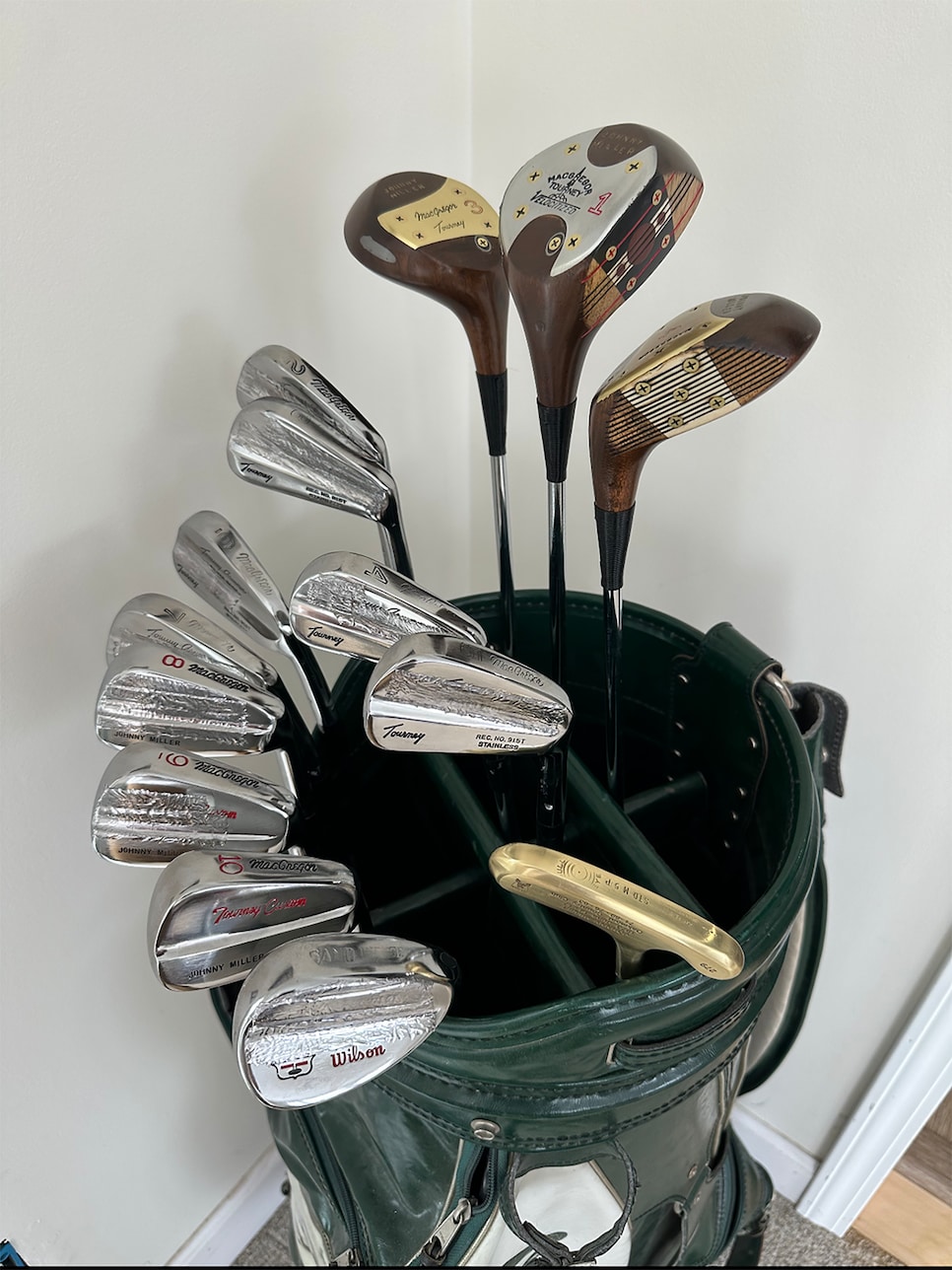 The clubs Johnny Miller used to shoot his Oakmont 63 are going, but custom club builder Ken Flanigan painstakingly reproduced them. (Photo courtesy of Ken Flanigan)
There are a lot of amazing things about Johnny Miller's amazing final-round 63 at Oakmont Country Club to win the 1973 U.S. Open, but one of the most amazing might be that the clubs he used no longer exist. The set disappeared over the years as Miller lent out the irons to another tour pro. Even the set that has shown up in museums isn't legitimate. Now, Ken Flanigan, a custom club builder and putter designer from Ohio, has done his level best to precisely recreate Miller's set right down to the last bit of lead tape.
The passion project of authentic restorations grew out of Flanigan's fascination with Miller's performance, the fact the set has disappeared and how odd the original set was. "I don't think anybody today realizes how old those clubs were when he was using them," said Flanigan, whose custom-milled putters have gotten a following, as well. "Certainly, that's something you'd never see done today."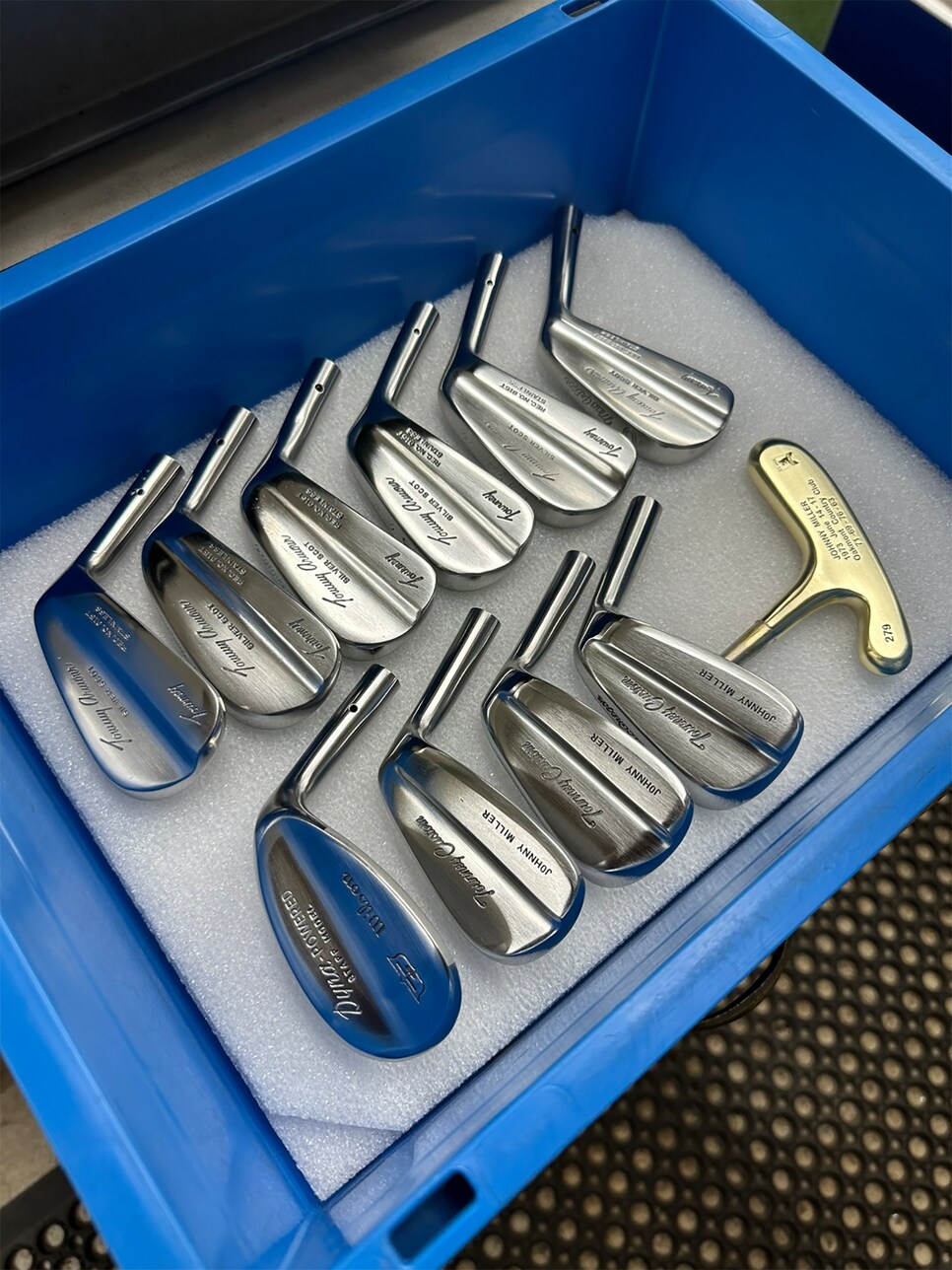 Flanigan acquired the clubheads before assembling them with vintage authentic shafts and grips. (Photo courtesy of Ken Flanigan)
Flanigan's custom-constructed set of Miller's original irons are being auctioned by Golden Age Auctions starting on June 13 to commemorate the 50th anniversary of Miller's record round. Proceeds will go to Miller's Champ Foundation, which seeks to "foster teachers, organizations and causes that promote the dreams and aspirations of local youth," and the Northern Ohio PGA junior golf program, Clubs Fore Kids.
It may have been a labor of love for Flanigan, but it also was a kind of golf equipment-related archaeological dig. You see, in his 1973 U.S. Open performance, Miller wasn't just using a mixed set of MacGregor irons; the bulk of that set included irons introduced in the 1940s. Moreover, these were not a throwback design that was made fresh for Miller in 1973, but irons literally forged in 1945, 28 years before the U.S. Open at Oakmont, and three years before Miller was born. Miller's irons were a mix of the Tommy Armour MacGregor 915T in the 2- through 7-iron. The rest were actually a thoroughly modern set of MacGregor Tourney Custom 985 heads in the 8-, 9-, and 10-iron slots. The iron labled "10" equates to a pitching wedge. Said Flanigan, "MacGregor did not release the 985 heads until 1974. So my guess is that these were prototype or custom heads from the MacGregor Custom Department."
But that was it, as far as up-to-date gear in Miller's bag. His Wilson Dyna-Powered sand wedge was 14 years old. His Acushnet Bulls Eye putter came from 1952. His MacGregor "Velocitized" driver was built in 1961. His fairway woods were ancient. The Tommy Armour MacGregor 3-Wood was 28 years old, and the 4-wood was 32 years old.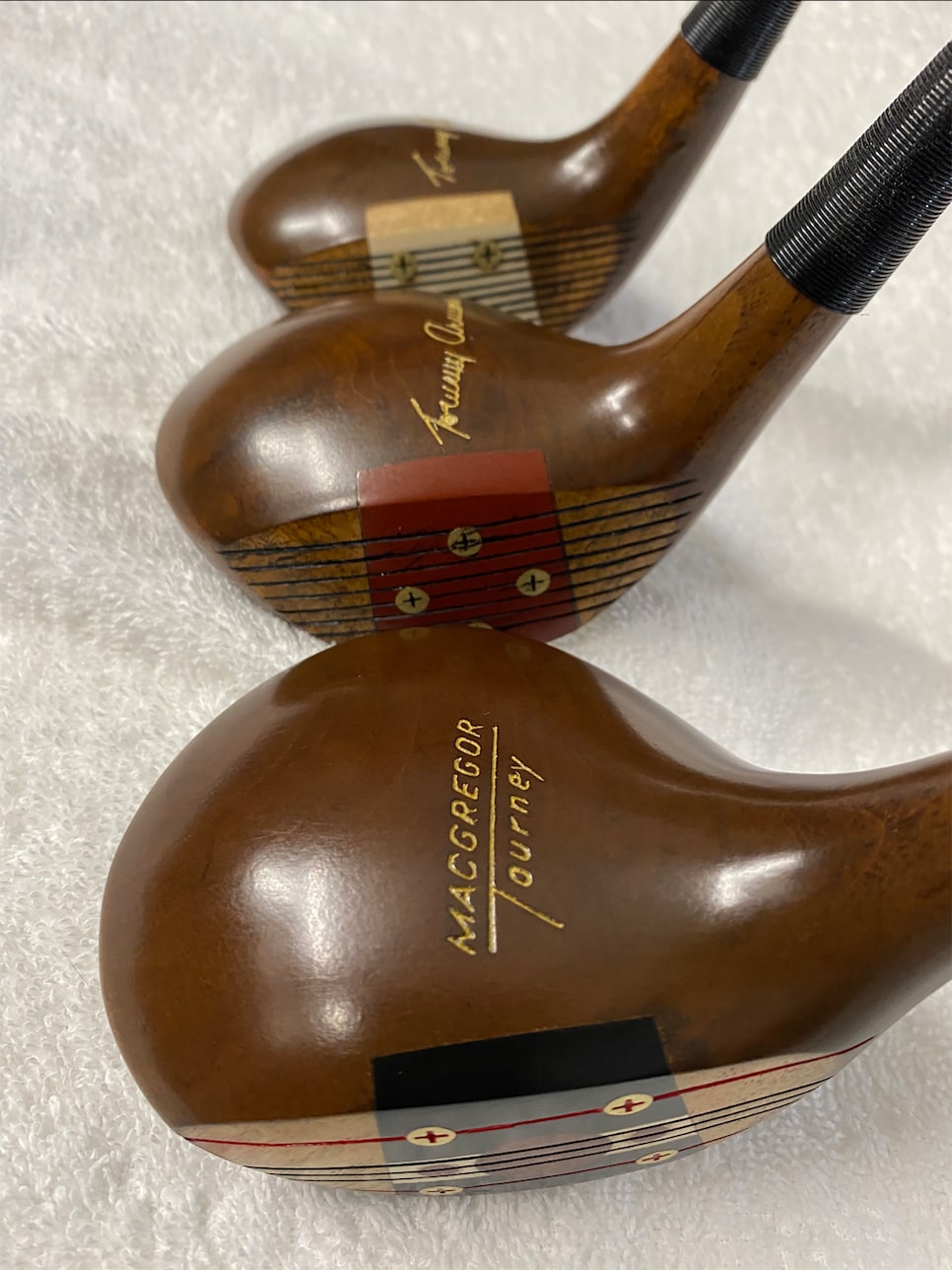 Classic persimmon-wood expert David Bass of David Bass Golf helped restore Miller's woods. (Photo courtesy of Ken Flanigan)
Flanigan found all of those clubs, adding Miller-specific hosel lengths, sole grinds and topline shaping, taking off certain engravings and adding appropriate stamping while carefully applying lead tape on certain heads.
"This is the reason why Johnny added so much lead tape to his clubs, because of how much metal was removed. We also, through using photos and videos, added lead tape to this set to try to match its authenticity," Flanigan said.
He even acquired "more than a dozen" original Bulls Eye putters to match the 36-inch length of Miller's original, which Flanigan inspected at Oakmont, where it is housed in a clubhouse display. He found images in magazines, visiting Oakmont and halls of fame to track down more specifics. He even found an 8-millimeter film of the 1973 U.S. Open so he could study and replicate everything Miller was using, including his shirt, pants, shoes and bag. He changed the shafts to match Miller's preferred True Temper Dynamic stiff flex and one-half inch over length.
Flanigan employed the help of classic persimmon wood expert David Bass of David Bass Golf, who restored them to their original finish and Miller's specs (True Temper Dynamic X stiff Flex, half-inch over), all the way down to the lead tape on the rear perimeter. The grips are all Golf Pride Victory Cord (green) with one extra layer of tape under the right hand.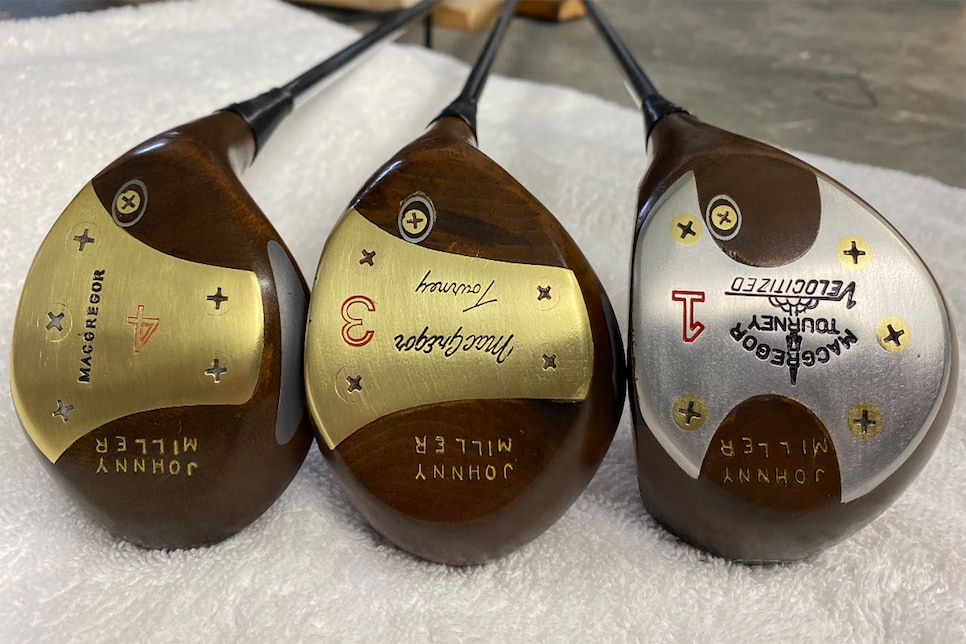 (Photo courtesy of Ken Flanigan)
The project took more than two years to complete, but Flanigan confirmed every tweak with Miller along the way. "I was able to purchase most of our items through garage sales, flea markets, eBay and donors whom I am very grateful for with this project," he said. "Then once I was ready to roll, I contacted the Millers and with many phone calls and texts and email messages, they gave me so much more and confirmed the accuracy of my personal research.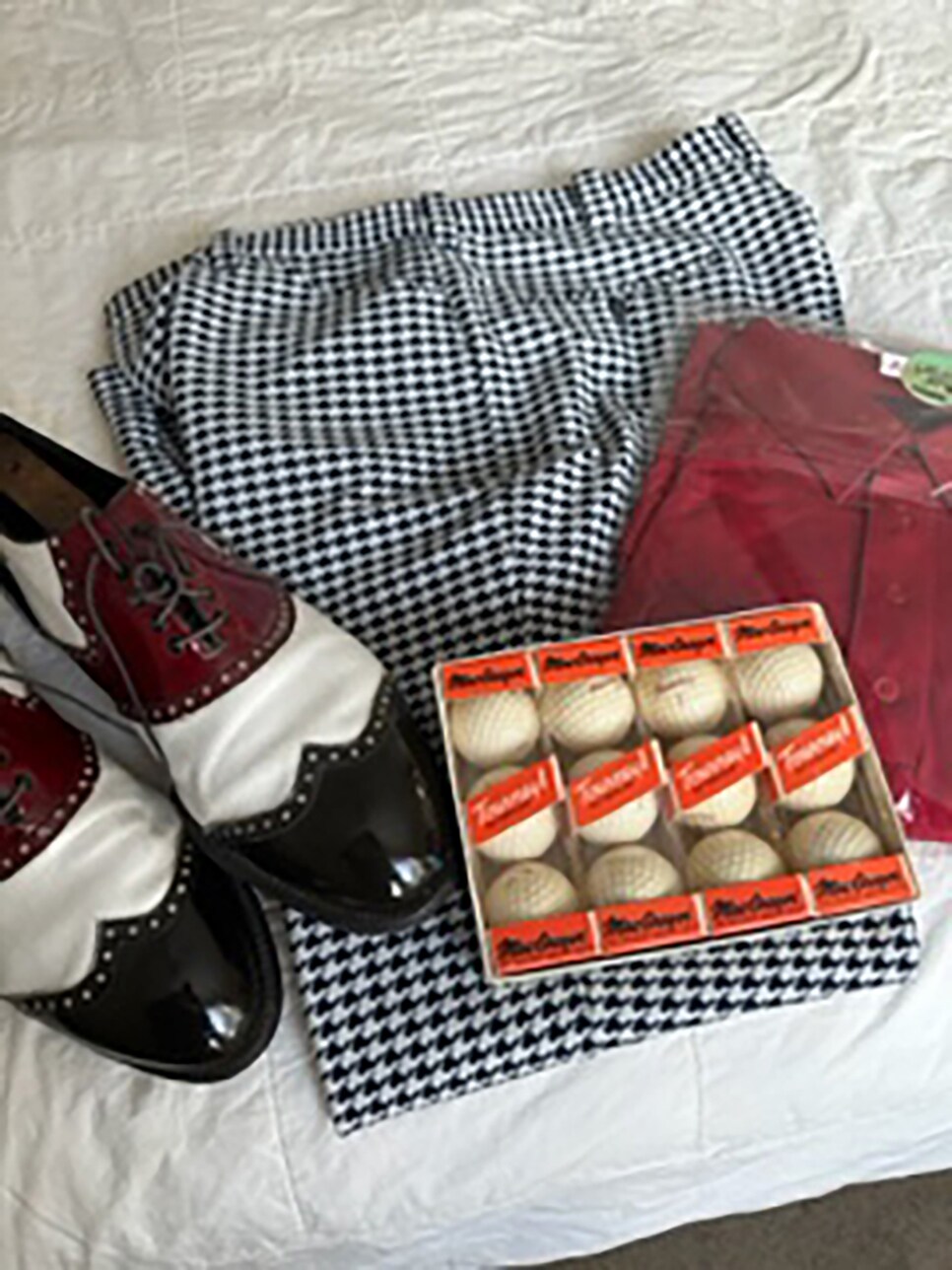 Flanigan went beyond just clubs, finding replicas of the shoes, balls and clothes from Miller's amazing round.
"It was so fun to get so deep in to this, and I know my wife thought I was crazy, and she's probably right, but putting this set together just felt like something that had to be done."
Find the ideal clubs for your game with our quick test below: