News
John Peterson might have to put his retirement plans on hold if he keeps leading at the Wells Fargo (Seriously)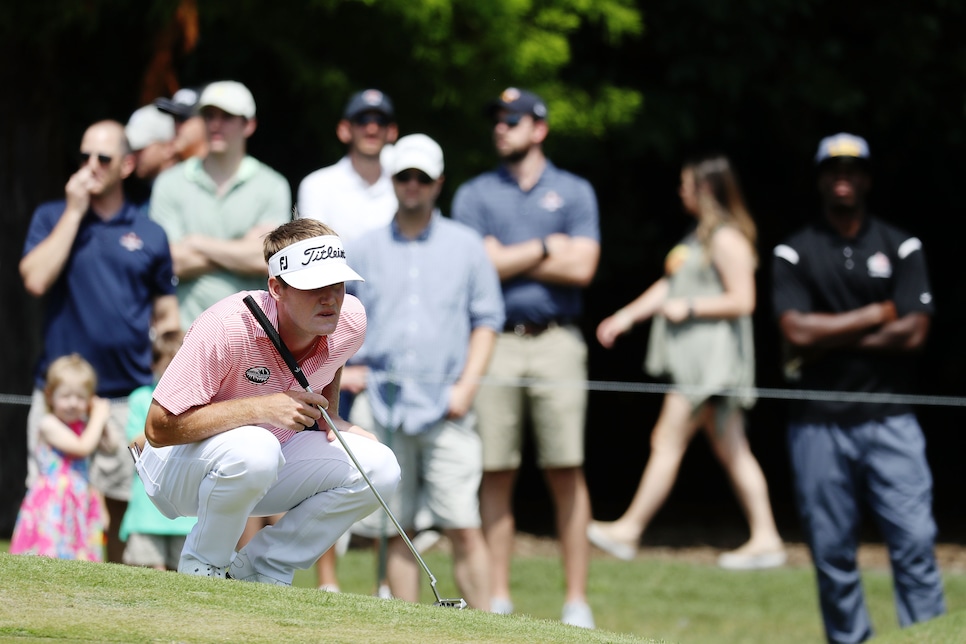 After being a three-time All-American at LSU and winning an NCAA individual title, John Peterson's pro golf career hasn't taken off quite as planned. But now at only 29, he might be making his most unexpected move yet. Retirement.
That's right, Peterson plans to hang up his competitive spikes in the coming weeks unless he does something pretty special. Playing on a medical extension -- he's been plagued by a bone issue in his left hand since 2015 -- Peterson needs to earn $318,092 in his next three starts to keep his PGA Tour card. However, one of those starts is this week at the Wells Fargo Championship. And Peterson's opening 65 to grab a two-shot lead could change things.
"I'm kind of freewheeling it at this point," Peterson told reporters on Thursday evening. "I know a little bit has been said about me retiring if I don't make the necessary money for my medical starts, and all that's true. If I don't make it, I'm not playing golf anymore."
And he'll go into commercial real estate instead, according to Golf Channel's Ryan Lavner. But it's more than on-course struggles playing into Peterson's decision. He doesn't love the traveling lifestyle of a tour pro -- especially since the birth of his first kid, Luke, in October.
"I like it a lot out here. I'm just -- you know, I just kind of want to be a dad and like be around my kid and my family more often, even though, yeah, they're here this week, but they can't come every week," Peterson said. "Thirty-five weeks on the road a year or so? It's just not for me."
Of course, the job Peterson has already lined up will have to wait if he manages a maiden PGA Tour title -- and the accompanying $1.2 million payday. We've certainly seen crazier things at this tournament (See: Ernst, Derek). But Peterson doesn't seem too concerned about his result come Sunday.
"I'm going to try to win this golf tournament," Peterson said. "I'm going to try to win it, I promise you. I'm going to do everything I can to win. But if it doesn't happen – whatever, you know? I've got everything in place. Either way is fine with me."