News
Five years ago, the Wells Fargo Championship produced one of the most unlikely finishes in PGA Tour history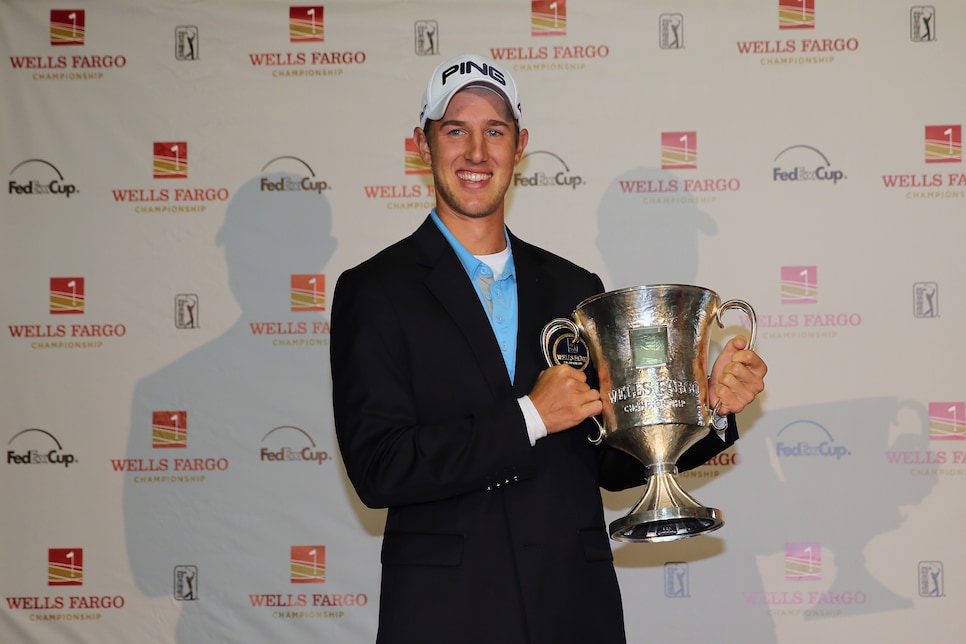 In its 15-year history, the Wells Fargo Championship (originally called the Wachovia Championship) has produced more than it's fair share of memorable winners. The tournament was the site of maiden PGA Tour titles for Rory McIlroy (2010), Rickie Fowler (2012), and even Anthony Kim (2008). Established stars like Tiger Woods (2007), Vijay Singh (2005) and Jim Furyk (2006) have won at Quail Hollow as well. But the 2013 event produced a champ whose name you've likely forgotten about. Derek Ernst.
In what was one of the most unlikely finishes in PGA Tour history, Ernst, a 22-year-old ranked 1,207th in the Official World Golf Ranking at the time, won in a playoff. Adding to Ernst's shocking victory was the fact it was only his ninth PGA Tour start and that he began the week planning to play in a Web.com Tour event before getting into the Wells Fargo field as the fourth alternate. In a typical year, Ernst probably would have found himself stuck on the waiting list, but with Quail Hollow's greens in such bad shape, several pros withdrew ahead of the tournament. Talk about the rub of the green going someone's way.
Ernst won $1.2 million, earned a trip to the 2014 Masters and locked up a two-year exemption on the PGA Tour. But in the five years since, he went from being an up-and-comer to being remembered -- if at all -- as a fluke winner. It would be nearly two years before Ernst even had another top-25 finish (he's never had another top 10), and he has missed far more cuts (54) than made (38) following that magical week in Charlotte.
Adding to the unpredictable nature of the event was who Ernst beat in that playoff. David Lynn was a solid enough player -- he finished runner-up, albeit by eight shots, to Rory McIlroy at the 2012 PGA Championship -- but at 64th in the world and with one career European Tour win under his belt at the time (he'd add one more later that year before retiring in 2014 with elbow tendinitis), he wasn't exactly a household name. That being said, even Lynn had no clue who Ernst was until they played together that unusual Sunday.
"I've never heard of him," Lynn said after the final round. "He's a nice player. He said he was 180th on the FedEx Cup list when we were chatting on the way around. He played super. I mean, he could have won it quite easily in regular play. He played the finish really solid, and then he hit two really solid shots in the playoff. So every credit to him. Well done."
And then there was who Ernst didn't have to beat in a playoff. McIlroy, the only two-time winner of this tournament, was within one shot of the lead with seven holes to play. He double bogeyed the 12th hole and finished 10th. Lee Westwood made a charge before fading. And Phil Mickelson -- the 54-hole co-leader with Nick Watney -- had a one-shot lead with three holes to play before back-to-back bogeys.
"I'm pretty bummed out," Mickelson said. "I thought that this was one I had in control."
Now 27, Ernst is currently 93rd on the Web.com Tour's money list, but as a recent champ of the event, he's teeing it up again at Quail Hollow this week. He's back down to 1,141 in the world ranking, but maybe he has everyone right where he wants them.