'Leader in his field'
John Paramor, European golf's 'guru' of rules officials, dies at 67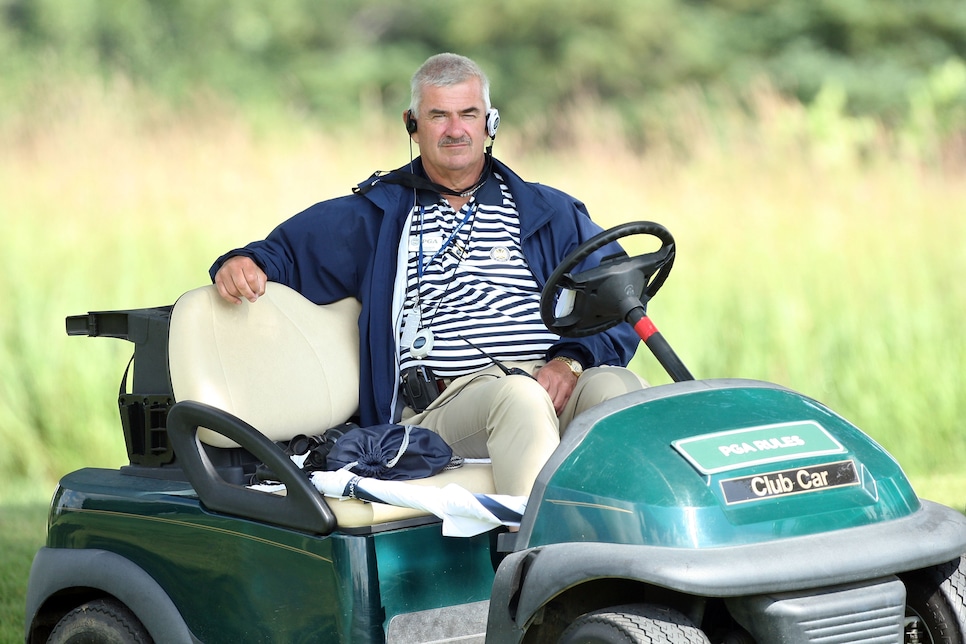 Sad news. John Paramor, long-time chief referee on what is now the DP World Tour, has died at the age of 67.
Paramor joined what was then the European Tour in 1976— "at the age of 21 years and one day"—having spent 1975 caddying for former Ryder Cup player Peter Butler. Ironically, Paramor's first official task had nothing to do with the rules administration for which he became famous. Rather, he was charged with interviewing Pete Cowen after the now famous swing coach had won the 1976 Zambian Open.
In a statement, DP World Tour chief executive Keith Pelley paid Paramor a fulsome tribute.
"He was a big character in all senses—his physical stature, his stature in the game and his popularity with anyone who shared a dinner or a social occasion with him," continued Pelley. "He had a strong personality but had passion for his job and the Tour as a whole which shone through whenever you spoke with him. John was, and will always be, a cherished part of our Tour family and will be dearly missed by all of us. On behalf of everyone at the European Tour group, our thoughts and deepest condolences are with John's family and his many friends across the world on this very sad day."
Like so many, Paramor's initial ambition had been to be a player on tour. But that was short-lived. His 1-handicap meant he was good enough to win the Middlesex Open and the Surrey Amateur Championship, but that was, as he would quickly discover, a long way from tour standard.
"Peter was coming to the end of his career but he gave me a great education," recalled Paramor, who had worked in a steel forge factory to fund his amateur golf. "He played every practice round with the same people: Neil Coles, Clive Clark and Bernard Hunt. I knew by the end of that season what an ordinary player I really was. I played with Peter in the Sunningdale Foursomes and he had arranged for me to have an interview with (former chief executive) Ken Schofield at the European Tour. Ken hired me despite my almost complete lack of qualifications. All I had to offer was that I had played a bit of golf and I was as keen as mustard."
Over the ensuing years, Paramor progressed to become a Tournament Director in 1979, Director of Tour Operations in 1985 and Chief Referee in 1991, a role he filled until his retirement in October 2020. His final event was the BMW PGA Championship at Wentworth.
"That is the ruling everyone remembers," recalled Paramor, years later. "Seve had hit his ball under the tree, into an area that may or may not have been caused by a burrowing animal. He felt the hole had been made by an animal. One, that was questionable. And two, I couldn't find any evidence to suggest what he was claiming. He had to prove his case. Anyway, there was a small hole within the big hole. When I went to stick my finger in the small hole to see what was down there, Seve put his hand on my shoulder and said, 'be careful, it might bite.'
"That was inspired of course," continued Paramor. "I almost started to chuckle. He only said that so I would hear it. And that was Seve all over. He was only trying to get what he felt he was due. And he was trying to sway me. But he didn't, of course. He could be intimidating, but I had to put that to the back of my mind."
On that occasion, Seve was left disappointed. But on another, his peerless ability to hit shots no one else could even imagine was enough to get him what he wanted.
"Seve was telling me he could play a shot in such a way that his stance would be affected by an obstruction," said Paramor. "So I told him to demonstrate what he proposed to do—all the time thinking there was no way he could persuade me. But he did. And I gave him a free drop. He had one foot in a ditch, the other above the ditch. Then he turned the club round and swung left-handed. After a couple of practice swings, I was convinced. He could have hit it like that. But there is no way any other player would even have thought of it. Seve was different though; I knew he was capable of such a shot. He was a genius. So he got his drop."
Many other players had their pleas heard by Paramor, of course, his enormous and enduring popularity testimony to the integrity he brought to the job. And he was quick to acknowledge that he himself was less than perfect. For years afterwards, what Paramor referred to as the "Khan Affair," caused him to lose sleep.
"The biggest mistake I ever made involved former PGA champion Simon Khan," he sighed. "It was on the final day in Switzerland back in 2004 or 2005. There had been a change to rule, one I had misinterpreted or at least understood, and I incorrectly disqualified him because I reckoned he had picked up a ball when he should not have done. I was gutted when I realized what I had done. I wrote to him saying how sorry I was and how I clearly hadn't picked up every nuance of the rule change. It was such a bad moment for me. And Simon handled it beautifully. But I still get upset when I think of it."
That incident, of course, was very much a case of the exception proving the rule.
"John was a great man," said three-time major champion, Padraig Harrington, minutes after hearing the news of Paramor's passing. "He loved golf. He was perfect in the role. Every time he turned up I was delighted. I knew what he would say was going to be correct. The biggest compliment I can pay him is to point out how popular he was given the job he did. And he was compassionate. When he disqualified me from the 2002 Benson & Hedges at The Belfry (when Harrington's card was signed twice, but not by the player himself), he tried so hard to find a way out. But the rules were the rules."
That wasn't the Irishman's "worst" moment with Paramor, however. Those came when the Irishman felt as if he was letting the referee down by not knowing a rule he should know.
"I always felt bad and that I was wasting his time," continued Harrington. "It was always better when he turned up for a ruling that was on the edge. If he gave me the drop I was looking for, I knew there would be no need to second-guess myself. There was no doubt as to whether it was right or wrong. He was the epitome of fairness. He applied the rules in the way they were meant to be applied. No player ever minded being told 'no' by John Paramor. He brought great clarity to every situation. And he had such a nice manner when doing so. He delivered bad news like no one else, sometimes without saying a word."
Paramor's passing—he is survived by his wife Katie, his children Clare, Alex and Tom and his five grandchildren—will be marked with a minute's silence during the third round of tomorrow's DP World Tour Thailand Classic at Amata Springs Country Club in Bangkok and during the third round of the SDC Open on the Challenge Tour at the Zebula Golf Estate and Spa in Limpopo.