News
European Tour officials' retirements allow us to recall this classic rules confrontation with Seve Ballesteros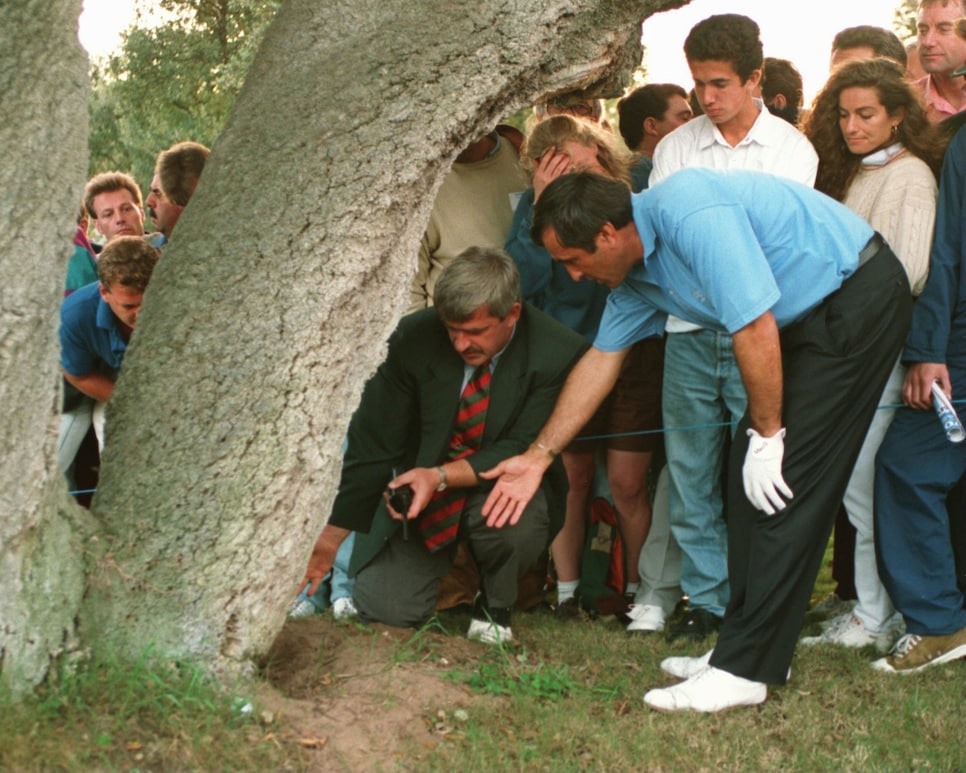 Tournament referee John Paramor discusses a dicey rules situation with Seve Ballesteros at the 1984 Volvo Masters at Valderrama.
Stephen Munday
In most sports, when referees do the job well they largely go unnoticed. They are there to officiate the outcome, not determine it.
Golf, of course, operates a little differently. A rules official interjects when called upon.
That's what John Paramor and Andy McFee have done, with a distinct style, for the European Tour for more than four decades, with Paramor beginning in April 1976 and McFee in September 1983. Each eventually ascending to chief referee status on the circuit.
This fall, the duo will work their final tournament. Paramor and McFee will step down after the European Tour's flagship event, the BMW PGA Championship at Wentworth, on Oct. 8-11.
Their place in the game is significant—European Tour chief Keith Pelley referred to each as a legend, and both have presided over important and innumerable rulings through the years. Good friends, they recently sat down to reminisce about some of their more memorable moments here.
One confrontation that stands out: A ruling Seve Ballesteros sought on the final hole of regulation at the 1994 Volvo Masters at Valderrama.
First, let's set the scene.
In the lead for the most of the tournament and with the spectators eager to see their prodigal son win on home soil, the Spaniard suddenly found himself tied for the lead with Bernhard Langer after failing to birdie the par-5 17th. Then Ballesteros pushed his tee shot at the 18th to the right and his ball settled behind a tree. Seeking relief because of animal hole behind his ball that he said interfered with his swing, Ballesteros called for an official.
"Just behind it was this massive hole that some animal of some description almost certainly dug there," Paramor recalled. "It did take me a long time and I thought, This is not going to go well for me, because obviously in a tournament in Spain. The vast majority of spectators are Spanish. They were desperate for Seve to win."
And Ballesteros was desperate for relief. Under the Rules of Golf, he would be entitled to a free drop had the hole been caused by a burrowing animal.
Paramor determined it wasn't because there was no evidence (animal droppings) it had been and at one point stuck his finger in the hole while examining it. That's when he felt the Spaniard's hand on his shoulder and heard him say to be careful because whatever had caused the hole might bite.
"What a lovely thing to say to me in that moment of very, very high pressure," Paramor said.
But a moment later, with lips pursed, Ballesteros shot Paramor a parting death stare. Then he went on to bogey the hole to lose by one.
It was one of many big moments in a career full of them.
"The word I use about John is gravitas," McFee said. "He has empathy with the players and he is honest and fair. When John Paramor speaks about the rules of golf, people listen."