News
John Daly thinks President Trump is doing a hell of a job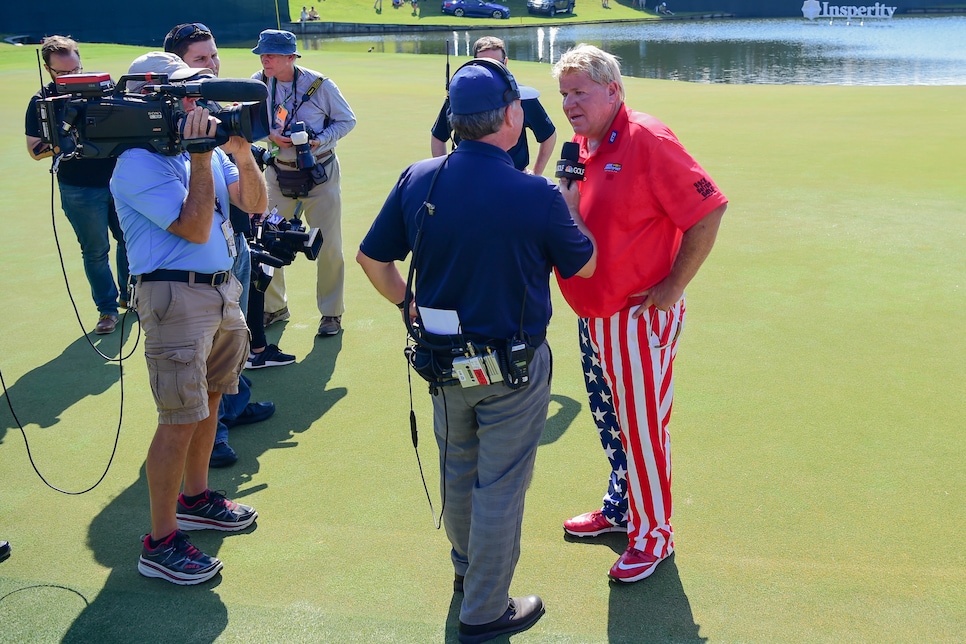 POTOMAC FALLS, Va. — The opinions expressed at the KitchenAid Senior PGA Championship were not surprising, but they were enlightening. Somewhere between the boundaries of political correctness and freedom of speech were the talking points of John Daly and other PGA Tour Champions players wearing the Trump logo this week at Trump National Washington D.C.
The topic of course was the President and the host for this week's senior major, Donald J. Trump.
If you're looking for sound bites on the politicalization of golf, and the kayak protestors expected on the Potomac River, just roll Daly's answers to questions asked by USA Today columnist Christine Brennan.
Daly talked about meeting Trump at a pro-am in Boston in the early 1990s and how they have been friends ever since. As for the protestors, Daly just plans to ignore them and keep wearing his stars-and-stripes outfits.
"I love what he's doing for our country," Daly said. "He's the President of the United States. I think people need to get on his wagon and ride with him and let him do what he's doing and leave him alone."
Daly wouldn't leave the subject alone, with his take on the double standard he perceives that exists between the Republican and Democratic parties. The political reporters from the Washington Post and Politico who were credentialed but didn't show up at Trump National on Wednesday missed the best material of the week.
"Seems like the Democrats always have a problem when a Republican gets in office," Daly said. "Republicans seem to kind of put up with the Democrats sometimes. We just go along with it. But I think they just need to leave him alone and let him do what he's doing. I think he's doing a hell of a job. I really do."
With that, Daly pivoted into the next response about the investigations and all the allegations that have accompanied Trump's first five months in the White House, bringing the Clintons into the conversation.
"I think we still need to worry about Hillary and what she and Bill did all these years," said the Arkansas native. "That's the ones we really need to worry about."
When it was brought up that neither Clinton is in office, Daly sounded like he was auditioning for Bill O'Reilly's seat at Fox News. "I know that," he said, "but there's been a lot of things go on with the Democrats that people just want to ignore now. … They just want to pick on my buddy. Let him do his job and see what he does. He's doing great so far."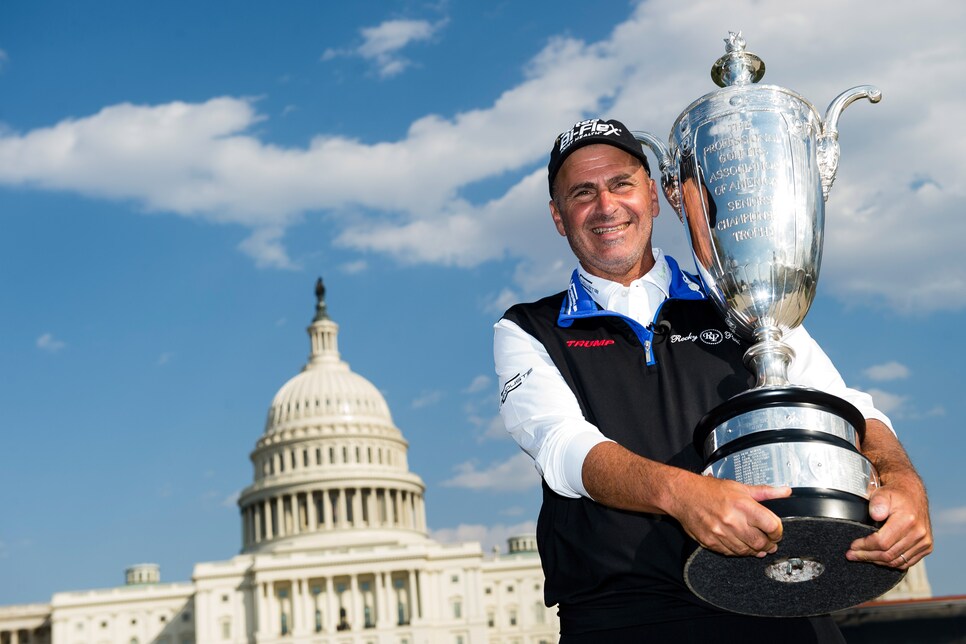 Defending champion Rocco Mediate agreed, as did Fred Funk. They both wear Trump logos above their heart, out of loyalty and thanks to their honorary membership to all of Trump's 18 courses around the world. "President Trump is my friend," Mediate said. "He has been my friend since 2008. This isn't a bandwagon jump on the thing because he's President. That's just not it. He's just been a very nice, extremely nice person, with a lot of good advice he's given me over the years about certain things. But he's just my friend."
Mediate equates it to a point Arnold Palmer made to him years ago about respecting the office even if you didn't like the President. But it was clear with Funk, as it is with a majority of the players on this circuit, that they respect the job Trump has been doing.
"I believe in almost every policy he believes in," said the former University of Maryland golf coach. "I mean, less regulation, smaller government, protect our border, bigger military, less taxes. I don't have a problem with anything."
So it should be no surprise there wasn't any hesitation when Trump asked Funk if he wanted to join Rocco, David Frost, Mike Goodes and Gene Sauers with the logo.
"I went, 'No problem,' " Funk said.