News
Amid his cancer battle, John Daly shoots a career low on senior tour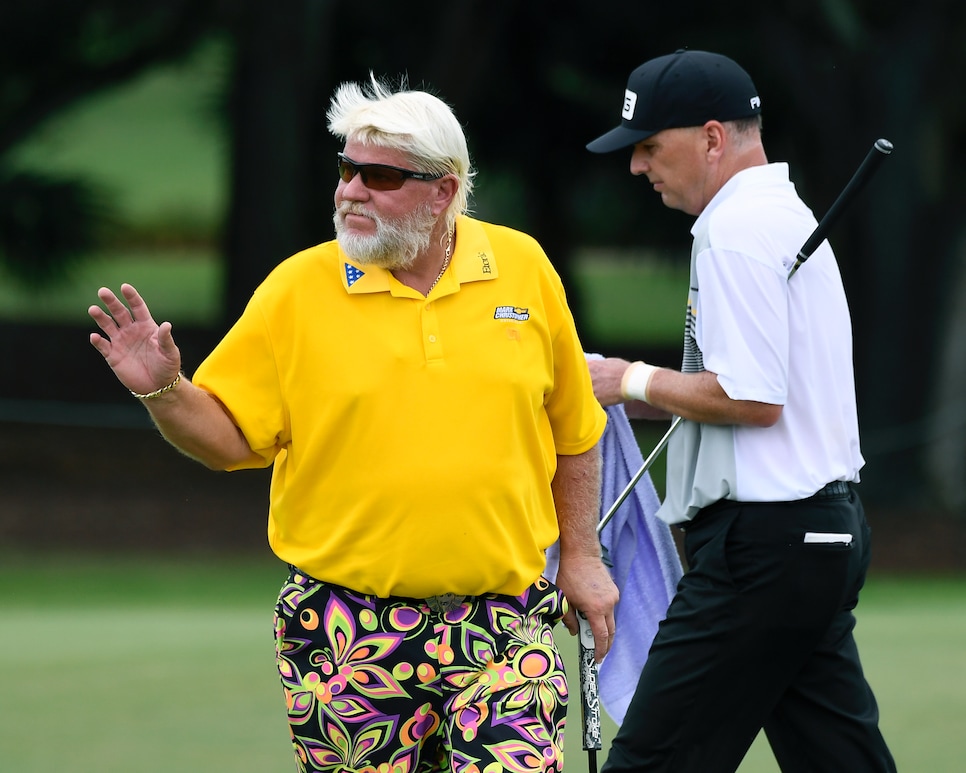 John Daly shot 64 to open the the TimberTech Championship.
Tracy Wilcox
We see John Daly and everything seems as it always was. The outrageously colorful pants and oversized yellow shirt that is bright enough to be a beacon on a lighthouse. The flowing long hair, though it seems a tad more gray and less dirty blond now. The impossibly tanned and thick forearms, and the cartoonishly long backswing.
Then we remember the recent awful news and understand that nothing is as it once was for Long John, even if Daly can sometimes make us forget that, as he did on Friday, knocking in eight birdies and an eagle to shoot an eight-under-par 64 to be the among the first-round leaders of the TimberTech Championship on the PGA Tour Champions.
"Staying busy doing Zoom calls and cameos and just kind of staying busy, you know, just trying to keep it off my mind," the 54-year-old Daly said after his career-low senior-tour round at Broken Sound Club in Boca Raton, Fla. "I've got about another [chemotherapy treatment], I guess about another month before I've got to go do it again. I've just got to keep doing what I'm doing and got to keep living. I can't just stop. The more busy I stay, the better I am, but I've just got to pace myself."
Of course, for the hard- and fast-living Daly, pacing himself is relative. He said on Friday that he's cut four songs for a country album that he hopes to finish by late next year. He's trying to cut back on all of the behaviors that he's been told contributed to his cancer, but the unhealthy habits stacked up for years.
"Trying to drink the right stuff, but it's hard to take Diet Coke away from me," Daly said. "I was proud of myself, I only smoked six cigarettes today. Usually I smoke about a pack and a half, so I was proud of myself because usually I smoke a lot more on the course than I do off. I'm trying to cut back, but hell, who knows. Can't quit instantly."
Friday's round was a highlight in an otherwise mediocre competitive year for Daly. He has only one top-10 finish in 11 starts, though he's showing signs of regaining his game, with six scores in the 60s among his last 10 rounds.
"I think everybody out here is probably rooting for John," said Scott Parel, who opened with a 65. "To be battling cancer and to be going through what he's going through, to be able to focus on playing golf, maybe that's freed him up a little bit. He's not worried about anything going on on the golf course; he's got other things more important."
Daly swallowed back his emotions when asked about feeling the support of those on the tour.
"Oh, the players, the caddies, they're awesome," he said. "They've been great."
The senior tour's biggest draw when he debuted in 2016, Daly hasn't nearly accomplished what he wanted to against the older set. The two-time major winner and five-time PGA Tour champion has only one victory, in the 2017 Insperity Invitational.
On Friday, Daly looked like the player from his prime, with four birdies and an eagle to shoot 31 on the back nine—his front for the day. He made a 3 on the par-5 18th by hitting driver, 7-iron to 12 feet.
"The putter felt really, really good today and these greens are so good that if you get on a little roll, it helps," Daly said. "You could see by the scores, a lot of low scores today."
There is one other thing that's different about Daly. He's sporting a thick beard that makes him look like even more of a lumberjack than usual. He says he won't cut it off until his cancer treatments are over.
"If it gets too bad I might have to trim it a little bit, but I'm going to have to keep it," Daly said. "May be down to the ground before this thing gets over with, but that means I'm still living."