News
Joe Durant's strong finish deprives Steve Stricker of first senior win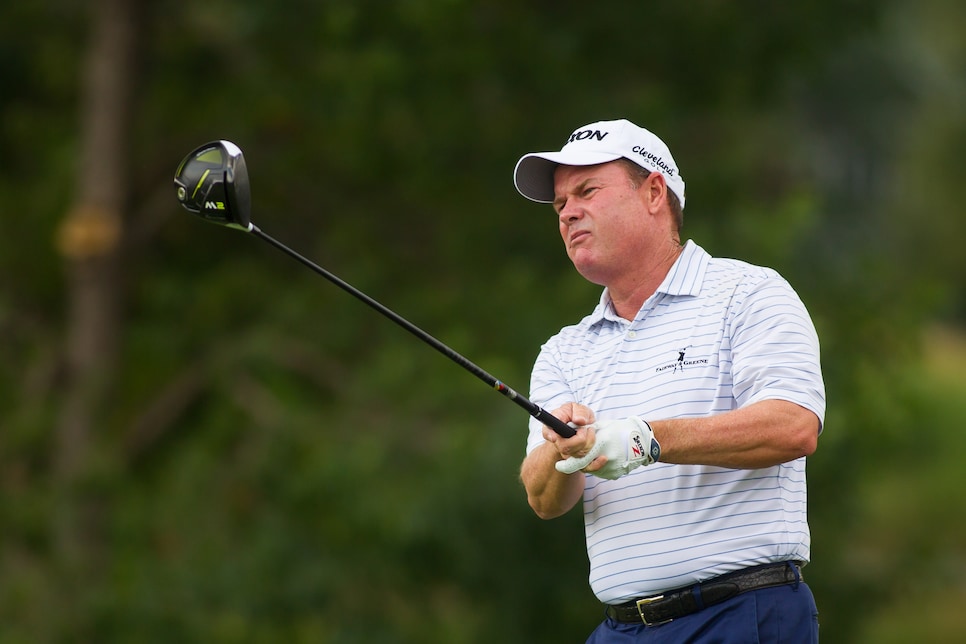 Victory continues to elude Steve Stricker on the PGA Tour Champions, but it eluded him on this Sunday when Joe Durant expertly kept him from it.
Durant played the final six holes on the Talon Course at TwinEagles Golf Club in four-under par to win the Chubb Classic in Naples, Fla.
He shot a five-under par 67 to win by four, though he came to the par-4 18th hole leading Stricker by a shot. Durant, however, hit his second shot to 10 feet of the hole. Stricker followed by hitting his second shot into a hazard right of the green. Durant made his birdie putt and Stricker wound up with a double bogey to tie Billy Mayfair, Lee Janzen, David Toms and Tim Petrovic for second.
"I couldn't have been more happy with my second shot at 18," Durant said. "It was one of the best iron shots I've hit under pressure in a long time."
Durant, 53, hit several quality shots under pressure in winning for the third time on the PGA Tour Champions. He trailed Stricker by one when arrived at the par-5 13th hole. He hit a perfect second shot to set up an eagle putt that he made, while Stricker missed the green and made a par, allowing Durant to go one up.
"I felt like if I could make the three there I had a shot," Durant said. "I was just so nervous starting today and it showed on the first few holes. I missed some short putts. My goal was just to hang in there. If you can stay around it you never know what could happen the last three or four holes. That's all I was trying to do."
Durant, who began the final round with a one-stroke lead, followed with a birdie on 14 to go two up, but surrendered the lead on 16 when he made bogey and Stricker made birdie. At the par-5 17th hole, he regained the lead by hitting a perfect 3-wood to the fringe, setting up a birdie, then hit a perfect approach at 18.
"I very was fortunate I put a new 3-wood in my bag this week," he said. "It doesn't have any left in it typically, so I knew the water [on the left] was probably out of play. Right wasn't very good, but I hit a good shot there [at 17].
Stricker, who will turn 51 on Friday, was making his season debut on the PGA Tour Champions, though he had played twice on the PGA Tour and had played reasonably well ,tying for 31st at the Waste Management Phoenix Open and tying for 26th in the AT&T Pebble Beach Pro-Am.
"I did a lot of good things today and didn't get the ball in the hole like I did yesterday," he said. "I felt like I hit a lot of putts that were just on the edge. That's the nature of the game sometimes. But I hung in there good, drove the ball well, and gave myself a lot of opportunities. Joe hit some great shots when he had to, put the pressure on all of us when it mattered most, and he started holing some putts on the backside, too. Some that he wasn't holing early on, he started to make, and he played great."
It was Stricker's seventh senior start since turning 50 and he has yet to win, despite finishing in the top three in five of them.