Presidents Cup
Joe Biden joins long list of world leaders as Honorary Chairman of upcoming Presidents Cup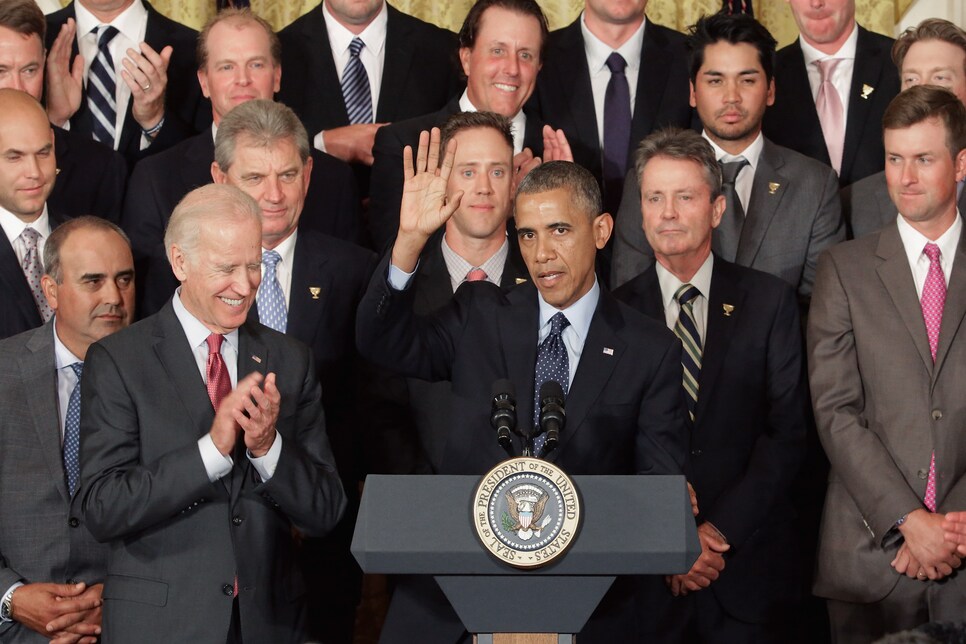 In 2013, Vice President Joe Biden and President Barrack Obama welcome to U.S. and International teams to the White House.
Chip Somodevilla
President Joe Biden doesn't play nearly as much golf as his two immediate predecessors from the Oval Office, but he's no hack either. He's got memberships at Wilmington Country Club and Fieldstone Country Club in Delaware, though his current GHIN index of 6.7 should be considered a bit "soft" since he hasn't posted a score since 2018. Seems he's been a little busy.
The beauty of being the U.S. president is that you get to meet the world's top golfers on occasion and sometimes receive flattering titles. One of those honors has arrived for Biden, who has accepted the invitation to be the Honorary Chairman of the 2022 Presidents Cup competition between the U.S. and International teams that will be played Sept. 22-25 at Quail Hollow in Charlotte, N.C.
In a press release issued on Monday, PGA Tour Commissioner Jay Monahan, whose organization stages the Presidents Cup, thanked Biden for his participation and said, "The Presidents Cup has a long-standing tradition of hosting world leaders, spanning several decades and many countries across all party lines, and the addition of President Biden to that list of men and women will help promote and grow the event worldwide and further our efforts in unifying people through the game of golf."
All seven of the most recent past U.S. presidents have participated in the Presidents Cup, spanning from Gerald Ford in 1996 to Donald Trump in 2017. There was a particularly memorable scene in '17 at Liberty National when George W. Bush, Barrack Obama and Bill Clinton appeared together. Trump did not join them, though he later became the first sitting president to personally award the trophy to the winning U.S. side.