Industry News
Jimmy Dunne has made his mark within golf's traditional circles, now has sights on new technology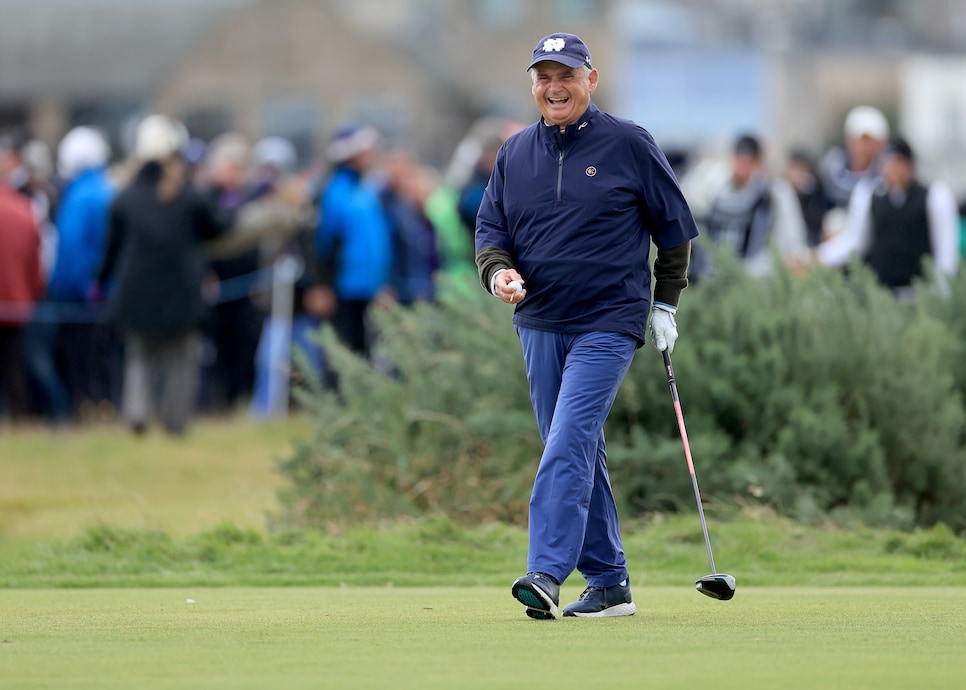 Jimmy Dunne calls his latest opportunity—the newly named chairman of the board at stat-tracking golf technology company Arccos—the perfect mix of his profession and his passion. The renowned finance executive's love of golf has taken him to every place in the game that matters. Whether it was rising from the ranks of caddie at Southward Ho on Long Island in New York to a club champion at some of the country's most prestigious clubs and eventually the current president at Seminole Golf Club, or resurrecting his premier investment banking firm after it was decimated in the tragic aftermath of 9/11, Dunne's indefatigable spirit is a life force to all he touches.
Now the business expert and lifelong golf obsessive is getting the opportunity to bring some of that hopeful impatience to one of golf's current brightest possibilities. A fan, friend and early investor in company co-founder and CEO Sal Syed, Dunne's newly established role with the company is not particularly defined, which means it will likely be anything and everything to help the company find its full potential.
"The first time I met Jimmy was when he spoke to my class at Yale almost a decade ago," Syed said in a statement. "I was profoundly struck by his ability to see the North Star so clearly in the face of unimaginable adversity. His words stick with me to this day: 'When you do the right thing, you don't know how high the ceiling is.' I know that with Jimmy's guidance and support Arccos' potential ceiling just got even higher."
Arccos, the leader in the GPS stat-tracking category, has a database of more than half a billion shots and its use of artificial intelligence has developed a kind of instantaneous, all-seeing analytical advice that knows the right club to pick for your next shot better than you ever will. Dunne sees Arccos and its technology as instrumental in how golf might grow in the near term.
"It's a matter of what we're all doing as golfers and that's trying to gather information and get better," Dunne told Golf Digest. "This is clearly a tremendous information source, and if people use it correctly, it can be terrifically beneficial to improving, which is what we're all trying to do."
Despite the ever developing complexity of Arccos' technology platform, Dunne stresses that what he likes most about Arccos is how it works across many levels. Referencing one of his favorite courses, he compared Arccos to Augusta National, which he said can accommodate the high double-digit handicapper at the same time can be a demanding test for the greatest players in the world.
"All of us who have played competitive golf recognize that the short game is where it's at, but we still turn right to the driving range and not left to the pitching green," he said. "Arccos is a reminder of where you're really losing your shots. Meanwhile, a new player can look at that very quickly and really develop some strong habits that will make him better faster. So I think it appeals to both levels of players. It appeals to the totally tech driven information thirsty analytical maniac, but it will also appeal to a guy that's more of a general point of view of how can I get better, how can I win."
Always practical in business and in his golf game, Dunne likes Arccos efficiency in pinpointing problem areas.
"You can't lie with Arccos when you're talking to your teacher," he said. "It's like with me and my trainer."
Dunne is famously a fan of caddies—the human kind—but he thinks the A.I.-driven technology of Arccos Caddie could be part of a new future meeting of minds on the tee box. "What Sal has been able to do is that he's created a technology that's very user friendly and you can take it as far or use it as little as you want," he said. "I think Arccos Caddie could create a discussion between you and the regular caddie, too. I think both can contribute. I don't think you have to just pick one."
Dunne said he has admired how Arccos under Syed has continued to improve over the last decade, and praised Syed's "determination and grit and intelligence and how he was able to build something." He said his role going forward with Syed could take many turns.
"I want to do whatever I can to help him," Dunne said. "If it's something business-related, golf-related, either way it kind of suits all of my interests. And I'd like to see him be successful. What exactly he uses me for we'll see."