Miami Is Burning
The Miami Heat, currently in first place in the East, almost ripped each other to shreds Wednesday night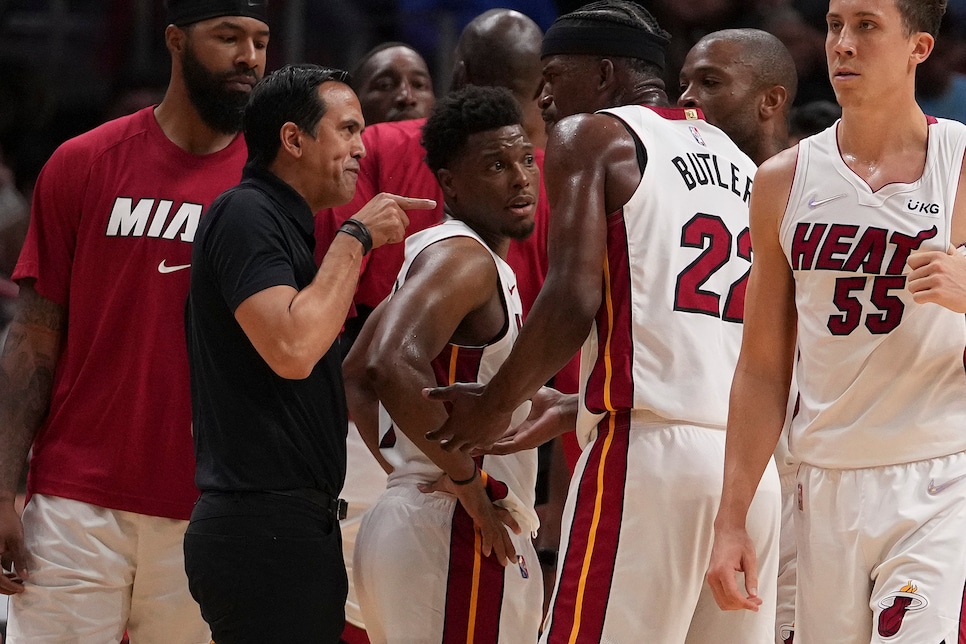 If you hadn't been following the NBA recently and just took one look at the top of the Eastern Conference standnings, you'd assume things were all hunky dory in Miami Heat-land. You'd be incorrect.
Yes, the Heat are alone atop the East, but their once comfortable lead has shrunk to 1.5 games, and it's not just one team in striking distance. The new-look Philadelphia 76ers, the Milwaukee Bucks and the Boston Celtics are all right there and ready to pounce, all thanks to the Heat dropping four of their last seven games.
In their most recent loss to the Golden State Warriors, who were without their big three of Steph, Klay and Draymond, frustrations boiled over. Things got extra hot for the Heat, if you will. Jimmy Butler, not surprisingly, was at the center of it all, which was great news for the "Jimmy Butler is a terrible teammate" truthers. The first clip to hit social media was from a member of the media sitting about 20 rows up, and it showed Butler jawing and finger-pointing with both head coach Erik Spoelstra and Heat legend/benchwarmer Udonis Haslem:
Then the second clip hit, giving us a much closer look at the chaos:
Then clips three, four and five hit, each one better than the last, featuring a Spoelstra clipboard smash, Kyle Lowry calling for a timeout (??) in the middle of it all, and a fascinating angle of Spoelstra incredulously asking if Butler actually wanted Spoelstra to fight him. Thank God for smartphones:
Absolute MADNESS! And boy, as an impartial observer, it sure does look like Butler and only Butler is in the wrong here. But, we should point out that this was immediately after a 19-0 Warriors run to start the third quarter, so it's fair to say everyone was running a little hot. Lowry chalked it up to passionate players frustrated with losing.
"Listen, our guys really want to win basketball games and we have guys that work extremely hard," Lowry said. "The passion comes out. The fire and the emotions come out sometimes. But like I said, to us it's nothing. We conversated and had a conversation and we continue to build."
Spoelstra echoed that sentiment, even going as far as to say it could help the team in the long run.
"You can use moments during the season to catapult you," Spoelstra said. "You can galvanize together over frustration and disappointment. Teams can also go the other way. I don't see that with our group. I don't see that with our locker room. But we have needed a kick in the butt."
The good news for Miami is the play the New York Knicks next. A get-right game if we've ever seen one.