The Loop
Jim Nantz says Fred Couples was a "good sleeper" in college during fun, live chat with Nick Faldo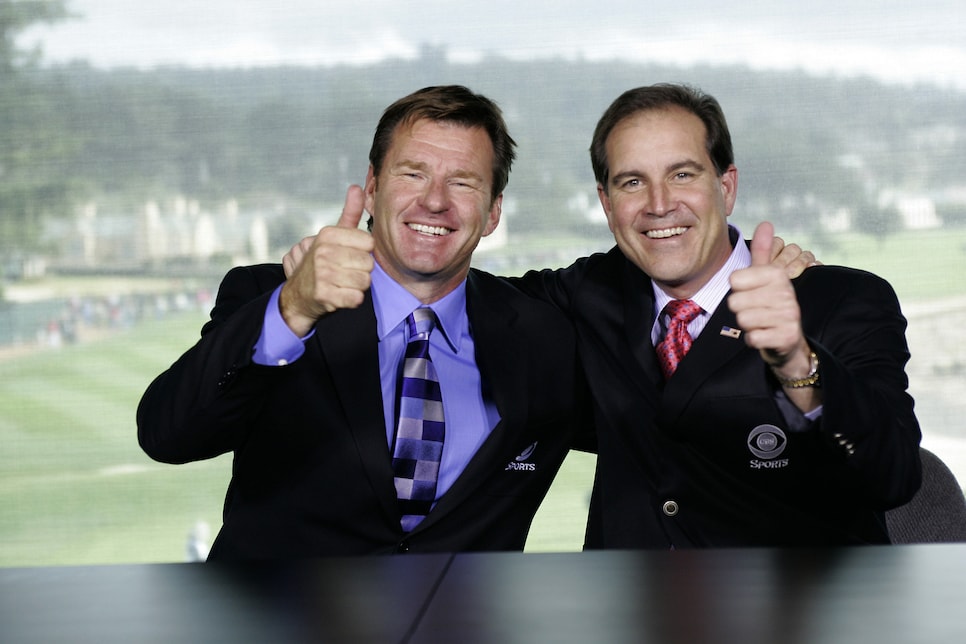 Jim Nantz and Nick Faldo aren't scheduled to share a TV tower for another four months, but on Tuesday night they reunited for a fun, impromptu chat on Periscope from Nantz's Pebble Beach home. And it was made even more lively by the fact it was recorded after the two enjoyed some of Nantz's wine at a nearby restaurant. "The only bottle of wine on the menu was The Calling!" Faldo exclaims at one point during the nearly eight-minute-long video. Jim Nantz just killing it when it comes to West Coast wine market share.
There are a couple great moments right off the bat as Nantz asks to switch sides with Faldo to replicate how they sit in the booth, and then after Faldo says, "Hello, sports friends," Nantz corrects him, "Or 'friends.'"
At one point, the topic turned to the University of Houston where Nantz played on the golf team with Fred Couples, and Nick Faldo made a quick 10-week cameo.
"I hated class," Faldo says. "I wanted to go practice."
"I loved class!" Nantz replies. Classic Nantz.
That prompted a great question from someone watching: "Did Fred Couples snore?"
Nantz got a kick out of the inquiry, saying "He was a good sleeper, that's for sure."
"That means he snored," Faldo interjected.
"He's very relaxed," Nantz continued. "He slept a lot, that's for sure. Slept through a lot of classes."
Watch the entire conversation, which was recorded by Faldo's wife, LeslieAnne Wade, here:
Great stuff, guys. Although, unfortunately, we didn't get to see any of Nantz's backyard par 3, which is a replica of Pebble Beach's iconic No. 7. Maybe the two "chums" will be kind enough to tape another hang sesh tonight.