Jim Nantz: My First Column For Golf Digest, And Why 100 Is In The Air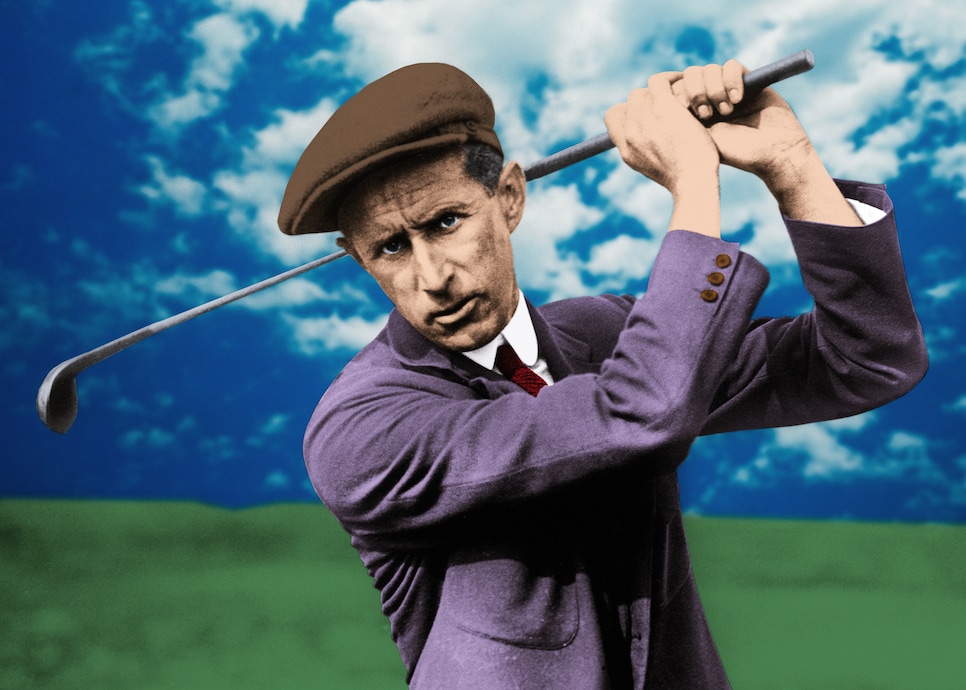 Photo: Bettmann/Getty Images/Gluekit
I don't like hot takes any more than I like hot cakes. I'm more likely to quote the golfer George Burns than the legendary late comedian by the same name who lived to be 100. But it was Burns the latter who once said, "I would rather fail at something I love than succeed at something I hate."
So here I am writing my first column for my all-time favorite publication—Golf Digest—hoping not to fail, because as most of you know, I love golf like I love oxygen. We'll cover a lot of ground in the coming months. Insights into Pebble Beach and the PGA Tour, my experiences calling golf for CBS Sports, and my associations with the many remarkable people I've gotten to know over the years. Some history, some views on contemporary subjects and some looks into the future.
For some reason the number 100 is in the air these days. Maybe it's because I'm living at Pebble Beach, where we'll mark the 100th year of our historic golf course in 2019. Birthdays, anniversaries and milestones always receive special treatment in my nostalgic broadcast universe. As a storyteller, dates and time equal context. So this is the right time to pay homage to an organization that is on the move and one whose membership is close to my heart. More than likely it has to do with the world gathering at Bellerive Aug. 9-12 for the 100th playing of the PGA Championship.
In my mind, the PGA of America has never been given its full due as a guardian of the game. Sometimes we paid observers in media mislead the public into thinking this group of golf professionals is all about conducting the PGA Championship and the Ryder Cup—its two prized events. But as I can attest firsthand, the PGA of America's reservoir of responsibilities runs far wider and deeper than that.
As I begin my latest endeavor around golf, I can't help but remember with deep appreciation my first employer. From 1975-'79, I worked for PGA professional Tony Bruno. For five years I watched, lost in admiration, as Tony ran the golf shop at Battleground Country Club in Manalapan, N.J. Tony put in 80-hour weeks doing what nearly 29,000 men and women club pros do every day: Keeping the game alive with a smile.
You learn pretty quickly that golf pros never have a bad day, at least not in front of their audience. They laugh along with the members' bad jokes, they remember everyone by their name (plus their children's names), listen intently as each player takes you shot by shot through their round, be it a 79 or a 97. They give lessons, manage tournaments, run the junior program, make sure the golf carts are operational, sell a shirt, custom-fit folks for their equipment. Trust me, there are countless nuances to being a golf professional.
Above all, Tony taught me how to be a pro—to always have my attitude in the "on" position and to never overlook the little details that are important. Back then, I kept the carts charged, cleaned clubs, greeted golfers in the parking lot, ferried them from their cars to the golf shop, and picked up balls on the range. Sometimes I would get a dollar tip from a generous member. I loved every minute of the job. What's more, with it came early-evening playing privileges, which took away the cost burden for my parents.
My primary role was keeping the range ready for a fresh start the following day. Though the word "fresh" doesn't exactly describe the scent of the range back then at Battleground. On many a scorching summer afternoon, while daydreaming, I would pick the range by hand, armed with two scoopers as I wandered around an eight-acre field that doubled as the underground home for the club's leaking septic tank.
It wasn't pleasant, but it didn't matter. I had Augusta on the brain. From age 11 on, my days were often spent mapping out how one day I would get noticed by CBS Sports. After all, it was the network that broadcast the Masters. That was the dream.
This past April, I broadcast the Masters for the 33rd time. At my first, in 1986, Ken Venturi for some inexplicable reason predicted I would be able to claim 50 Masters telecasts by the end of my career. I was 26 at the time. Jack Nicklaus had just won his sixth green jacket in epic fashion, and Venturi was giddy with excitement at what we had just witnessed. "It will be an unbelievable ride for you, Jimmy, but it will never get better than this," Venturi said as he drove us back to the compound in his golf cart.
Many years later, I was speaking at the Bel-Air Country Club and recounting Kenny's outrageous forecast. The legendary Jack Whitaker was in attendance and had introduced me that night. Jack said, "I heard what you said up there about wanting to broadcast 50 Masters. One problem: You need to make it 51." I asked Jack why. He answered, "Because your 50th Masters will be in 2035. That will be only the 99th playing of the tournament. You need to be there for the 100th." There's that number again.
In the meantime, I'll be honored to be in St. Louis to broadcast the 100th PGA while remembering a mentor in Tony Bruno, and all the thousands of men and women like him who are stewards of the game. George Burns at a ripe old age would have marveled at them. After all, they're succeeding at something they love. — with Guy Yocom