NANTZ DINED WITH THE QUEEN
That time Jim Nantz had dinner with Queen Elizabeth II at the White House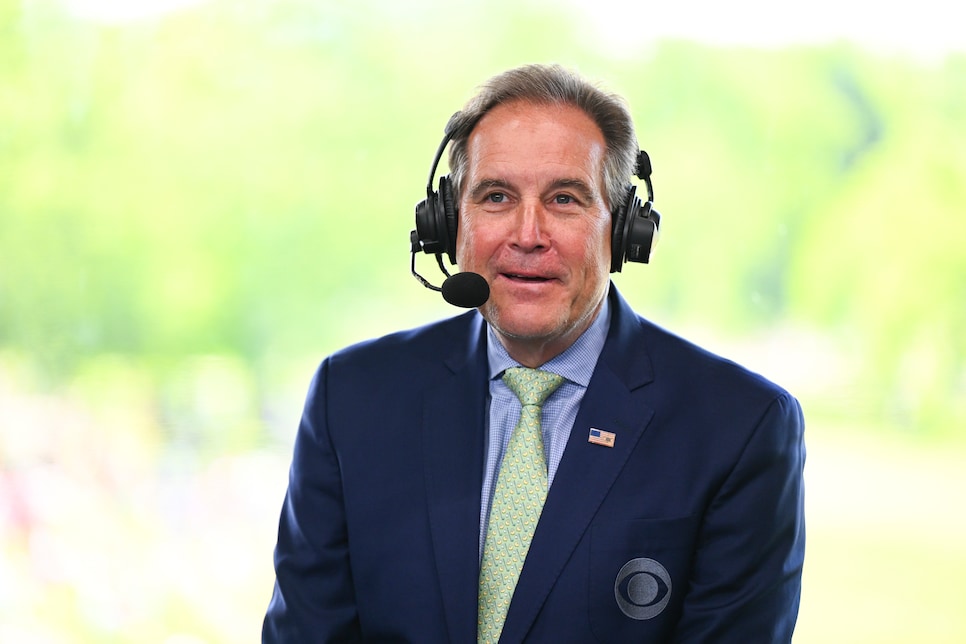 Jim Nantz is, well, Jim Nantz. You're familiar with his résumé and you've heard him on your television call many of the most important moments in sports history for CBS over the past three decades including Super Bowls, NCAA Championship basketball games and, of course, golf, with the Masters and the PGA Championship among the biggest of them all.
He's met dignitaries from around the world, he's played golf with the most recognizable athletes on the planet and he has become friendly with several U.S. presidents.
"It was one of the greatest honors of my life," Nantz told the Times. "When I heard the news about her passing [on Thursday at age 96], I felt an emptiness because of the amazing life that she's lived."
President George W. Bush had invited 135 guests to the White House in 2007 to honor Queen Elizabeth and Prince Philip, who were visiting Washington, D.C. for the first time in 16 years. Nantz received his invitation a month before the event. Arnold Palmer was also in attendance.
The evening started with a reception in the East Room where there was a photo opportunity with the Queen, Prince Philip, President Bush and his wife Laura. Nantz says he was second in line, he politely greeted the Queen and was on his way.
Eventually Nantz arrived at his seat at Table 11. Across from him were two empty seats. Trumpets sounded and a Marine then announced the arrival of Laura Bush and Prince Philip. Next up, President Bush and Queen Elizabeth. The Queen walked straight to Table 11 and sat immediately across from Nantz.
"I was looking right into her eyes," Nantz told the Times. "She had the tiara and the sash, everything you would think it would look like. Right out of central casting."
As President Bush walked to his seat at Table 12, he told Nantz, "you're sitting at this table for a reason. Keep the conversation going."
Of course, everyone at the table wanted to speak with the Queen, as Nantz recalled, although most were hesitant to attempt to break the ice.
President Bush ultimately told the Queen about some of the important events that Nantz had broadcast but that didn't spark any deep conversation. More time passed and President Bush looked over to Nantz and gave him a sign that it was time to step up the energy at the table.
The pressure was on. Nantz had to dig deep. The conversation below appears exactly as Nantz told it to the Times.
"Your Majesty, may I ask you a question?"
"You were at the Kentucky Derby. Did you have a nice time?"
"Did you have the winning horse?"
"Are you a big fan of horse racing?"
All pleasant. But all conversational cul-de-sacs.
Said Nantz: "I was thinking, `Oh, my gosh, this is the toughest interview of my life.' "