News
Nantz Relishes 'Bittersweet' Opportunity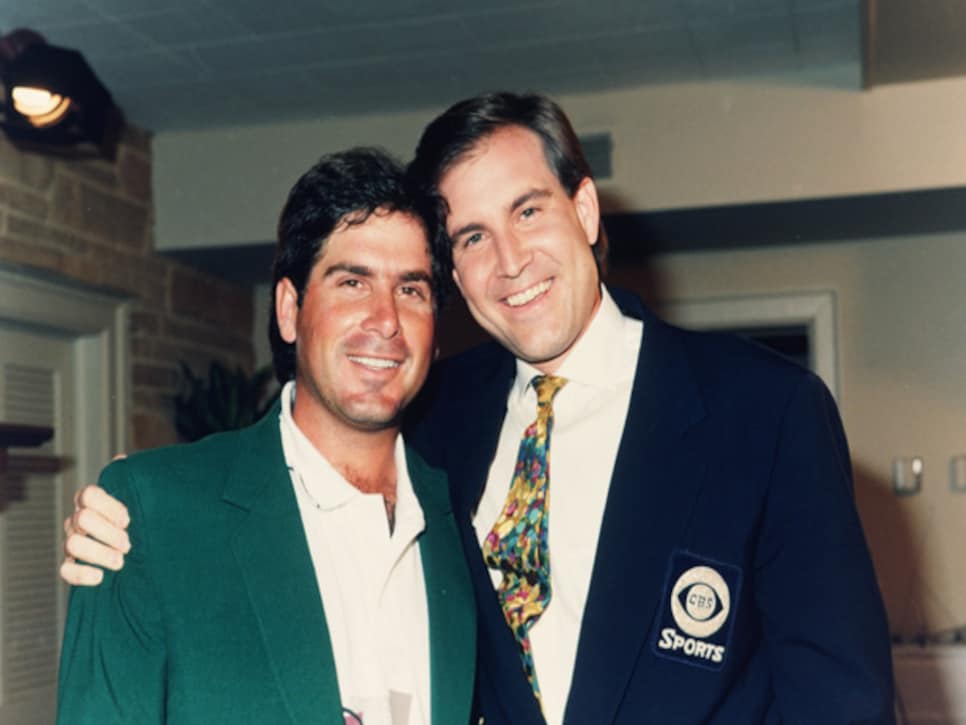 Nantz and Fred Couples were college buddies at the University of Houston.
had the date circled for months. It wasn't the Super Bowl in New Orleans, or the Final Four in Atlanta, or even his beloved Masters. Those are regular assignments on his calendar, if calling a football game to an audience of more than 100 million people can be labeled regular.
No, Nantz has been pointing to May 6.
"It's been in my head for such a long time," he said.
Monday night, Nantz will present both Fred Couples and Ken Venturi during enshrinement ceremonies at the World Golf Hall of Fame in St. Augustine. The evening now will have a bittersweet tone since Venturi, 82, won't be able to attend. He still is battling the effects of a serious infection and stomach surgery.
Nantz said he is "crushed" about Venturi's situation.
"He's going to be terribly missed," Nantz said.
Yet Nantz vows the evening will be special for Venturi's sons, Matt and Tim, who will accept on his behalf, and his extended golf and CBS family. Nantz knows what the induction means to Venturi, who waited a long time to receive the honor. He even was more thrilled when Venturi asked Nantz to be his presenter.
Couples followed suit, requesting that his old University of Houston classmate also present him during Monday's ceremonies.
It will be the second time Nantz performs the prestigious daily double on induction night. In 2011, he presented the 41st president, George H. W. Bush, and legendary CBS golf producer Frank Chirkinian. Lanny Wadkins also asked Nantz to do the honors when he was inducted in 2009.
That he has ushered five people into the World Golf Hall of Fame is a number that humbles Nantz.
"When people ask me, 'What are you most proud of,' I say it's that I've had five people close enough to ask me to present them at the World Golf Hall of Fame," Nantz said. "There were any number of people they could have used, but they asked me. It really means a lot to me."
Couples' induction obviously is more personal than the others for Nantz because they grew up together. The future Hall of Famer and the future CBS lead sportscaster, along with future PGA Tour player Blaine McCallister, shared a suite as students at Taub Hall in Houston.
"Suite sounds fancy," Nantz said. "Believe me, it was more like an army barrack."
Nantz labeled the young Couples as being "unsuspecting, innocent and bashful." Yet he and his teammates on the Houston golf team could see the coolness that defines Couples' golf game. They all predicted he would win a Masters one day.
In many respects, the emotions of Monday night will be a repeat of what occurred in Butler Cabin following the 1992 Masters. Nantz handled the duties for CBS when Couples received his green jacket.
"I tried to keep the interview on a professional level," Nantz said. "Yet I knew I would regret it if I didn't make it personal. I wanted to bring the guys from the golf team into that setting. I said, 'When I think back at all your friends from Taub Hall. . .' Fred shielded his eyes. He said, 'I can't even look at you.'"
Nantz worked that Masters next to Venturi. He calls the former CBS golf analyst "one of my father figures." He taught Nantz about the game of golf and broadcasting golf during their 17 years together.
"Ken, and the players of his generation, are an embodiment of what the game is all about," Nantz said. "When we were on the air, we found ourselves completing each other's sentences. You almost forgot you were wearing headsets. It felt like talking at home, watching the tournament on TV with a friend."
Off the air, Nantz cherishes all the dinners they had together. Venturi's stories ranged from Ben Hogan to Frank Sinatra.
Venturi would have told plenty of them if he was in St. Augustine Monday night. Nantz says the World Golf Hall of Fame has extended an invitation to Venturi to make his induction speech during the 2014 ceremonies.
"God willing, Kenny will be there," Nantz said.
The date already is circled on Nantz's calendar.