USGA
Experience pays off for Jim Furyk, the new U.S. Senior Open champion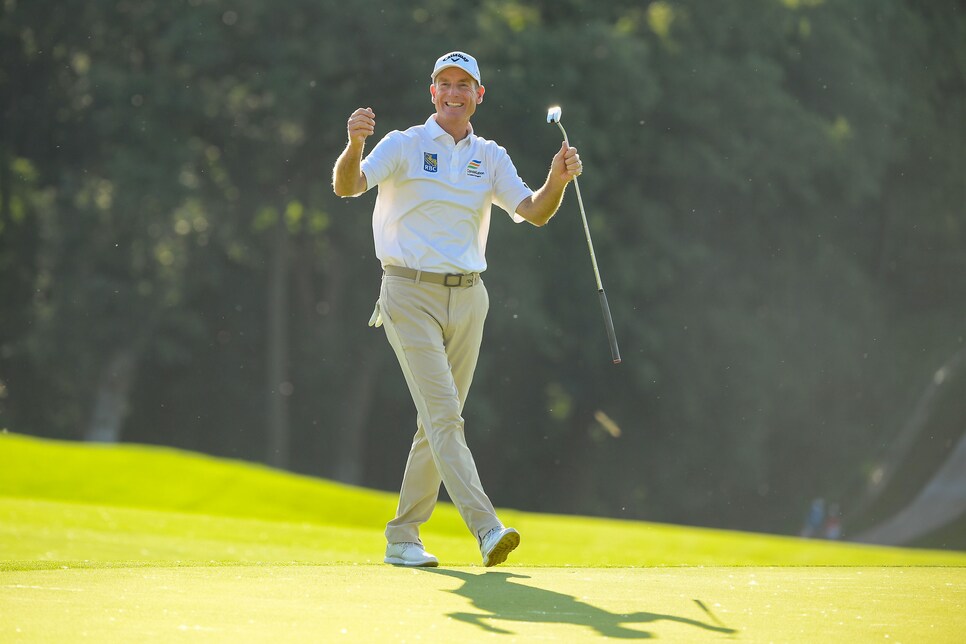 Jim Furyk hadn't enjoyed much success of late when holding a 54-hole lead. In fact, since winning the 2010 Tour Championship and FedEx Cup title, Furyk had been 0-for-10 with a Saturday night lead or co-lead, a span of 3,941 days.
And when he played his first three holes Sunday in the U.S. Senior Open in three over par to see his four-stroke cushion whittled to one, the former U.S. Open winner knew he was in for a long, knuckle-biting day. But he didn't knuckle under.
Displaying patience and a putting stroke that never let a three-putt off its face, Furyk eventually rebuilt his advantage and registered a three-stroke victory in the 41st U.S. Senior Open at Omaha (Neb.) Country Club. A cautious and cagey one-over 71 was enough to hold off two-time U.S. Open winner Retief Goosen and former Masters champion Mike Weir.
"I've been there before. I've done it before. Sometimes you don't react as positively as I did," said Furyk, 51, who led after each of the final three rounds and ended up a seven-under 273. "I guess the one thing I really had going for me [was] I really felt good about my game.
"I was three over through three, but only finished one over for the day. So to really play the last 15 holes that well under the conditions was real exciting and gratifying."
Furyk became the 10th player and second in a row after Steve Stricker in 2019 to win the U.S. Senior Open in his debut. He joined an illustrious group to have won both the U.S. Senior Open and U.S. Open, which he captured in 2003 at Olympia Fields, near Chicago. That group includes Billy Casper, Hale Irwin, Orville Moody, Jack Nicklaus, Arnold Palmer, Gary Player and Lee Trevino. Irwin was the most recent to capture the double with the first of his two Senior Open titles in 1998.
The victory, fueled by a second-round 64, tying the low round of the championship, was Furyk's third of his rookie season on the PGA Tour Champions to go with 17 career titles on the PGA Tour.
Goosen had a closing 69 and Weir tied Rod Pampling for low round of the day with a 67 to finish at four-under 276. Pampling ended up solo fourth another stroke back.
"He's just a very good driver of the golf ball, step one," Pampling said of Furyk. "And then he's very good iron player and a very good putter. So you put those together— and he's clicking with it—then he's going to be up there. Obviously, he's a quality player."
Jim Furyk reacts in front of Mike "Fluff" Cowan after winning the U.S. Senior Open.
Quinn Harris
Furyk said he never felt comfortable on what he called a "dangerous" Omaha C.C. layout, and, indeed, he didn't put the championship away until he stuck a wedge to a few feet at the par-5 16th hole after a bogey at 15. The easy birdie restored his lead to four strokes. Before then he was largely playing defense, but he was doing it quite well, finding fairways and going for the safe side of greens.
"Looking back after making bogey at 15, that was probably the clincher," he said of the dagger at 16.
He enjoyed the walk up 18 with his longtime caddie, Mike "Fluff" Cowan, who was on his bag at Olympia Fields. After he calmly two-putted from 60 feet, the two men shared a hug. Then Furyk saw his wife Tabitha and their two children just off the green and the usually stoic Floridian got emotional.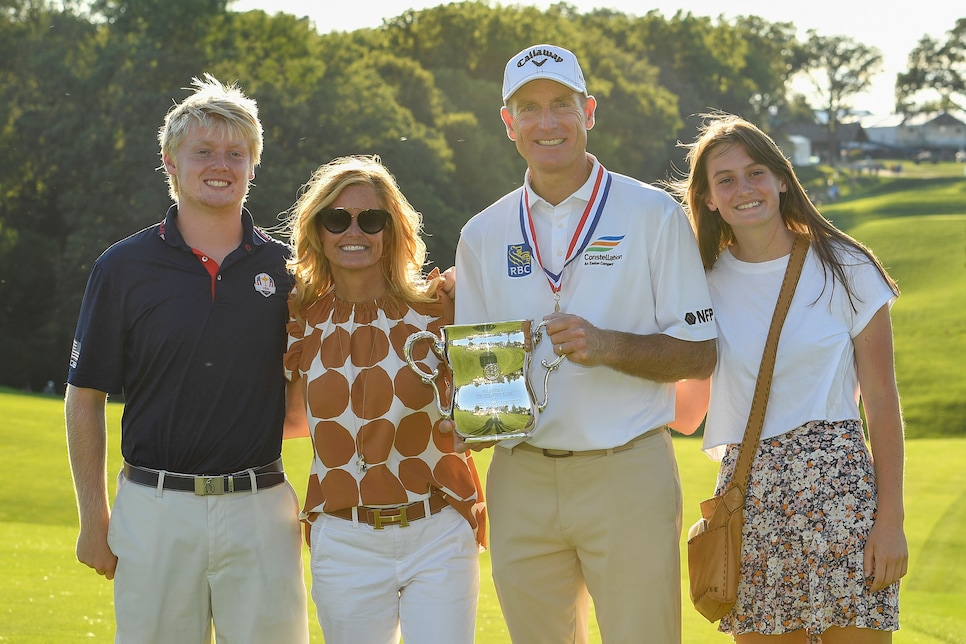 Tanner, Tabitha, Jim, and Caleigh Fuyrk take a family photo with the trophy after winning the U.S. Senior Open.
Quinn Harris
He was asked what the win meant, if he could compare it to capturing the U.S. Open. Well, no, not exactly. Senior golf, he said, is more of a victory lap, but it's a much sweeter one when you can add victories to it.
"Beating a good field on a tough golf course, yeah, that's a feather in your cap," he said. "The feeling of winning never goes away."