Payday at Omaha
Here's the prize money payout for each golfer at the 2021 U.S. Senior Open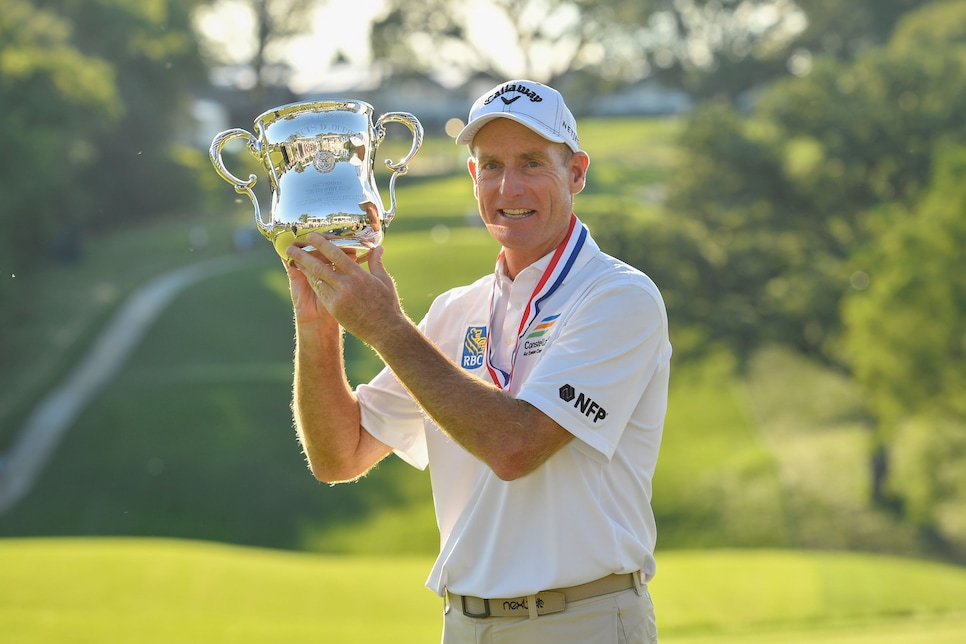 Jim Furyk poses with the trophy after winning the 2021 U.S. Senior Open by three shots.
Quinn Harris
There was likely no more predictable an outcome when Jim Furyk turned 50 and was able to play the PGA Tour Champions that one day he'd win a senior major title. And arguably the most obvious one would be the U.S. Senior Open.
The 51-year-old became just the eighth golfer to pair a U.S. Open victory (2003, Olympia Fields) with the senior version when he shot a closing 71 at Omaha Country Club on Sunday. That capped a seven-under 273 total for the championship, three shots lower than runners-up Mike Weir and Retief Goosen.
With the victory, Furyk is also the 10th golfer to win in his U.S. Senior Open debut.
For the win, Furyk claimed a prize money payout of $720,000 from an overall purse of $4 million. Here's a breakdown of the prize money payout for each golfer who made the cut in the senior major.
T-2: Retief Goosen, $352,529
4: Rod Pampling, $191,407
T-5: Bernhard Langer, $150,391
T-5: Kevin Sutherland, $150,391
7: Fred Couples, $127,440
T-8: Jerry Kelly, $95,794
T-8: Miguel Angel Jimenez, $95,794
T-8: Wes Short Jr., $95,794
T-8: Stephen Ames, $95,794
T-13: Robert Karlsson, $66,799
T-13: Paul Goydos, $66,799
T-13: Steve Flesch, $66,799
T-17: Gene Sauers, $53,250
T-17: Fran Quinn, $53,250
20: Marco Dawson, $46,681
T-21: Tom Lehman, $42,432
T-21: Peter Fowler, $42,432
T-23: Kent Jones, $35,829
T-23: Shane Bertsch, $35,829
T-23: Jeff Maggert, $35,829
T-26: Alex Cejka, $30,895
T-26: Vijay Singh, $30,895
T-28: Paul Broadhurst, $25,824
T-28: Darren Clarke, $25,824
T-28: Woody Austin, $25,824
T-28: David Toms, $25,824
T-28: Greg Kraft, $25,824
T-34: Harry Rudolph, $19,440
T-34: Thongchai Jaidee, $19,440
T-34: Dicky Pride, $19,440
T-34: Colin Montgomerie, $19,440
T-34: Lee Janzen, $19,440
T-40: Markus Brier, $16,094
T-42: Jean-Francois Remesy, $13,631
T-42: Billy Mayfair, $13,631
T-42: Jerry Smith, $13,631
T-42: Billy Andrade, $13,631
T-46: Jody Bellflower, $10,404
T-46: Jeff Sluman, $10,404
T-46: Doug Barron, $10,404
T-46: William Mitchell, Amateur
T-46: Scott Parel, $10,404
T-46: Joey Sindelar, $10,404
T-52: Rocco Mediate, $8,899
T-52: Mark O'Meara, $8,899
T-56: Todd White, Amateur
T-56: Kevin Kraft, $8,580
T-59: Jesus Rivas, $8,416
61: Mark Strickland, Amateur
T-64: John Riegger, $8,170
T-64: Steve Runge, $8,170
66: David Shacklady, $8,038