The Loop
Jim Furyk announces key changes to how the 2018 U.S. Ryder Cup team will be selected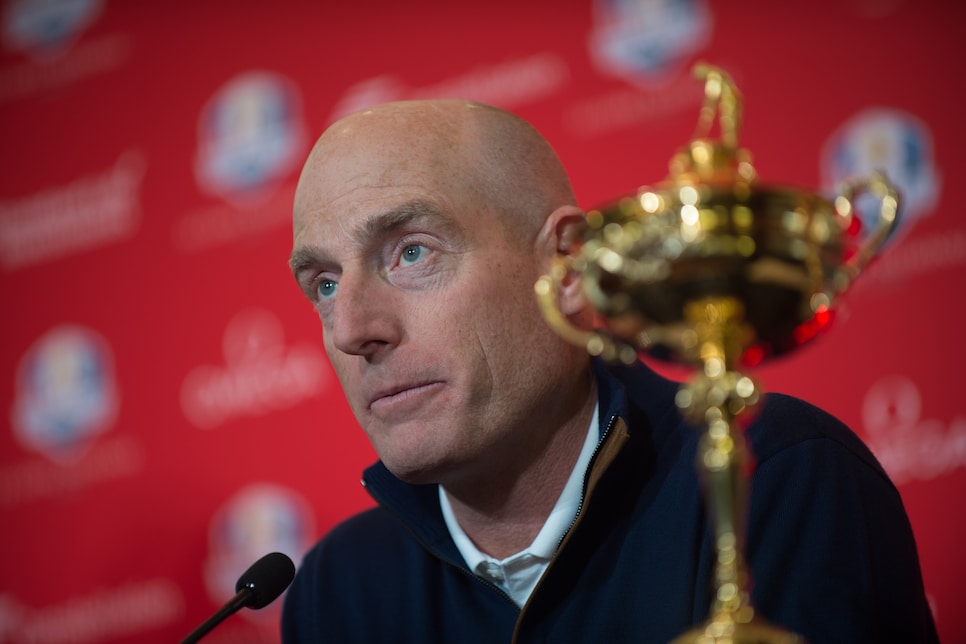 Montana Pritchard/PGA of America
On Wednesday, Jim Furyk announced several key changes to how Team USA will be selected for the 2018 Ryder Cup. The most drastic of which concern the captain's picks. There will still be four, but the timing of when they're chosen will be a lot different.
Furyk will make three of his captain's picks following the Dell Technologies Championship, the second of four FedEx Cup Playoff events. He'll make his fourth and final pick two weeks later following the BMW Championship, the third playoff event. In 2016, captain Davis Love III picked three players after the first playoff event and then made his final pick -- which wound up being Moore -- after the playoff finale, the Tour Championship.
Although the Moore pick worked out, Furyk felt solidifying the team earlier made sense due to international travel.
"We had great intentions and they worked out really well," Furyk said of the late pick in 2016. "Looking to the future, that's something we don't have the opportunity to do going to Paris. Hopefully, we can identify the hot player like Ryan, just after the BMW."
The other important change involves the point system. Although it will remain mostly intact, a tweak has been made in how many points will be awarded during the 2018 majors. Previously, two points were awarded for every $1,000 earned, but that has been dropped to 1.5 points for everyone other than the winner, who will still receive double points.
According to Furyk, this was a change suggested to him by several players last year. It's intention is to make winning a regular 2018 event (in which players receive one point for every $1,000 earned) more valuable.
Players will also be able to earn points in 2017 at the majors (One point for every $1,000 earned), the Players and World Golf Championships (one point for every $2,000) earned. That point system for events the year before the Ryder Cup remains the same, although in another slight change, the eight players who qualify on points will be determined at the conclusion of the 2018 PGA Championship instead of the first playoff event.
The 2018 Ryder Cup will be held at Le Golf National, about 15 miles west of Paris. It will be the first time the biennial event has been held in France.