News
Jim (Bones) Mackay proves he can carry a mic as effectively as a bag
The longtime caddie remains one of golf's most respected voices. He's just talking to a new audience.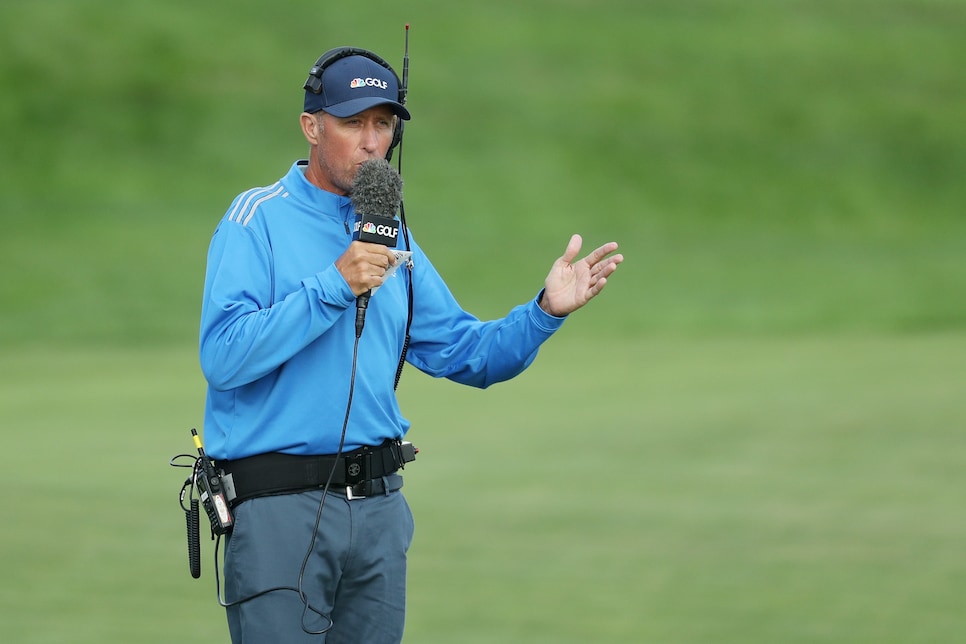 Photo By: Rob Carr/Getty Images
An un-raked bunker, even for a caddie no longer obligated to lift a rake, apparently still triggers an irresistible urge to act. So it was last month that Phil Mickelson's old looper, now kitted out with headphones, microphone and battery belt, waded into a bunker.
"There was an incident at the BMW Championship where there was nobody to rake the bunker, and we were in a commercial," Jim Mackay, more widely known as Bones, said. "The thought of grabbing a rake and raking the bunker felt natural. I was trying to help out, help with the pace of play. I said, 'I'll get it.' "
Once a caddie, always a caddie. "No one enjoyed caddieing more than I did," Mackay told Golf World last week. "I will always love it. I still consider myself a caddie."
It is the caddie's perspective that Mackay has brought to his new job as an on-course reporter for NBC and Golf Channel, introducing a resource heretofore untapped that likely has played well with the audience—and unequivocally has done so with his boss.
"All the years being on Phil's bag, there was a pretty good chance he'd be good," NBC golf producer Tommy Roy said. "What was a pleasant surprise was what he talks about on the air. He's very strategy-oriented. That's not always the case, where there's more describing how the shot has to be played and the conditions, the yardage, the wind. Bones is thinking strategy, like where to miss it. I like that he's bringing this new role to it."
'There was so much to learn, so much more than I ever would have guessed. … I think there's a real timing involved in it, how you interact with the guys you're working with. … It's more mechanical than I thought. But it's been great. It's a really cool thing to do.'
Bones and another caddie, John Wood (who now works for Matt Kuchar), were hired by Roy to work the 2015 RSM Classic in Sea Island, Ga. "It was a fall event, up against football, and doesn't get a lot of notice," Roy said. "I wanted to come up with a gimmick that might attract attention and give us some ink. I'm friends with Bones and John Wood, and when I've gone to dinner with them, they weren't just thinking about their rounds. They were thinking big picture.
"One of the things you have to instill in an announcer is to think big picture. I knew Bones already was doing that. That was one hill he'd already risen over. When we did the Sea Island event, both those guys did great. I knew that should the day come that either one stopped caddieing, television would be an option for them, Bones in particular. We'd had the opportunity to eavesdrop on his conversations [with Mickelson] through the years and knew that he would be a great communicator."
Mackay, 52, came into the job with ears wide open, a neophyte willing to listen and learn. Among those he listened to was Frank Nobilo, the former PGA Tour pro turned commentator for Golf Channel and CBS. "Frank gave me one of the best pieces of advice I've gotten," Mackay said. "He said, 'They hired you for a reason. Just be you.' That hit home with me. He also mentioned, 'say what you'd want to hear if you were home on the couch watching.' The thing I thought I wanted to do was to be a caddie who's doing announcing."
Bones' relative inexperience notwithstanding, Roy chose not to ease him into the job, instead asking him to make his debut at the Open Championship at Royal Birkdale.
"The great thing about the Open Championship is that there's a lot to talk about if you're an announcer, especially coming from the American way of playing golf," Roy said. "It's a totally different ball game, figuring out how to attack a hole. I knew Bones would have a lot to talk about, and having been on a winning bag [Mickelson's in 2013 at Muirfield], there was plenty for him to give to the audience."
Still, it's live television and "televising the Open Championship is different from the RSM event," Mackay said. "It's an incredibly important event. I just wanted to respect the process and do my thing, and obviously stay out of the way and figure out how does all this work.

"I'll be honest, when I got out of the car and walked into the TV compound at the Open Championship, I thought, Oh my goodness, it's 10 times bigger and more populated than I expected. When I saw the production memo, I was blown away by how much goes into it. I had no idea. I was never one to get nervous when I caddied and I wasn't nervous other than wanting to get started. I just wanted to get to it, get past it and move on. Once I dipped my foot in the water, I felt progressively more comfortable.
"There was so much to learn, so much more than I ever would have guessed. I think there's a real timing involved in it, how you interact with the guys you're working with. I bumped into a couple guys talking, things like that. It's more mechanical than I thought. But it's been great. It's a really cool thing to do."
A quarter-century spent alongside a man who has streamed storylines had equipped Mackay with an arsenal of material that he began tapping into with his first assignment. He told an amusing story of Bubba Watson's introduction to Mickelson.
"I used to live in Athens, Georgia, back in the '90s," Bones said during the telecast of the first round of the Open. "And when Phil would come to town he'd practice there with the UGa kids. And at one point during those sessions, we run into this kid named Bubba Watson, who was a very good player with the University of Georgia. [Phil would] head out with this team and have a small wager with the kids. … Bubba was really fun to be around. At one point he wanted to play this match against Phil. He basically said, 'Hey, if I beat you I get a couple of bucks. If you beat me I will go to the airport and wash your plane.' "
"And?" NBC's Terry Gannon asked.
"Bubba might owe Phil a clean plane," Mackay replied.
It was an interesting interlude: A story not heard before and told by a naturally gifted speaker with knowledge he's not afraid to share. Mackay's confidence and comfort level was evident, too, and was further demonstrated most recently in the wake of his having witnessed the drubbing Jordan Spieth and Patrick Reed game to Jason Day and Marc Leishman in Saturday morning foursomes at last month's Presidents Cup.
"If Spieth plays this afternoon and he has some 90-yard shots, [his caddie Michael] Greller might want to start tending some flags because Spieth is all over them," Mackay said. Recall Mackay once tended the flag for Mickelson when he had a 72-yard wedge shot that he needed to hole for eagle to tie Watson on the 72nd hole at Torrey Pines during the 2011 Farmers Insurance Open.
In a FedEx Cup playoff event last month, Roy brought Bones to the tower after the group he was following had completed play. Mickelson and his new caddie, brother Tim, meanwhile, were discussing what kind of shot to play, and one of them said it required "a [Dave] Pelz wedge here."
"I said to bring in Bones and ask him what a Pelz wedge is," Roy said. " 'That's a knockdown shot,' Bones said. So we have found some interesting things about Phil on the air."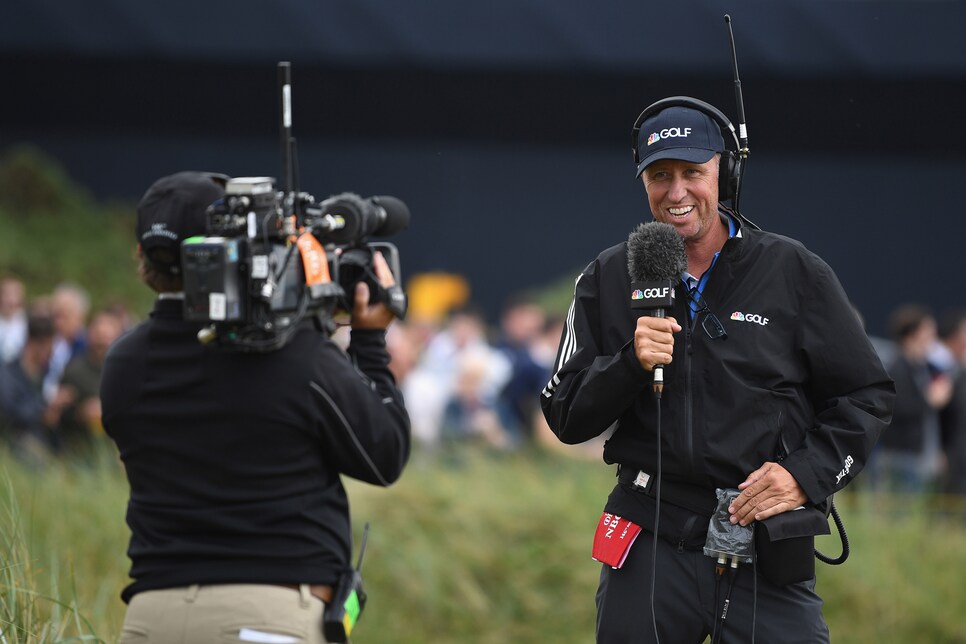 Mackay has not yet been assigned a grouping with Mickelson in it, notwithstanding the fact that from a golf fan's viewpoint, it would qualify as must-see TV, to resurrect an old NBC slogan. Roy has not ruled it out in the future. "I think the day will come when enough time has passed to do it," Roy said.
His concern in the near term is the potential for a distraction caused by the vocal few in a crowd who consider "mashed potatoes" imperative to a tournament sound track and might be inspired to weigh in on the Mickelson-Mackay parting.
"One thing we want to be cognizant of is that we don't want to put anybody in a bad spot," Mackay said. "We don't want to make anybody uncomfortable. That's the most important thing to me in that equation."
The opportunities to reunite on the golf course will be there for awhile. Bones is at the outset of a new career that will include his working maybe 22 events a year (next up for him are the Hero World Challenge and the PNC Father/Son Challenge in December). Mickelson, meanwhile, gives no indication that either retirement or irrelevance is on the horizon.
"I've been telling folks that it's not lip service when Phil talks about the number on your driver's license being only a number," Bones said, noting that he was among those who watched Mickelson threaten to win the Safeway Open recently. "People are going to be really impressed by how well he continues to play into his 50s."
Game recognizes game, as they say.
In his own industry, few rival Roy on the game front, 30 Emmys lending authority to his glowing appraisal of Bones after only a few months.
"I knew that he was going to be good," Roy said. "I didn't know he'd be this good this quickly. That was a pleasant surprise. Doing the job on the ground, it's mechanically difficult. It's not easy. You don't just put on a headset and talk. It's complicated. I thought it would take some time. But from day one at the Open he got off to a great start and it's been full speed ahead."