News
Jim (Bones) Mackay to join NBC/Golf Channel broadcast crew as on-course reporter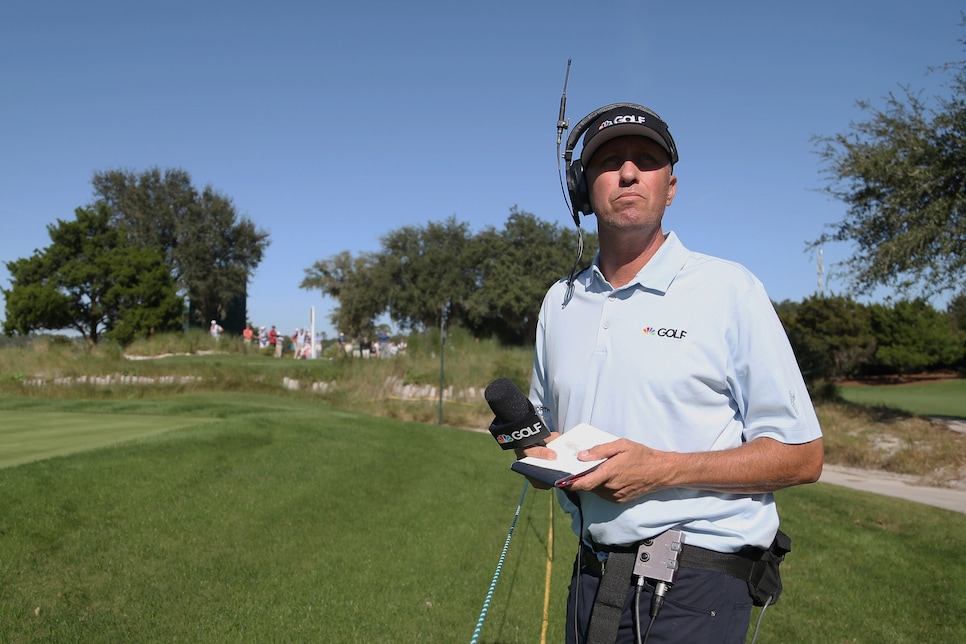 Matt Sullivan/Getty Images
Jim (Bones) Mackay will bring 25 years of expertise as a caddie for Phil Mickelson to a new occupation as an on-course reporter for Golf Channel and NBC. Sources have confirmed that Mackay will sign a multi-year deal, debut at The Open Championship and work the FedEx Cup Playoffs and the Presidents Cup in August and September.
"When Phil and I split up, several people got in touch," Mackay said Tuesday in explaining how this career change happened in 16 days. "People have been nice enough over the years to say something to me about how they thought [broadcasting] was something maybe I could do at some point in my life. It was always something I'd say thank you to, and personally thought about. When Phil and I split, I got several phone calls, and it became a bigger opportunity, really seriously, the last few weeks."
In Mackay's account of his mutual split with Mickelson, announced on June 20, being a broadcaster was not a subject they discussed. Mackay also confirmed he received calls from several golfers about continuing his career as a caddie that in his words were "very intriguing."
Intriguing also would be a word to describe the decision Tommy Roy, NBC's lead producer for its golf coverage, made to put Mackay on air. From Roy's perspective, Mackay brings more than just the caddie perspective to the job. "First of all, he's a great communicator," Roy said Wednesday. "That's the No. 1 attribute you have to have to be in this business as an announcer." Roy picked that up in years of eavesdropping on conversations between Mickelson and Mackay during NBC broadcasts.
No. 2 is that Bones has been in the arena, as Roy said, "Under the most pressure packed circumstances, and to get through those with the highest highs and some of the lowest lows is an incredible wealth of experience to call on."
No. 3 is something Roy experienced making Mackay and fellow caddie John Wood part of the Golf Channel and NBC coverage of the 2015 RSM Classic. Coming through that week on Sea Island, and in dinners Roy has shared with Mackay over the years, was Mackay's understanding of the story lines beyond what he and Mickelson were doing, seeing the bigger picture at tournaments.
"To have that before getting into the TV business is astounding quite honestly," Roy said. "So he's got all these attributes that he can put to use and we can put them to use."
Finally, there is the element of Mackay being a recognizable and well-respected personality in the golf world. "He's as well known and maybe more known than some of the players and he's very likeable, too," Roy said. "There's a ton of potential here."
These words are flattering to Mackay.
"The first thing I'll say is, I obviously have a ton to learn," Mackay said. "Early on, my only goal is to get comfortable and get better. But for what I could bring is a caddie perspective, I may have something more to say about the dynamic of player and caddie going on out there. But again I have a lot to learn. Right now, it's just a question of jumping in with both feet and learning as much as I possibly can, as quickly as I can."
Interestingly, too, with his schedule, there remains the potential for Mackay to do some caddieing while also broadcasting. "I don't think it rules anything out," Mackay said. "I'm going to be working 20-odd weeks a year. I think being a caddie is always going to be in my blood, but right now it's one thing at a time."