The Loop
Jet Lag Is History As Is My Wireless Internet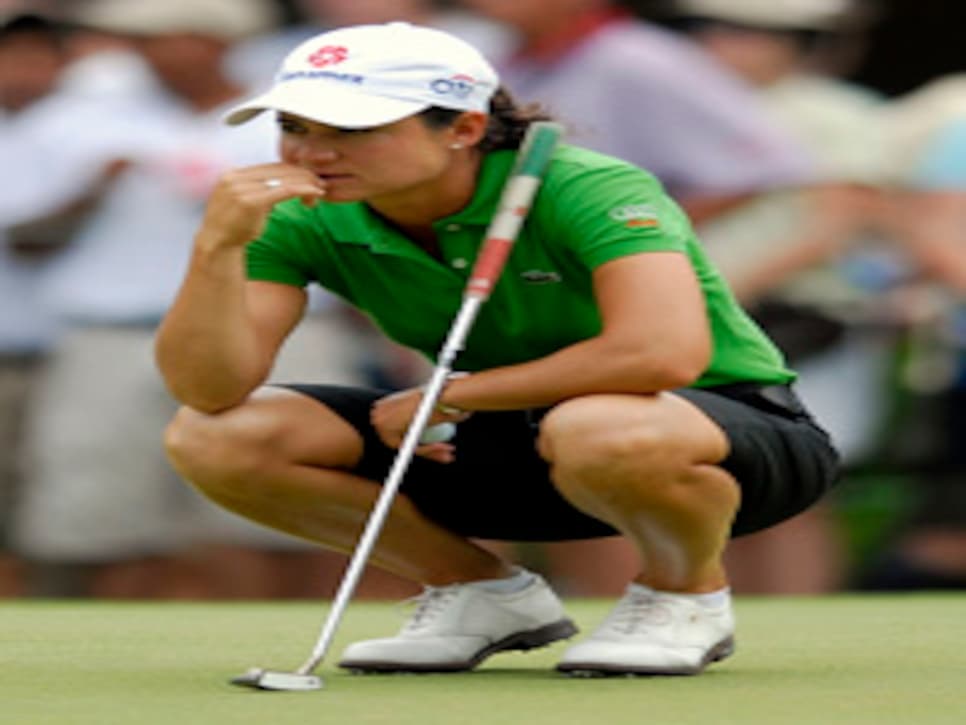 EVIAN-LES-BAINS, France - Let the record show that after 11 hours sleep I am somewhat adjusted to France time, and let it also show that the wireless Internet in my hotel room I was telling you about doesn't work. And let the record further show that  Lorena Ochoa is as nice a person as she is talented as a player. One of her endearing qualities is that she starts every interview with the media with a cheery "Hello!" Vijay almost never does that. Ochoa also has an extremely rare condition among players -- both her hands are the same color. She is in that small group that doesn't wear a glove. Ochoa is also one of the best-conditioned athletes on tour. Her best half-marathon time is one hour and 47 minutes and her plan is to extend to a full marathon when her days in competitive golf are behind her. "I would love to run a marathon," she says, "but it's not a smart thing to do while I'm still playing golf. I'll stick with half marathons for now."
Lorena's other non-golf passion is water skiing. "It makes me strong for golf," she says, smiling broadly. "That's my excuse. When I do my workouts I ask my trainer for exercises that will make me better at water skiing." Of course there was the inevitable "Are you worried about not having won a major" question. "No," she says. 'My family and the media worries more than me. It was my goal for 2007 to win a major and I have one more opportunity. I think I'm ready. I really want to get that trophy." She's talking about the trophy that next week will be handed to the winner of the Ricoh Women's British Open, the first women's professional competition held on the Old Course at St. Andrews.
Annika Sorenstam, looking more relaxed and in control than she ever says she is pain-free following the ruptured disc in her neck discovered in April but says her conditioning and her game is still only at about 85 percent. "I am better than I was two weeks ago and certainly better than I was two months ago. I want to get to 100 percent and we'll take it from there. Sorenstam is winless this year and the last time she was shutout in an LPGA season was 1994, her rookie year. Since then she has won at least three times every year. Sorenstam had a lot to keep her occupied while she was shut down because of the injury. She opened her golf academy at the Reunion Resort in Orlando, launched her website annikasorenstam.com and began work on golf course design projects in South Africa and Canada. By the way, one of Sorenstam's playing partners in Wednesday's pro-am was former LPGA commissioner and current PGA Tour executive VP Ty Votaw, who is in town to watch his wife, Sophie Gustafson.
Today's Michelle Wie Watch reports that she knocked off the new Harry Potter book in a day and a half and that she is still having problems putting the driver in the fairway. She describes her injured left wrist as "better" and says of the difficult 12 months she has gone though: "Hopefully, this will make me a stronger person mentally and physically." Wie, who turns 18 on Oct. 11, says she is still undecided about whether or not she will try to become an LPGA member. As things stand now she would have to go through two stages of qualifying school to get a playing card. Asked her goal for the week, Wie said: "I just want to play as freely as I did last year, as happy as I did last year. I just want to play pain free." It was one of the most genuine, non-scripted answers she has given in a long time. It had a real ring of truth about it. Asked if that meant she would be happy if she missed the cut but felt no pain she looked startled and said: "I don't think there's a cut here. Is there a cut?" she asked looking to the tournament official to her right. Informed that there was she said, "Oh."
Instituting a cut is one of several changes made this year at Evian. The field was expanded from 78 to 90, the tournament finish was moved from Saturday to Sunday and several holes were lengthened. Remarkably, this is Wie's fourth Evian Masters. She first played here when she was 14. Sorenstam says one of the advantage of the Sunday finish is that lost luggage has an extra day to catch up with the players. Pretty much, London's Heathrow airport is the black hole of air travel. Luggage goes in and only reluctantly comes out. Did I tell you the media dining area here has a wine list? Don't tell my boss. Au revoir.