News
Jessica Korda is happier and her scores reflect it, including her 67 in the ANA Inspiration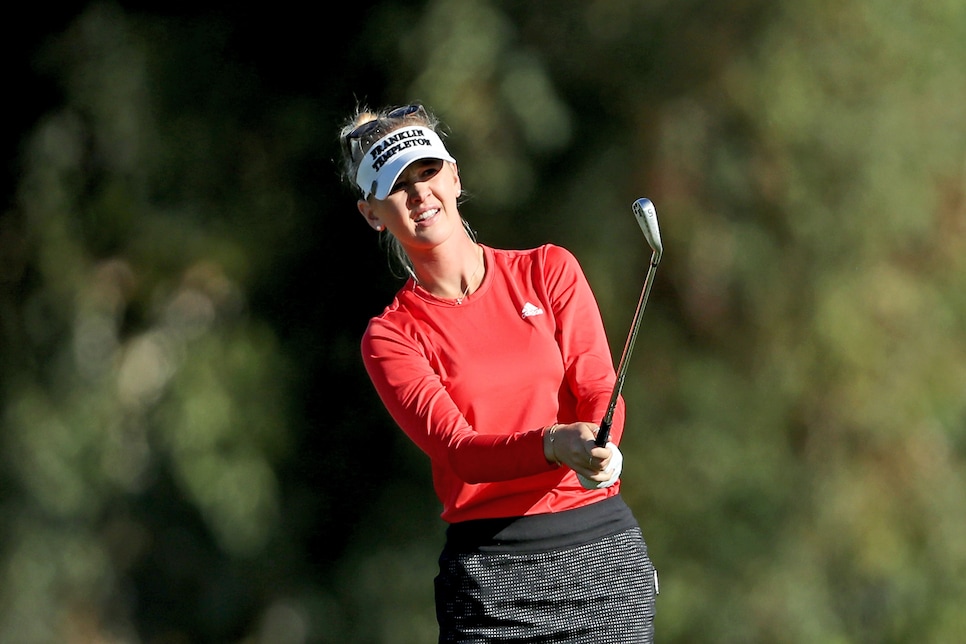 RANCHO MIRAGE, Calif. — Does happiness contribute to low scores, or do low scores contribute to happiness? Yes, would be the logical answer, though for Jessica Korda it was more complicated than that.
In December, Korda underwent jaw surgery to correct an acute overbite that caused her persistent and at times considerable pain.
"I honestly didn't realize how much it affected me until I got the surgery done," she said on Thursday at Mission Hills Country Club. "I'm just a happier person now. I wake up, no headaches, and it just puts a totally different pressure on you. [Before] you almost wake up upset instead of waking up happy. Now I get to wake up pain-free every day."
Her score of five-under-par 67 in the first round of the ANA Inspiration on the Dinah Shore Tournament Course was not pain free, but it was close enough. She birdied her first four holes and made four more birdies over the course of the round to take any potential sting out of three bogeys.
Korda, 25, is tied for third in the LPGA's first major championship, two strokes behind Pernilla Lindberg of Sweden. Ayako Uehara of Japan and Beatriz Recari of Spain are tired for second, while. amateur Albane Valenzuela, a Stanford sophomore from Switzerland, and Ha Na Jang of South Korea also shot 67s.
For Korda, her stellar first round was a continuation of her post-surgery performances, one of them a victory in the Honda LPGA Thailand, her first win in nearly 2½ years. She feels normal again, she said, apparently having removed an obstacle to playing to the potential that was evident when she won the Women's Australian Open at 18.
Korda leads the LPGA in scoring average, 68.25 entering the ANA Inspiration. "Obviously I think the 62 [at the Honda LPGA Thailand) really helped that scoring average," she said, perhaps underselling the degree to which she has improved statistically.
Though only 12 rounds accounted for her scoring average, it still is nearly two strokes better than last year's average of 70.18, which was the lowest of her career.
"I think it's just a couple putts dropping here and there," she said. "Even last year, I was hitting the ball really well, putting myself in really good positions. I just needed a couple more putts to drop. That's the thing out here. These girls are so good, and you look at the scores and one shot here, one shot there isn't going to make a huge difference. It's really who gets the putter going that is on top of the leaderboards. It is lower and lower."
But it was a driver she hit off the turf, her second shot at the par-5 ninth hole that led to another birdie, that was the highlight of her round. She had 248 yards to the front of the green and hit it just through the green.
"It was fun," she said. "We were talking about it the whole time. It's first cut. It's kind of teed up. I was like, why not do it? I'm four-under par. Worst case, I make par. So we kept going back and forth. Lay up, don't lay up. And I was like, you know what? If I was one or two-over, maybe I'd lay up and think about it. But I was like let's go. And I hit it so good. I actually caught way more air than I expected.
"But that's kind of what I'm just trying to do is have fun out there, hit shots that normally I would probably not hit in a tournament."