Courses
Jerry Matthews, 'the most prolific golf architect in Michigan history,' leaves behind a legacy of great public courses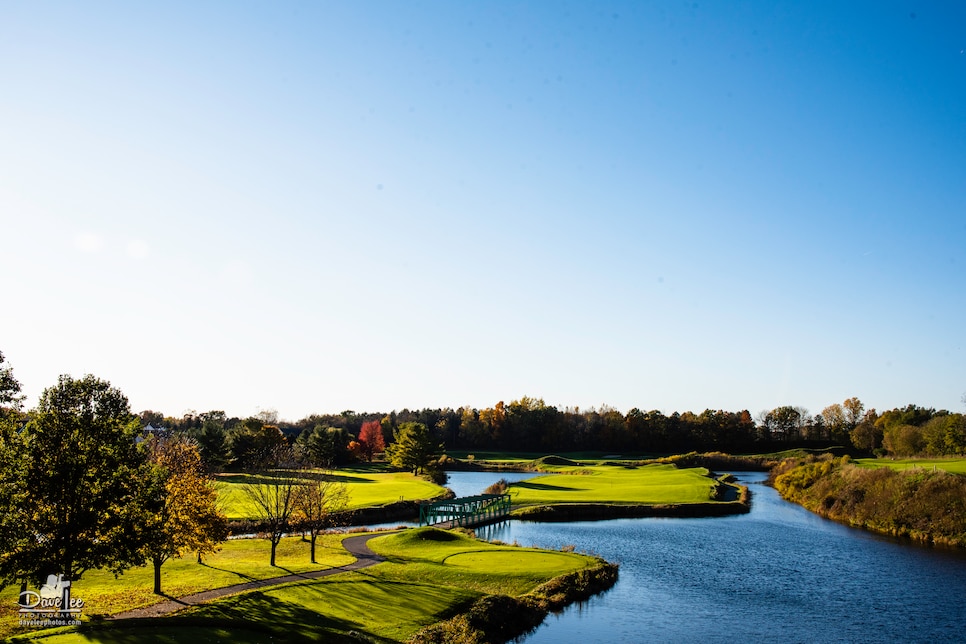 Last Thursday, veteran golf architect Jerry Matthews was the guest of honor at a golf event at the Grand Hotel on Mackinac Island, Mich., whose course he had expanded to 18 holes nearly three decades ago. At an evening reception on the massive hotel porch, media host Bill Hobson introduced Jerry to the crowd and summarized his 60-year-career in golf design. At 88 years old, Matthews spoke briefly to the audience, which then gave him a rousing round of applause that clearly touched him. After posing for a few pictures, Jerry went into the hotel dining room to have dinner with his wife. There, he experienced trouble breathing. Paramedics were summoned and they did their best, but he passed away within an hour.
"We should all be so lucky to have such a curtain call," said Paul Albanese, his one-time design associate and longtime friend, who was present in the audience that night. "A better script could not have been written."
Even the locale seemed preordained. Back in the 1990s, when Jerry was building the hotel's Woods Nine, he turned to his irrigation expert, Carol Colein, whom the divorced Matthews had been dating for some time, and said, "You know, we ought to get married."
"Only if we do it here," she replied. And in 1999 the two were wed at the Grand Hotel.
If you've played golf in Michigan, at some point Jerry Matthews most likely touched your game. He was undoubtedly the most prolific course designer in Michigan history, by a wide margin, with over a hundred original designs in the state and nearly as many remodels.
"Jerry loved the Michigan landscape," says Ray Hearn, who served as his chief designer from 1986 to 1996. "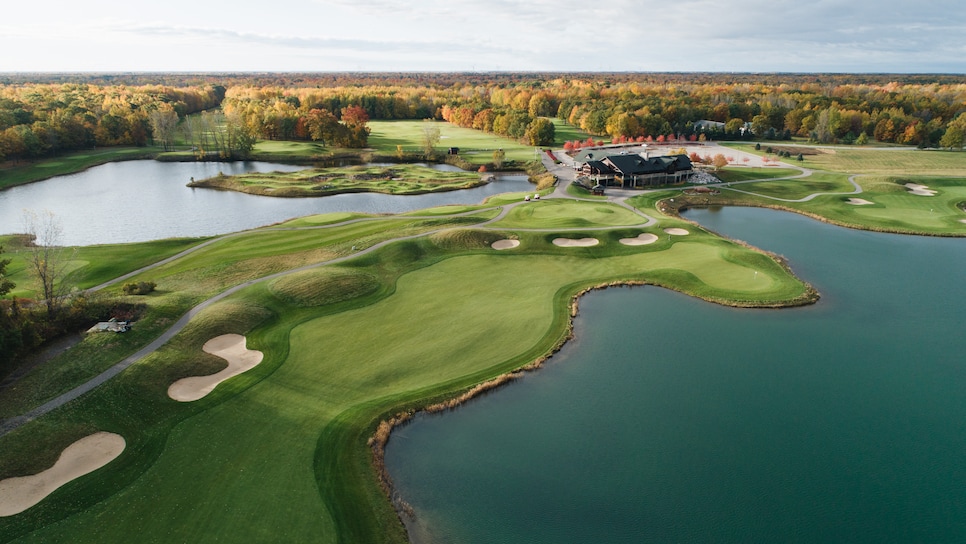 Jerry Matthews leaves behind a vast legacy of stellar public courses, mostly in Michigan, including Buck's Run Golf Club in Mount Pleasant.
North Coast Golf Co.
Not of fan of air travel, he worked only occasionally in other nearby states such as Indiana, Ohio and Virginia, although he was especially proud of the one he did in Alaska, Chena Bend in Fort Wainwright, where he had been stationed as a U.S. soldier back in the 1950s. (During his furloughs, he told me, he'd worked more on his fly-fishing skills than his golf game.)
"His respect for the natural ecosystems was reflected in his designs," Hearn says. In fact, unlike other architects, Jerry never complained about wetland protection laws and simply worked within their parameters.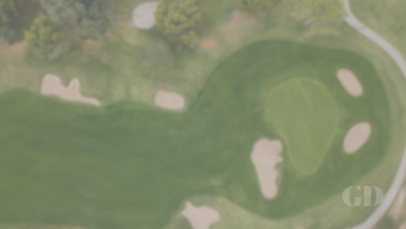 Public
Fort Wainwright, AK
Located just outside Fairbanks in Fort Wainwright, Chena Bend is the farthest north military golf course in the country. Five holes play along the banks of the Chena River, offering scenic views. There are a variety of holes—some are heavily-wooded and tight and others are wider and more forgiving. In 2007, Chena Bend topped our Best in Alaska list.
View Course
I developed my friendship with Jerry beginning in the late 1970s, while I was researching my first book on the history of golf design. Jerry's father, Bruce Matthews, had learned golf design from the Boston firm of Stiles and Van Kleek in the 1920s, then became a greenkeeper in Michigan during the Depression and opened a design company in Lansing in the mid-1950s, with Forest Akers Golf Course at Michigan State his first prominent project.
After graduating from Michigan State in 1960, Jerry went to work for his dad and three years later became his design partner, while at the same time earning a master degree in urban planning from MSU. In the 1980s, Jerry trained his nephew, Bruce Matthews III, in the craft of golf design, making the Matthews family a rare clan with three generations in the design business.
In the late 1980s, when I'd toured a construction site with him, Jerry was already talking in terms of minimalist architecture, a fashion that wouldn't fully take hold in the golf world for another eight or nine years. But his was a notion of modified minimalism.
"Mother Nature provides the best landforms for golf," he told me, "but isn't the best at golf course architecture. She doesn't provide everything. Doesn't provide the strategies or the sparkle that make for a great golf hole. The designer has to massage that out of the land."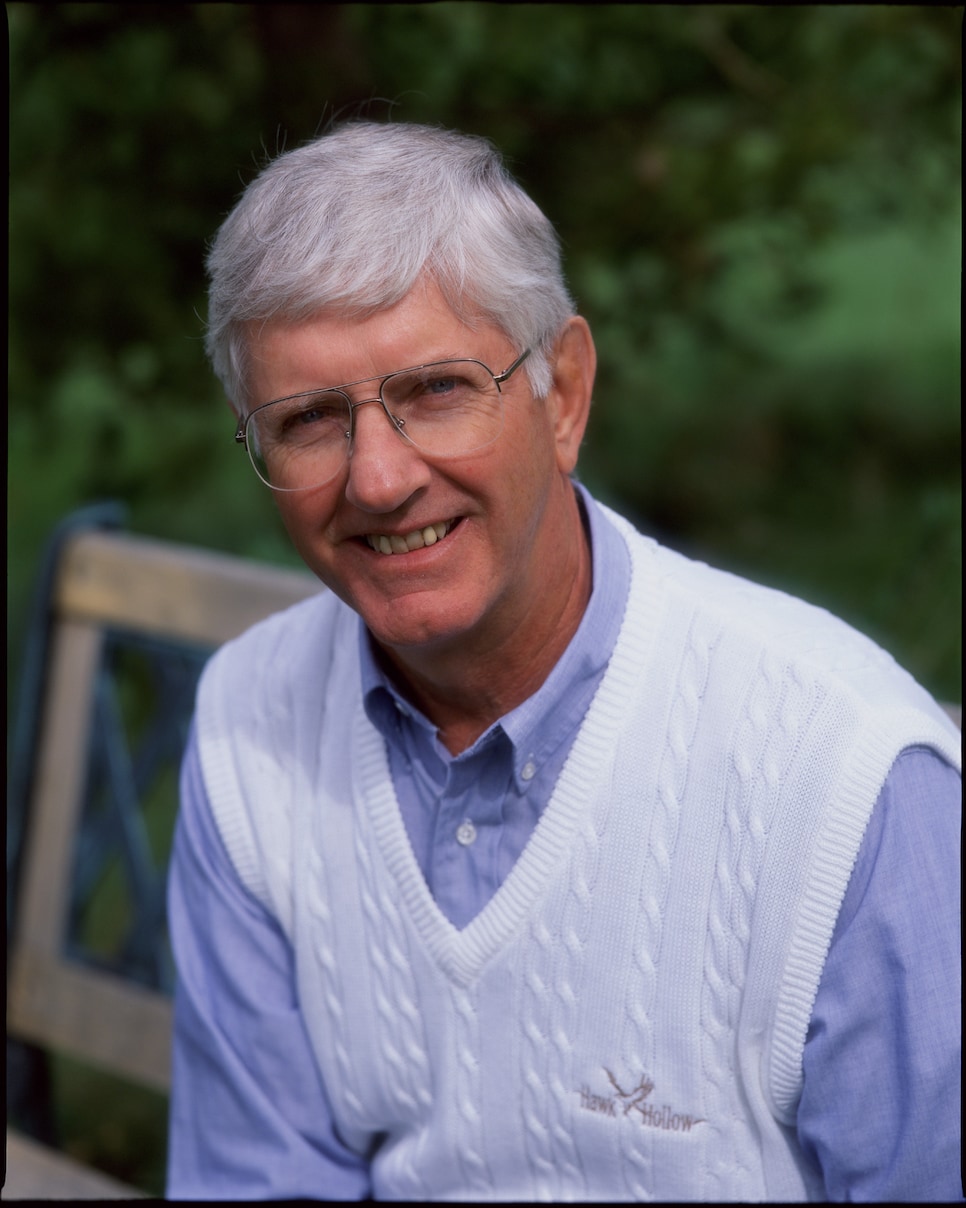 He demonstrated that philosophy on a succession of low-budget but critically acclaimed public-access products, starting with Michaywe Hills (now The Lake Golf Club) in Gaylord, Mich., which took third place in Golf Digest's Best New Public Courses of 1988; Timber Ridge in East Lansing (fourth place in 1989); Elk Ridge in Atlanta, Mich. (runner-up, 1992); St. Ives in Stanwood (fifth place, 1997); Timberstone in Pine Mountain (third place, 1998); and Sundance in Kewadin (third place, 2006). Other Matthews designs deserving of special mention include The Majestic at Lake Walden (1994), Hawk Hollow in Bath (1996), Hunters Run in Howell (1996) and Buck's Run in Mount Pleasant (2000).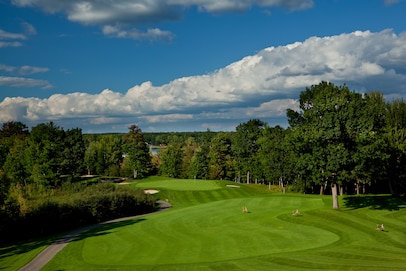 One of two courses at Tullymore Golf Resort, St. Ives is a challenging layout with many forced carries into the greens. The tree-lined Jerry Matthews design features many elevation changes and raised greens.
View Course
Sadly, Elk Ridge, developed by Lou Schmidt of HoneyBaked Hams, no longer exists, which is a shame, for it contained one of the most natural golf holes I'd ever played, the dogleg-left par-4 16th over wetlands and glacial hills to a domed green. My second favorite among Matthews holes is the sixth at Timberstone, with a lake on the left, a peninsula fairway, a cove in front of the green and a Mackenzie-like horseshoe-shaped putting surface.
"His signature hole was a short downhill par-3 over water," Albanese said in a Fore Golfers Network podcast recorded shortly after Jerry's death. Albanese explained how Jerry would search a property for that type of hole, then route the rest of his course around it.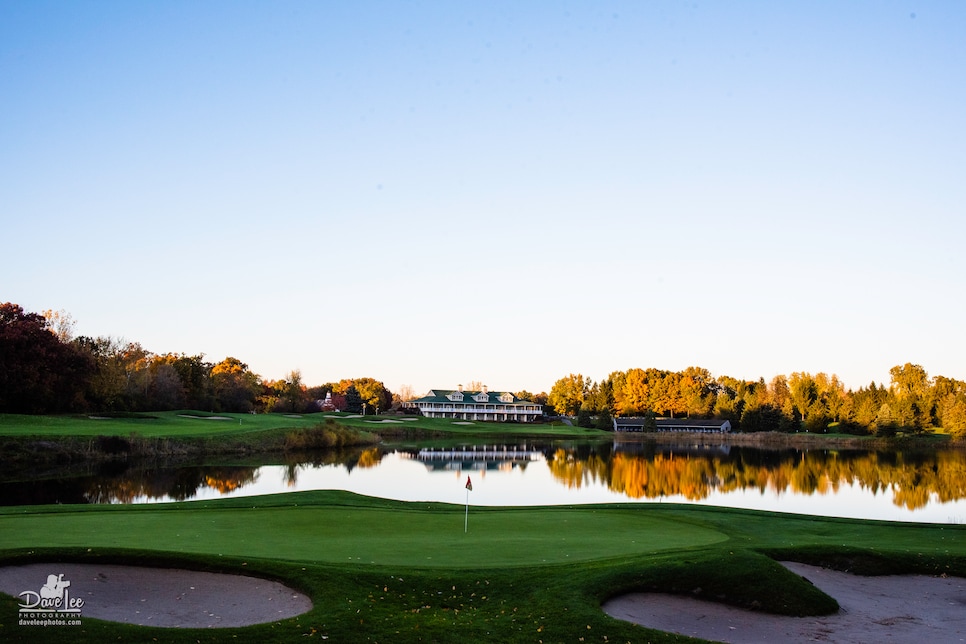 The 17th hole at Hawk Hollow in Bath, Mich.
Dave Lee
In 1991, Jerry served as a judge for a Golf Digest Armchair Architect contest, spending two days in my Kansas office reviewing hundreds of submittals before selecting a par 3 by Penn State student Joseph Kropiewnicki. Not surprisingly, it was a downhill par 3 over water. Jerry built the hole (actually, a reverse image of it in order to get it to fit) as the third at Greystone Golf Club in Romeo, and it's still in play today, although overshadowed by the club's dramatic three-hole finish around a large rock quarry lake.
In 2014, when Jerry had all but retired from the business, he laid out a fine nine-hole layout, Northport Creek in Northport, whose owner, Bill Collins (a member of the Dream Team that conceived the Pontiac Firebird, GTO and Grand Am in the 1960s), made self-sustaining by powering everything from the clubhouse to the course irrigation using on-site solar panels. Golf Digest awarded the course its Green Star Environmental Award that year, and in preparation for the article, I joined Jerry at Northport Creek and played the course. At the time he was 79 years old but just as enthusiastic and animated about his work as he'd been 30 years before. He was particularly tickled that on such a compact site, he was able to route the course so it returned to the clubhouse twice in nine holes, allowing golfers to play a six-hole round if they wished, or even a late-evening three-hole loop.
At the time, Jerry said Northport would be his last design. But ever the war dog, he again came out of retirement in 2019 to co-design with Paul Albanese the Silver Nine at Saskatoon Golf Club in Alto. At the time of his death, Jerry was in discussion to do another collaboration with Paul.
Jerry Matthews served as president of the American Society of Golf Course Architects in 1994, when its annual meeting was in Philadelphia with one day-long session spent playing golf at famed Pine Valley Golf Club across the river in New Jersey. That evening, Jerry addressed his fellow architects and admitted he was intimidated by the reputation of the Pine Valley course. "But then I walked into the clubhouse and immediately saw, hanging on the wall, an eight-foot graphite flyrod with a five-weight tapered fly line, a nine-weight tapered leader and a Muddler Minnow for a fly. And I felt a little better about my world."