The Loop
Jerry Jones delivers a head-scratching response to Jerry Richardson question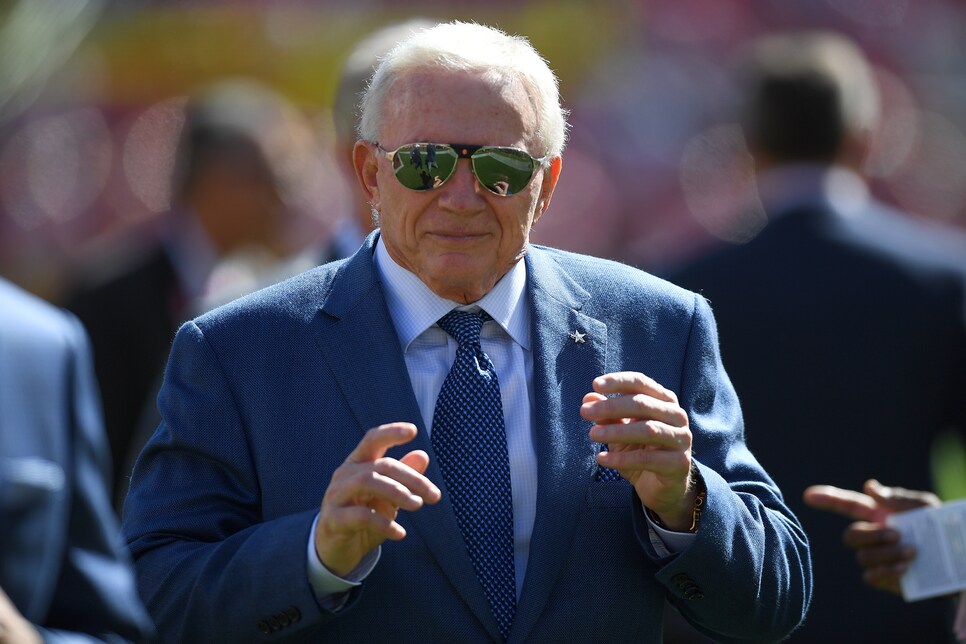 It's been a rough year for Jerry Jones. (Or at least as rough as it can get for one worth $5.6 billion.) His beloved Dallas Cowboys are one of the biggest disappointments this season, he got into a public power struggle with Roger Goodell (which Jones lost) and his fellow owners are exploring if they can oust Jones from the league...because he supports Papa John's. Early '90s, this is not for Jones.
So perhaps we shouldn't be surprised that, following the Cowboys' Sunday night game against the Oakland Raiders, Jones delivered this rambling, ridiculous response to a question regarding Jerry Richardson, the Carolina Panthers owner who is selling his franchise following claims of sexual harassment and racial slurs.
"I'm very sad. Jerry is one of the really, really, really outstanding men of football that I've ever met, and I really admire him," Jones said, according to ESPN. "I know that he made it the old-fashioned way. He worked for it. He took what he made in a short time in pro football and turned it into a great business and then used that to get the Carolina franchise. So he's a great story."
If Jones would have stopped there -- praising the business acumen of one facing such serious accusations -- it would have been just a 10-car pileup. But Jones continued on the Crazy Train Express, throwing more coals into the fire.
"I'm saddened by any of the stories or things that might have incited this at this time. He's a battler; he's a big man with a big heart. And by the way, that's somebody else's heart -- he's had a heart transplant."
What...what the hell, man. This ain't cancer he's fighting. Jones officially went off the rails with this closing statement:
"He'll be the first to tell you he's had a blessed life. I'm really sad. I want all of those kind of men we can have in the National Football League."
Hard to believe Jones' fellow owners want him out.