Chevron Championship
Jennifer Kupcho credits the Augusta National Women's Amateur with an assist as she opens a six-stroke lead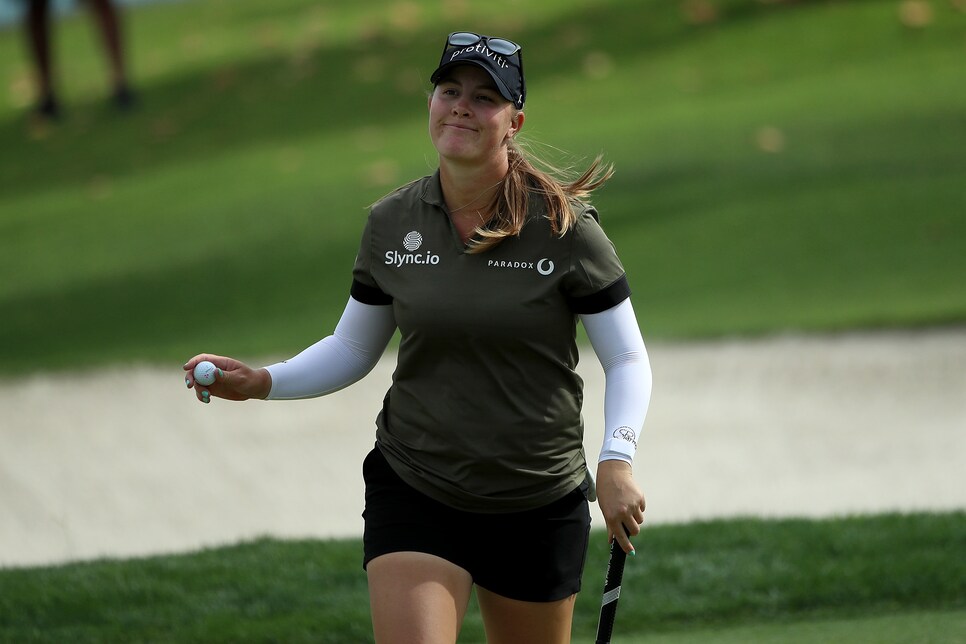 RANCHO MIRAGE, Calif. -- Coronations are not scheduled in golf for apparent reasons, among them the potential calamity always lurking about. So leave it at this, that Jennifer Kupcho has been destined to win eventually and to win big. It this her time?
On a warm sunny Saturday, Kupcho wrested control of her own destiny, posting an eight-under par 64 to open a six-stroke lead through 54 holes of the Chevron Championship. The 24-year-old Coloradoan is at 16-under par 200. Defending champion Patty Tanatavakit, playing alongside Kupcho shot a 70 and is in second place, while 36-hole leader Hinako Shibuno shot a 77 to fall 12 off the lead.
"I got to watch the ANWA [Augusta National Women's Amateur]," Kupcho said on how she spent her morning. "That was pretty cool, and just bringing back good memories. I don't know if that was positive vibes, but definitely did watch that. I think it helped to get my mind off this tournament by watching that."
Three years ago, Kupcho won the inaugural ANWA, elevating expectations that already were high in the wake of the NCAA individual championship she won the year before while at Wake Forest. She was the NCAA's player of the year in 2018, as well.
Her professional career had been far from a disappointment – she reached No. 12 in the Rolex Rankings at one point. But her amateur record suggested that a victory was imminent once she turned professional in 2019.
The odds favor her securing her maiden victory entering Sunday's final round on the Dinah Shore Tournament Course at Mission Hills Country Club. Her 54-hole lead of six strokes is second only to Karrie Webb's eight-stroke lead in 2000, when she won by 10. Moreover, Kupcho's total of 16-under par through three rounds is the best in tournament history by two strokes.
Starting the round tied for second, a shot behind leader Shibuno, she set out with a goal of shooting a four-under par 68. "I blew that out of the park," she said. She birdied four of the first five holes on the Dinah Shore Tournament Course at Mission Hills, went out in five-under 31, made four more birdies and a single bogey on the back nine, and equaled her career-low round on the LPGA.
"Everything was working," she said. "I mean, seriously this week I think my putting is definitely the props. I have putted really well, and you got to make putts in a major championship."
Kupcho was unwilling to rank the round among her career bests. "It's all a blur. You're just out there grinding shot by shot. I think that's one thing I've really done well this week is taking it shot by shot and not thinking about the end result. It's really special, I mean, just to be out here. I love this place. I love stepping on property. You just get positive vibes. It's such a beautiful course, so I think just taking it all in.
"But then again, just once it's time to hit a shot, focusing on that shot."