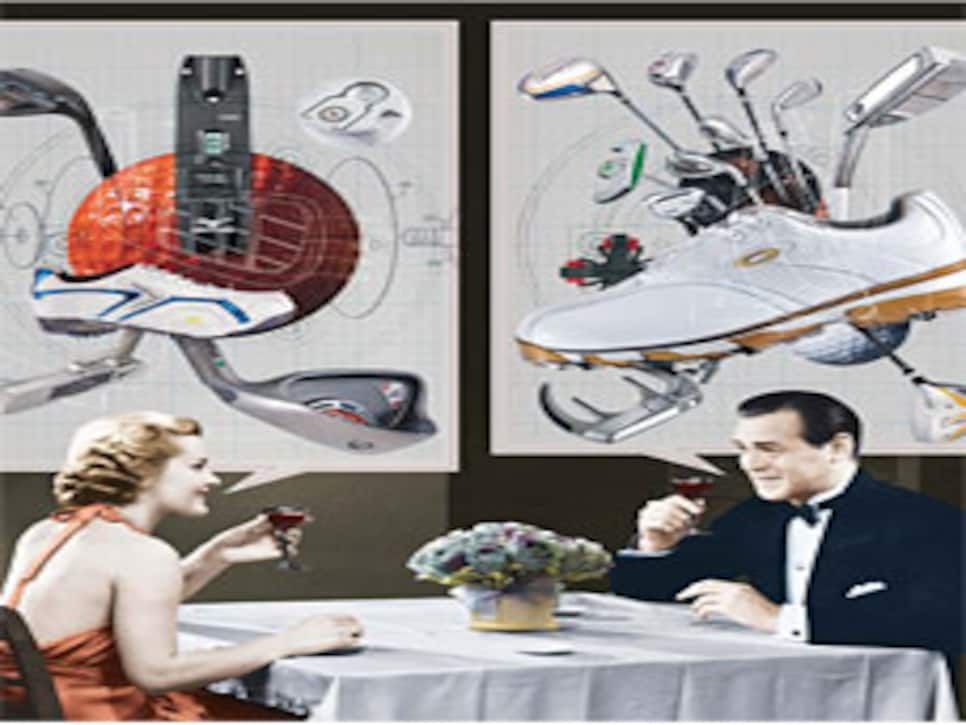 Being a club pro and all, a guy trying to keep up with golf's modern technology, I hadn't found much time for Internet dating, but then one day I knew I'd met the girl of my dreams when she replied to a comment I'd made on You-and-Me.com. She said, "I love it when you talk equipment to me."
All I'd said was, "You seem to have a center of gravity, Chrystal, but we should meet in person to check out each other's perimeter weighting."
Chrystal agreed to have dinner, but first we exchanged photos.
I sent her a shot of Ben Hogan following through on a drive. She sent me a shot of Katharine Hepburn standing over a putt in "Pat and Mike," that movie where Hepburn played a lady golfer.
We met for dinner at Moment of Inertia, a cozy little restaurant I suggested that wasn't far from my country club.
Right off, she said she had a little trouble finding me at the table because, quite frankly, if I didn't mind her saying so, I looked more like Dutch Harrison than Ben Hogan.
I said nothing, only smiled, but I was somewhat relieved that even though she didn't altogether look like Katharine Hepburn, she didn't look like Spencer Tracy, either.
Pouring her a glass of wine from the bottle I'd ordered, I said, "I hope you'll like this camber. There's a leading edge to it, I think."
She said, "Oh, I'm familiar with the camber. It's always had a certain springlike effect."
We studied the menu. She asked if I'd ever had the dual-runner sole?
Yes, I said, but I always have them leave off the anti-skid groove-system insert.
"I'll try it," she said. "What will you have?"
"Probably my old standby," I said. "The carbon-fiber composite pasta, but light on the urethane."
"May I change and have that, too?" she asked.
"Of course," I said. "You have nothing to lose but your swingweight."
We started with appetizers. I ordered the toe hang with a dual crown. Chrystal went with the bulge and roll, plain, no cubic centimeters.
We chatted amiably through dinner. She asked what I thought about the Hyperbolic X design.
I said, "I drove one up until four years ago, but I decided to trade it in on a Lexus."
She said, "That's interesting. I drove one myself until the elastomer insert blew out one day, and they said it would cost $2,700 to replace it."
"Might as well buy a new car," I said.
"I did," she said. "I have a Fastback crown now with a cryogenic-steel face, and it's plasma-welded to boot."
"Oh, yes -- and you can't believe the launch-monitor trajectory."
We started to discuss COR, or I should say coefficient of restitution, but I couldn't decide who I wanted for my coefficient, and Chrystal couldn't decide who she wanted to restitute.
When it came time for dessert, we had no problem. She ordered the cupface with the inverted cone. I went with my favorite, the flange. All in all, it was a wonderful evening. And we agreed to meet again after we finished reading Golf Digest's Hot List Issue.