Time for a pop quiz, boys and girls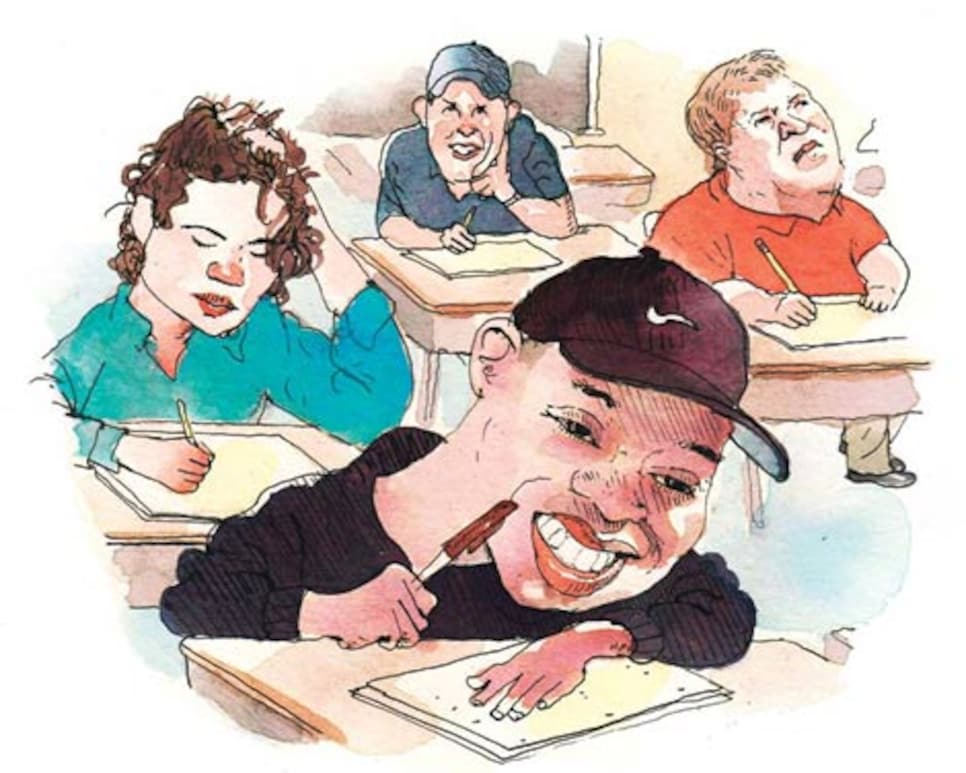 1. Tiger Woods will come back to golf with:
(c) A new kid named Vengeance.
2. Padraig Harrington will be given two more majors in 2009 by:
(b) Sergio Garcia's family.
(c) Sergio Garcia's long-lost twin brother.
3. After his Ryder Cup success, Kenny Perry gave a boost to the Tour Championship when he said:
(a) "I don't want to be here."
(b) "It's ruined the greatest week of my life, coming here."
(c) "I'm just trying to get my last-place check, post a 72-hole number, and go home."
4. The LPGA will soon have:
(a) A tournament in Nairobi.
(b) A tournament in Kurdistan.
(c) A tournament in Sevastopol.
5. Last season, Vijay Singh won some kind of irrelevant cup thing.
6. Most often found in the PGA Tour's first drug tests were:
(a) Traces of a free dinner at Colonial.
(b) Traces of a free lunch at Firestone.
(c) Traces of a week's free meals at Pebble Beach.
(a) A golfer on the PGA Tour.
(b) A golfer on the LPGA Tour.
(c) An island off the coast of Spain.
(d) A contestant on "Dancing With the Stars."
8. The average gallery at a Champions Tour event is:
9. Anthony Kim and other stars in the United States have said they'll spend more time on the European tour because:
(a) They love cheese fondue.
(b) They enjoy discussing Dostoyevsky and Tolstoy when they're sitting in sidewalk cafes.
(c) They will receive appearance money.
10. "The Race to Dubai" is the European tour's answer to the FedEx Cup, so maybe the PGA Tour should change the name of its end-of-season event to:
(a) The Race to Obscurity.
(b) The Race to Cancellation.
(c) The Race to the European tour.
11. When 38-year-old Phil Mickelson said that he had somehow grown an inch through stretching exercises, was it in:
12. John Daly not too long ago:
(a) Was found passed out drunk in a Hooters.
(b) Was found taking a nap in a Hooters.
(c) Ate an entire Hooters.
(d) Stopped by a Hooters to pick up his mail.
13. Daly explained the incident at Hooters by saying:
(a) "Everybody knows I sleep with my eyes open."
(b) "I never eat with my mouth closed."
(c) "I hardly ever talk with my brain working."
14. After the USGA announced it would roll back grooves beginning in 2010, it has since determined that:
(a) The golf ball should not carry more than 413 yards in the air.
(b) The long putter should not be longer than the section of I-95 between Fort Lauderdale and Vero Beach.
(c) The head on any new driver must not exceed the size of a 1963 Buick Riviera.
15. Since winning the Masters in April, Trevor Immelman has:
(c) Changed his name to Sam Parks Jr.
16. The PGA Tour without Tiger Woods was:
(a) Ryuji Imada and Chez Reavie.
(b) Parker McLachlin and Carl Pettersson.
(c) Johnson Wagner and Daniel Chopra.