The Loop
Jason Day's remarkable par save on Saturday was a metaphor for his entire career
LOUISVILLE, Ky. -- Colin Swatton is an Australian, 45 years old, who was Jason Day's schoolboy golf coach and is now his caddie. About 3:30 Saturday afternoon, the old guy went for a walk in a Kentucky creek. It was not a golden waterway of the sort that inspired Monet. This was Floyds Fork. These were muddy waters, and one man who saw Swatton knee-deep in the muck said, "African Queen! Bogart!"
Youngsters can go to the Google machine and learn the "African Queen" is a classic movie with Humphrey Bogart as a ship captain reluctantly ferrying Katharine Hepburn through a jungle. Our Colin Swatton, with no boat, was only searching for a foothold on the creek's far bank. There he hoped to find Jason Day's golf ball and save the lad's chance at history. What happened next goes down here as a hero's thrilling escape.
Day will win one of these big-deal tournaments someday soon, maybe even tomorrow. At 26, he has finished second in two U.S. Opens and a Masters; he has finished third at another Masters and fourth at another Open, and he has finished eighth in a PGA Championship. His 69 Saturday leaves him tied for fourth here with Phil Mickelson, three shots behind leader Rory McIlroy.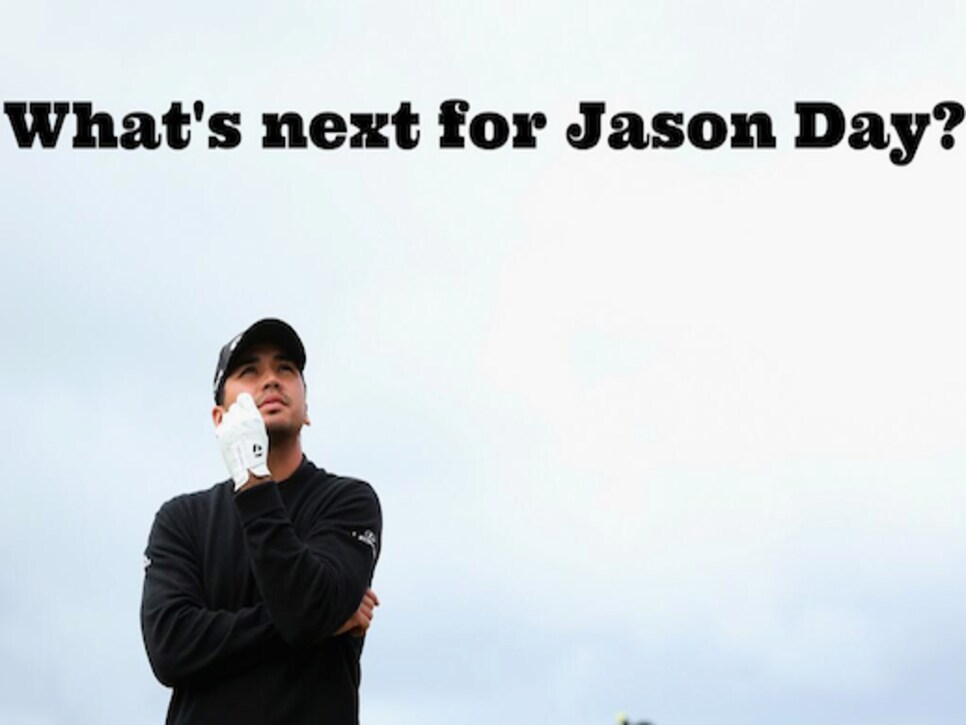 It was his second hole of the day. Playing alongside McIlroy, which these days is enough to remind anyone of how inferior they are, Day pulled a drive so far left, and with a draw, that the thing crossed the hazard line, flew over the creek and came to rest . . . somewhere.
The intrepid CBS field reporter, David Feherty, with his headset on, bent under his back-pack of electronics, stomped around in the tall grasses looking for the ball. The network's blimp finally earned its money by providing aerial surveillance of the search. It seemed a lost cause.
If no one found the ball, Day would have to retreat to the tee and re-load. The long, hard par 4 might cost him six shots. Even with 16 more holes to play, no one wants to put up an early double bogey when McIlroy is running free.
Meanwhile, Swatton was enjoying the water.
"The temperature was perfect," he reported at round's end. "I might have gone swimming. I say, it was steamy out there."
About then, he said, the group's walking scorer had identified the ball's likely landing spot. So as Feherty gave Swatton a hand up out of the creek, Day took off his shoes and socks, rolled his pants legs to his thighs and walked through the creek.
"We had a shot," Swatton said, meaning he could see the ball and Day could get a club on it, which, of course, is not the same as having a good shot. From weeds on the far side of a creek running the length of the fairway, it would be possible to make, as the Brits say, a dog's hash of it.
Day chose a wedge. He also chose to hit the shot in his bare feet. "Too lazy," he said. Too lazy to ask for his shoes because after the shot he'd have to cross the creek again and he would have to take them off and put them on again. Swatton reckoned Day last hit a shot barefooted at age 15 when they were coach and student. Day thought, "Maybe 10, chipping in the backyard."
He slashed the wedge 150 yards down the fairway, put another wedge to 15 feet and made the putt. A 4, not a 6, a par, not a catastrophe. Such an easy game when you discover talent early and work like hell to rise from poverty in a small Australian town to a millionaire's life around the world.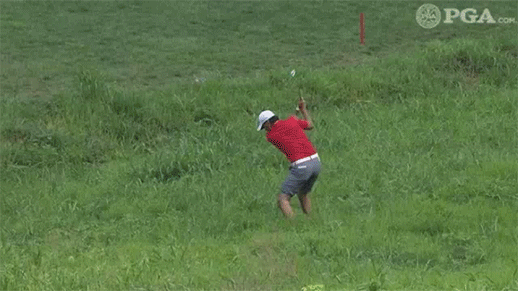 "What you have to do, when you get to that point where you're in the fight-or-flight moment and you're out of your comfort zone and you have a chance to win -- you have to be like, Screw it, gotta punch through it, let's go and do it. And when you do it, it's the most rewarding because you actually got past that barrier. And once you get to that uncomfortable stage a lot, you'll start feeling a lot more comfortable. And once you start feeling a lot more comfortable and know exactly what you need to do, then it becomes easier to win."
Here's what Bogart said to Hepburn early in that movie . . .
"All this fool talk of goin' down the river."
She said, "What do you mean?"
"We ain't goin' to do nothin' of the sort."
"Why, of course we're going," she said. "What an absurd idea."
"Lady, I may be a born fool, but you got 10 absurd ideas to my one."
She prevailed, they went, they survived, and we all remember Bogart rising from the river covered with leeches.
Colin Swatton, the hero of Floyds Fork, came out clean and cool.