The Loop
Jason Day's historic stat, J.R. Smith's golf addiction pays off, and the most romantic gesture in PGA Tour history
Welcome to another edition of The Grind, where we apologize to all the dads out there who we ever gave crap to for bailing on playing golf due to having young kids. My first round as a father was preceded by a hurried 5:30 a.m. feeding, a spit-up clean up, and a scatterbrained missed turn that literally had me racing to the first tee. Exhausted, embarrassed, but at least happy I avoided a speeding ticket, I then proceeded to shoot my worst score in years and somehow strain my forearm in the process. In other words, the USGA really should look into implementing some sort of dad handicap. So again, to all the parents I've played golf with, sorry. I get it. Now let's talk about some real golfers.
Jason Day: Clearly, the Aussie doesn't need a dad handicap. Day picked up his second PGA Tour title of 2018 at the Wells Fargo Championship and then picked up his son Dash on the 18th green. Only one of those things is getting harder to do for him, and it's not winning.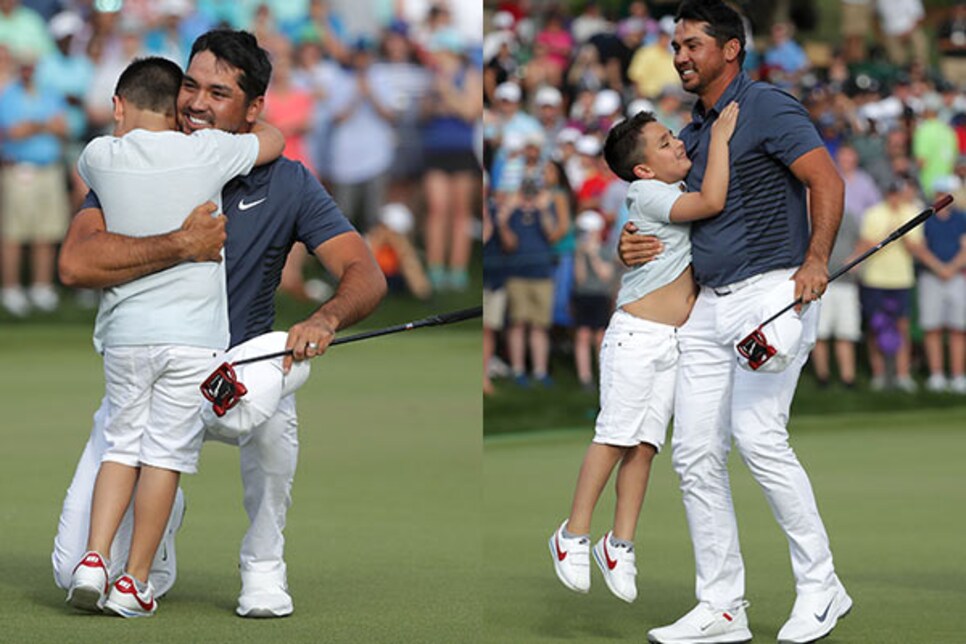 Tell me he's not straining there! Anyway, having re-established himself as the game's best putter, Day proved he can win on his off days tee-to-green (CBS' Peter Kostis still grilled him a bit harshly in that post-round interview). The former World No. 1 seems intent on getting back to that spot, and as long as his back/ankle/thumb/vertigo/sinuses remain in good shape, there's no reason to think he won't get there. He might want to stop picking up Dash just to be safe. Little man is growing up quick before our eyes.
Players pairings: Tiger Woods and Phil Mickelson will play together at TPC Sawgrass on Thursday and Friday. That's a combined 19 majors! Add in their third, Rickie Fowler, and that's, well, still 19 majors! Sorry, Rickie. Unless we count the Players as a major, in which case this threesome has 23. In any event, the galleries following that group are going to be ridiculous. And the Rory McIlroy, Jordan Spieth, Justin Thomas group isn't bad, either. Should be a fun week.
J.R. Smith: It's that time of year again. The Cleveland Cavaliers are barreling toward another NBA Finals appearance and J.R. Smith is starting to hit the links. We know this, because the world's most avid celebrity golfer recently credited his hot shooting on the court to him finally getting out on the course after a long weekend:
And look at how he warmed up before a 6-for-6 shooting performance that helped the Cavs sweep the top-seeded Raptors (LOL) on Monday!
After the victory, Smith seemed especially excited to get back to the course.
And before your minds start wondering, yes, he was talking about GOLF. Even Scott Van Pelt confirmed. Enjoy your days off, J.R.
Phil's putting: Another strong week on the greens gave Mickelson his fifth top-five finish of the year, moving him to third in the FedEx Cup standings. It also improved his strokes gained/putting to a historic clip. Since the stat was created in 2004, Mickelson's current +1.177 average is on pace to break the single-season record held by Jason Day (+1.130). There's just one problem. Day's SGP this season sits at an even more absurd +1.594. Regardless, Phil Mickelson has established himself as one of the game's great putters at 47. Who says old dogs can't learn new tricks?
Tiger's putting: At least, for this week. Woods entered the Wells Fargo ranked an impressive 8th in strokes gained/putting, but struggled mightily on Quail Hollow's greens.
On the bright side, Woods, who had been previously struggling off the tee, hit the driver great. Yep, golf really is the dumbest thing ever.
John Peterson's retirement: The first-round leader at Quail Hollow provided one heckuva one-day story as he put himself in position to reclaim his PGA Tour card and put off retiring for a career in commercial real estate (seriously). Then he shot 77-72-71 to finish T-42. Like myself, Peterson is a new dad, and understandably, he says the time away from his family is tough. Unlike myself, Peterson is great at golf, a former NCAA champ who finished T-4 at the U.S. Open in his first full year as a pro. C'mon, man. You're giving up the dream at 29?!
Brook's bad bounce: You don't see the ol' bounce off a chair and into the water too often:
Rough. Marshals are supposed to HELP golfers. You know, like this guy:
The PGA Tour heads to TPC Sawgrass for the Players, AKA that "better-than-most" tournament that's not quite a major. Speaking of which, can you believe it's been 17 years?
Random tournament fact: As Tiger Woods returns for the first time since 2015, I will not be on site for the first time since 2010. That means I will not be adding to my streak of eating at the same Ponte Vedra Beach Chili's for 35 consecutive in-town nights this year. What does that mean for THE STREAK? Is it over? Can it be picked up next year? Will there be an asterisk in the record books? That's up for historians to decide. All I can do is keep going to Chili's when I can.
RANDOM PROP BETS OF THE WEEK
— Tiger Woods will make that putt again: 1 MILLION-to-1 odds
—Tiger Woods will win this week: 30-to-1 odds (Actual odds. . . VALUE!)
—I will be feeling Chili's withdrawal by the weekend: LOCK
Justin Thomas got involved in a marriage proposal at Quail Hollow during a practice round, and it was awesome:
VIRAL VIDEO OF THE WEEK (TRICK-SHOT DIVISION)
This guy has better hand-eye coordination than me.
"It was leaning against a rock. It was touching a rock, but somehow I was able to get way underneath the ball. It was kind of on such a severe lie, I was able to hit it vertically. So I hit it off the toe and the toe of my wedge is all banged up. Not the sole, but the far end of the toe. I semi played it into the rock to kick it to the right over the pin. So I went up vertically and used the side of the rock to kind of get it to go to the right." -- Phil Mickelson, who also said he's practiced such shots. What a legend.
_THIS WEEK IN PGA TOUR PROS-WAGS PUBLIC DISPLAYS OF AFFECTION
Jason Day and Ellie enjoyed a victory kiss:
The Walkers got all fancy for a gala:
Jena wished Brooks a happy birthday:
And Emiliano Grillo one-upped everyone with possibly the most romantic gesture in the history of the PGA Tour for his wife:
These guys are good. Sorry, we're still going with that.
THIS WEEK IN TOUR PROS ARE JUST LIKE US!
Brice Garnett went triple-quad to shoot 88(!) in the final round of the Wells Fargo:
The score is even more remarkable when you consider he won his first PGA Tour event just six weeks prior. In other words, golf is freaking tough, and I really shouldn't beat myself up for shooting an 89 on Saturday. Thanks, Brice!
Rickie Fowler let Justin Thomas borrow one of his backup putters at the Wells Fargo. That's right, one of his backup putters. You can't be too careful. . . . The Players will have a record $11 million purse, which includes $1.98 million to the winner. Not too shabby, but they couldn't just make it an even $2 million? . . . Speaking of odd amounts, for $4.999 (did they really need that third nine?), you can buy Chris Evert's Boca Raton house that includes a tennis court and a backyard golf hole.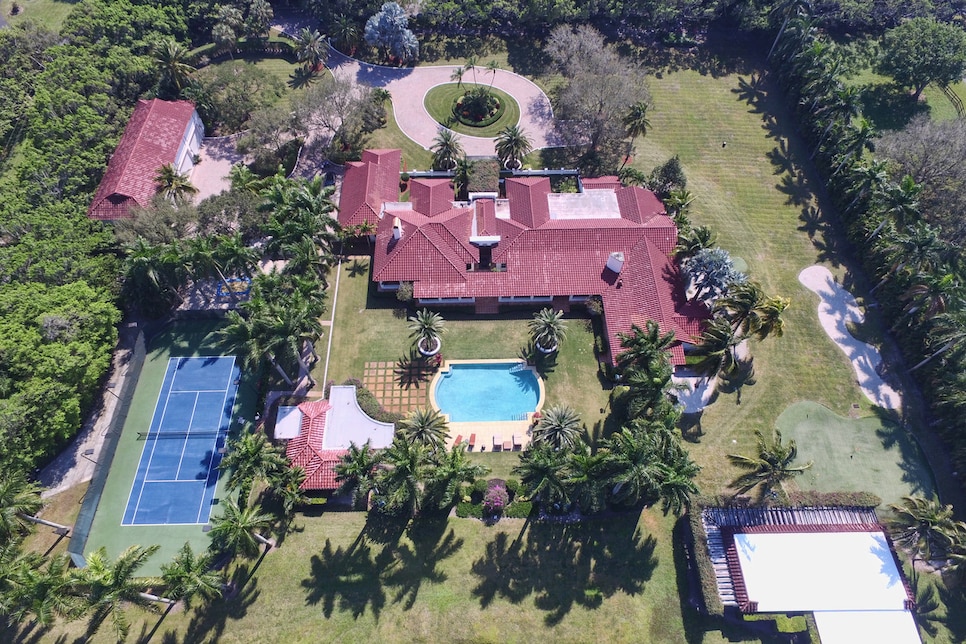 Sounds like old man heaven.
RANDOM QUESTIONS TO PONDER
What would Mickelson's majors count be if he putted like this in his prime?
What would you do with $1.98 million?
How many orders of baby back ribs could that get me?