The Loop
Jason Day shares funny story about hitting up the ATM after his first PGA Tour win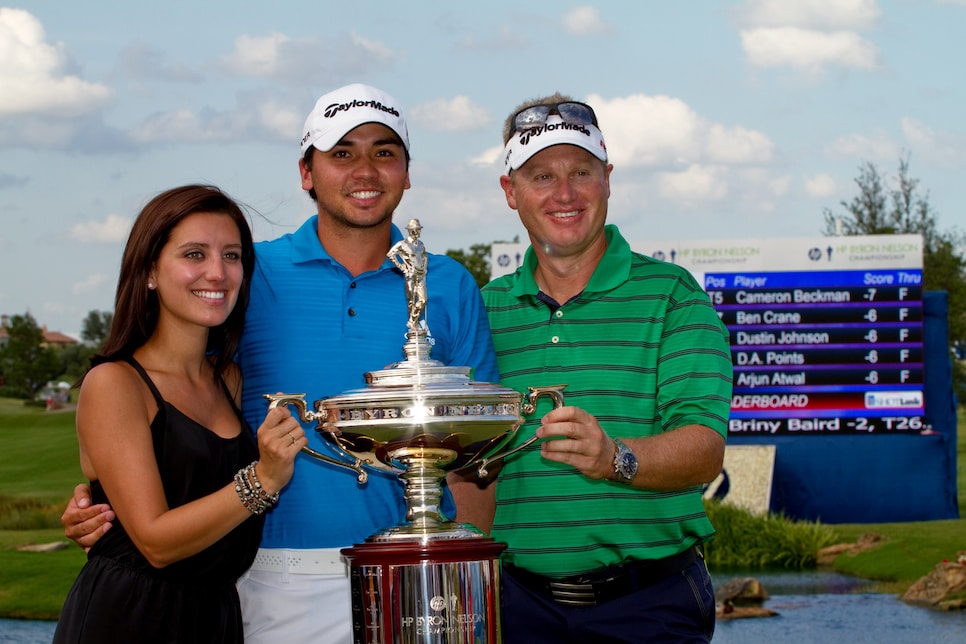 Jason Day with wife Ellie and former coach/caddie Colin Swatton after winning the 2010 Byron Nelson.
Darren Carroll
Professional golf isn't all about the money, the titles and prestige that come with it obviously serve as motivation also. But. . . the money is pretty darn sweet. Especially when you're playing on the PGA Tour, where there's so much of it to go around.
So it should be no surprise that Jason Day vividly remembers his first of 12 (and counting) career PGA Tour titles—AND the trip he made to the bank shortly after. The former World No. 1 joined the Jake Asman Show on SportsMap Radio this week and shared a funny story about hitting the ATM for the first time after having the first-place prize for $1.17 million directly deposited into his account.
"I got like 100 bucks out and it printed out the receipt and it showed how much it had in my bank account," Day says with a chuckle. "I think I kept that receipt for about a month and a half."
Can't blame you, Jason. We might get that thing framed.
Here's the entire clip, including Day explaining why the money meant so much to him:
A decade later, Day is closing in on $50 million in just on-course PGA Tour earnings. We're guessing he's made a few bigger withdrawals since.