News
Jason Day on Tiger Woods' comeback: It's the best he's felt in three years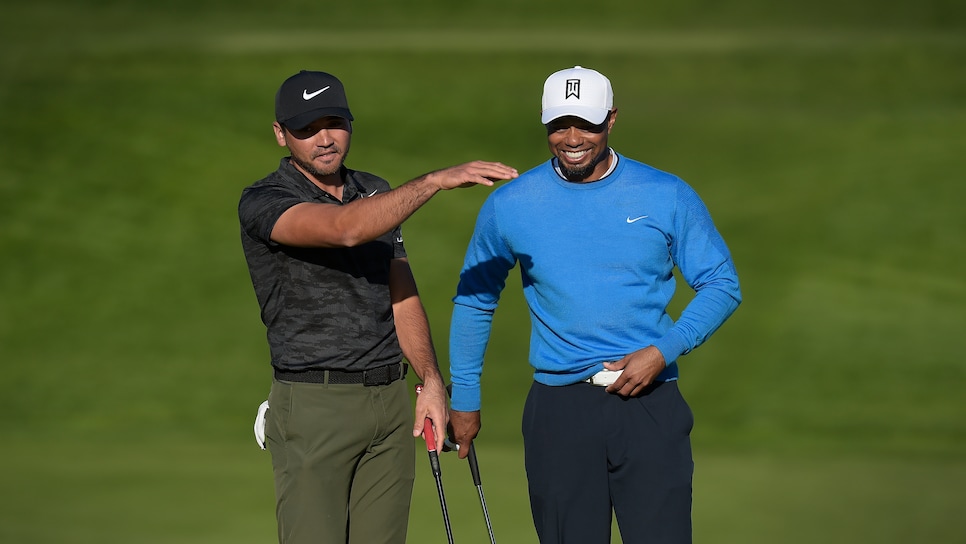 Jason Day is a major champion and former No. 1, and yet he's often bombarded with questions not on his own play but the state of Tiger Woods. The Aussie has built a strong rapport with the 14-time major winner through recent years, and given Day's candid demeanor—coupled with Woods' prolonged absence—Day has been a conduit to quench our insatiable Tiger appetite.
So it's no surprise that, with Woods just days away from his competitive return to golf at the Hero World Challenge, Day was asked how the 41-year-old is feeling. According to Day, Tiger's more than ready for the task at hand.
"I did talk to him and he did say it's the best he's ever felt in three years," Day said, ahead of this week's Australian Open.
Woods, who hasn't played since Dubai last February, underwent his fourth career back procedure in April. He received clearance to resume all golf activities in October.
"He doesn't wake up with pain anymore, which is great," Day said. "I said to him, 'Look, it's great to be one of the best players ever to live, but health is one thing that we all take for granted and if you can't live a happy, healthy life, then that's difficult.'
"I totally understand where he's coming from, because sometimes I wake up in the morning and it takes me 10 minutes to get out of bed, and for him to be in pain for three years is very frustrating."
Day also said the Hero's relaxed atmosphere is the perfect platform to return.
"There's no pressure," Day remarked. "I think it's a 17- or 18-man field, there's no cut, he's playing at a tournament where last year I think he had the most birdies at."
As for his own game, Day is coming off one of the more frustrating seasons of his career. Holding the No. 1 ranking as late as the AT&T Pebble Beach, he's dropped down to No. 12 in the world. But, with personal and health issues settled, Day seems confident in regaining his footing.
"Since Presidents Cup, the Asian trip that I had, Korea and China, I've been driving the ball a lot better, and that's taken a little bit of pressure off every part of my game and I'm able to give myself a lot more opportunities out there," Day said. "So fingers crossed I can keep driving the ball better this week and try and get myself into contention."