The Loop
Jason Day blows up Rickie Fowler's spot, Aaron Rodgers and Kelly Rohrbach go on a golf date, and a hideous celebrity swing
Welcome to another edition of The Grind, where we're happy a duo wearing matching outfits won the first official PGA Tour team event since 1981. Seriously, why even enter a team event if you're NOT going to wear matching outfits? Do you watch other sports? This is what teams do. Heck, do you watch the Ryder Cup? This is what golf teams do. Just don't wear anything like this: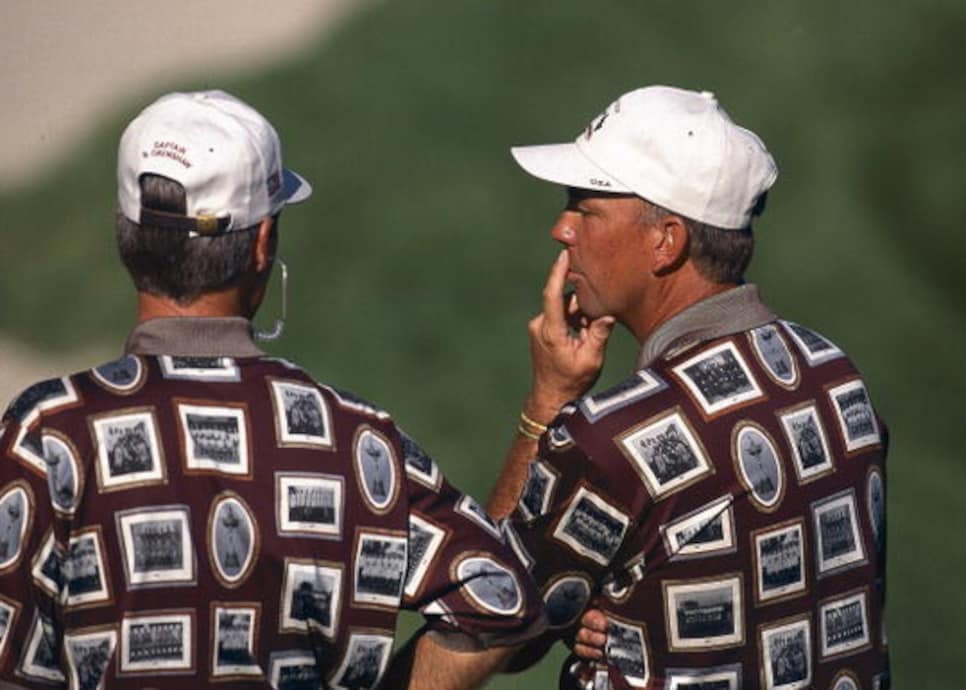 As with those infamous shirts from 1999, there was a lot going on last week. So from clutch shots to celebrity golf dates to hideous swings, let's get to it.
Cameron Smith/Jonas Blixt: Again, props on the matching unis (although, apparently they ran out for the Monday playoff) and for winning in New Orleans. The two withstood an absolute onslaught by Kevin Kisner and Scott Brown and overcame a lengthy weather delay by birdieing the final three holes to get into a playoff. And after finishing the job on Monday morning, they, well, rather Cameron, provided us with the best Steve Stricker impression of the year:
It's OK, Cameron. Happy tears are good tears. And they didn't keep Smith from eventually celebrating the way you'd expect from a 23-year-old:
Kevin Kisner's heroics: Needing to hole out to force a playoff on the final hole of regulation, Kisner rattled a chip off the flagstick and in. As many times as you've seen it, it's worth seeing again:
And again, in how things really looked out there as the sun went down:
What a freaking shot, although CBS' Bill Macatee missed out by not going with, "What an incredible chip by the Kiz!" as his call (go to the :48 mark for the famed Ken Griffey Jr. clip).
"A-Rohr": Or "Rohrgers." Or "Kaaron." Or whatever celebrity couple name Aaron Rodgers and Kelly Rohrbach are eventually given. This just seems like a great match between a four-handicapper and a former collegiate golfer after the two were spotted on a golf date.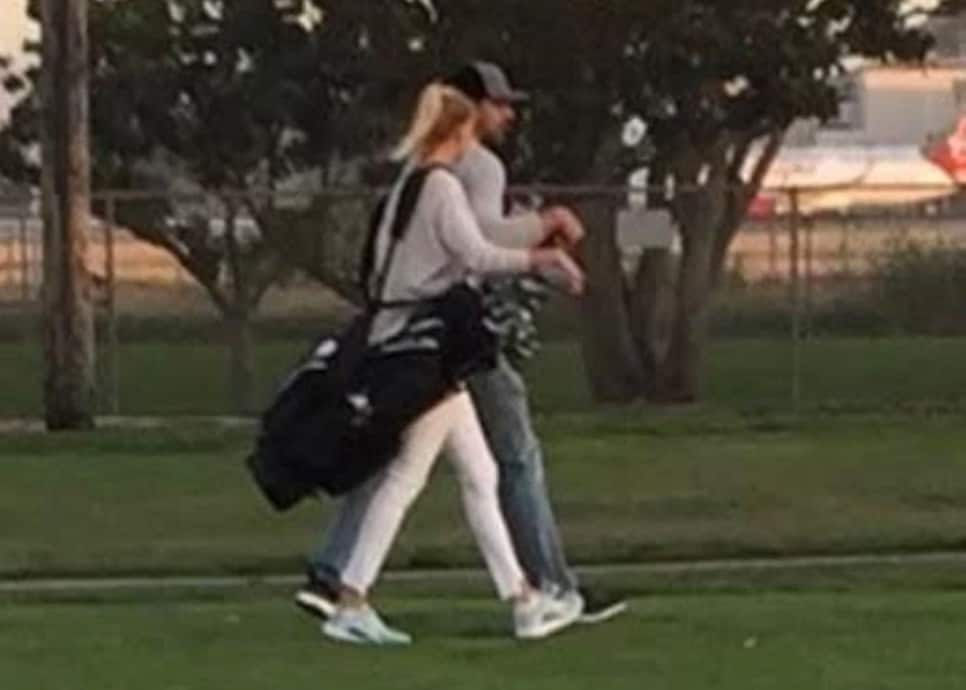 And studies show that the couple that doesn't give shots to each other, stays together*.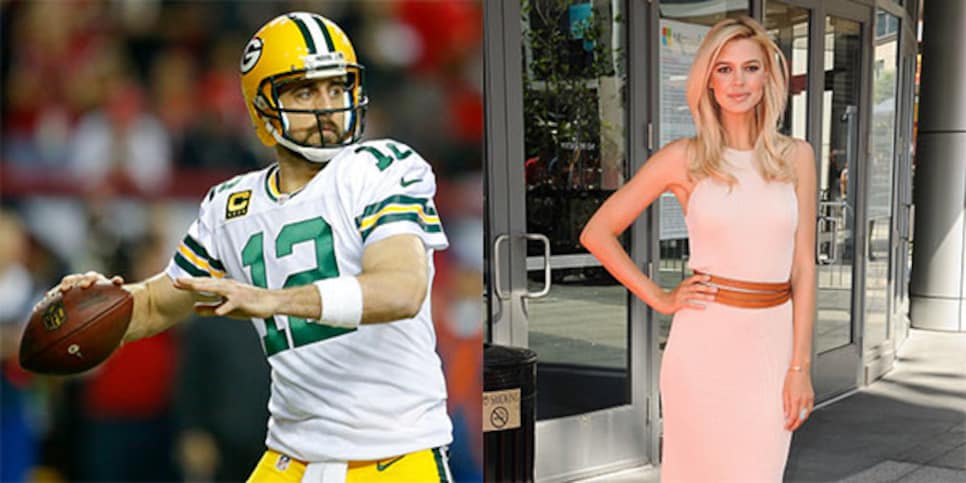 (*Studies don't show that.)
You can breathe easy, Packers fans. Aaron Rodgers looks like he's doing OK following his breakup with Olivia Munn. Also, he may have unintentionally just created the next reality TV hit: Celebrity Golf Dates.
Josh Scobee: First off, congrats to Josh, who recently retired from the NFL after signing a one-day contract with the Jacksonville Jaguars, on a great NFL career. But also, we salute him for actually having a plus-3.5 handicap at the time of Golf Digest's most recent pro-athlete golf ranking (Scobee was still listed No. 1 at plus-2.5). Anyway, we recently chatted about life and golf on the Golf Digest Podcast. Check it out. And keep in mind that he's my age and already retired. Lucky bastard.
Marquee teams: The pairs of Jason Day/Rickie Fowler and Justin Rose/Henrik Stenson entered the week as co-favorites, but they exited TPC Louisiana early. As capricious as regular PGA Tour stops are, we learned team tournaments might be even more unpredictable. However, one of these teams gave us the week's funniest moment when Day absolutely blew up Rickie's spot in regards to dating pole vaulter Allison Stokke:
The Greek Freak's golf swing: Giannis Antetokounmpo looked like he enjoyed himself at Topgolf after his Milwaukee Bucks were eliminated from the NBA Playoffs, but good lord, is his swing hideous:
Charles Barkley might be off the hook for worst celebrity golf swing. Considering Giannis' "Greek Freak" nickname, though – not to mention his 6-foot-11 frame – golf instructors in Wisconsin are probably lining up to give him lessons.
Cargo shorts: Look, we've all worn them, but it's time to get rid of these things for good. That's why we applaud the Georgetown lacrosse team for having a cargo shorts retirement party:
Looping in Tiger Woods and Michael Jordan. . .
The PGA Tour heads to Charlotte Wilmington, N.C., for the Wells Fargo Championship, aka that event at Quail Hollow Club Eagle Point Golf Club. This year's event is being played at Eagle Point for the first time with Quail Hollow hosting the PGA Championship later this year. But it doesn't seem like anyone will be disappointed with the new venue.
Random tournament fact: This tournament was originally called the Wachovia Championship. I had a Wachovia checking account while attending Wake Forest. It did not have a lot of money in it.
RANDOM PROP BETS OF THE WEEK
-- Rickie Fowler will tell Jason Day another secret: 1 MILLION-to-1 odds
-- Giannis Antetokounmpo will become a scratch golfer before the Bucks win the NBA title: 10-to-1 odds
-- This week's winner will say more in his post-round interview than Cameron Smith: LOCK
VIRAL VIDEO(S) OF THE WEEK (OUTDOOR DIVISION)
And participating in a huge snowball fight:
VIRAL VIDEO OF THE WEEK (INDOOR DIVISION)
Andrew "Beef" Johnston visited a bar in New Orleans, challenged patrons to a putting contest, and bought a round of drinks for everyone.
We could have also labeled the scene, "This week in Beef being Beef."
"I'm the guy who made the white belt famous. It went away for a while, but it's back." – Johnny Miller. Johnny Miller remains the best.
THIS WEEK IN DUSTIN JOHNSON-PAULINA GRETZKY-TATUM PUBLIC DISPLAYS OF AFFECTION
Golf's first family took advantage of an off week and made its first trip to Disney World.
THIS WEEK IN PAT PEREZ-ASHLEY PEREZ PUBLIC DISPLAYS OF AFFECTION
This PXG photo op was juuuuust a bit less PG. . .
Haru Nomura defeated Cristie Kerr on the sixth hole of a sudden-death playoff. Unfortunately, the extra holes got more notoriety for being anything but sudden. . . . Alexander Levy came back from seven shots down to win the Volvo China Open. And he didn't even need to hit a bank shot off the 18th hole grandstands. . . . You can now enter the lottery to get your tickets for the 2018 Masters! Good luck. You'd probably have as good of a chance to win the actual lottery in some states. . . . And a Twitter fan vote will determine the final spot in the upcoming Shoprite LPGA Classic:
Cool idea, but this probably won't go over well with whoever winds up being the event's first alternate. . .
RANDOM QUESTIONS TO PONDER
Who invented the big belt buckle on the white belt?
What's the best ride at Disney World? (Other than Thunder Mountain Railroad. Obviously.)
Which network will steal my brilliant Celebrity Golf Dates idea?