Marathon LPGA Classic
LPGA pros, caddies wearing pink ribbons to support Jane Park's daughter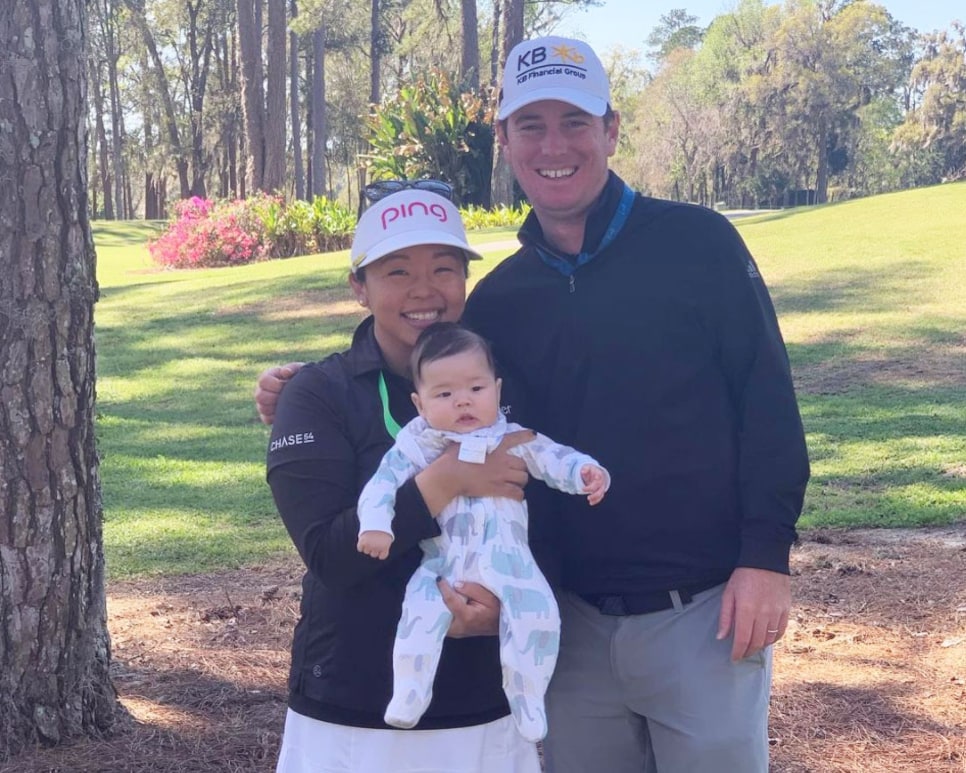 Jane Park holds daughter Grace while standing next to husband Pete Godfrey at the LPGA Drive On Championship in March. (Instagram: @thejanepark)
The horns blared on Wednesday morning at Highland Meadows Golf Club at 8 a.m. Those are usually reserved for weather warnings, but this time it was for an opportunity for the LPGA family to pray on the course or in a prayer group for veteran Jane Park, her husband and tour caddie Pete Godfrey and their 10-month-old daughter Grace Godfrey. Grace is currently in a Dallas hospital being treated for seizures due to swelling in her brain.
"It's amazing what the LPGA family does when someone is hurting," said Emma Talley, who helped organize the prayer group ahead of the this week's Marathon LPGA Classic in Sylvania, Ohio. "I was last year at this tournament, and [Jane] is right now. I can't imagine what they're going through, but we love Jane and Pete and Baby Grace, and we hope for the best."
Park first shared the story of Grace's stay in the ER on Monday, detailing how she and Godfrey took their daughter to the hospital last Friday while at the Volunteers of America Classic after Grace became ill. When doctors performed tests on Grace, they discovered the swelling on her brain. They are still determining what is causing the issue, exploring whether it's a virus or autoimmune issue according to LPGA.com, while Grace remains in the ER.
Talley shared Wednesday at her pre-tournament press conference that she reached out Monday night to fellow LPGA members Amy Olson and Katherine Kirk to organize a prayer group supporting Grace. She also talked with the LPGA, who sent all players and staff an email to share the times for prayer. The group is coming together for a second time Wednesday evening.
"I always call us a traveling circus," Talley said. "And we're also a traveling family. We're all together every single week, and we go from place to place. So [it] just shows we are a family, and when people are in need, we can help."
Nearly 60 people joined the morning group to show their support, shedding tears and discussing the latest news Park shared. The former U.S. Women's Amateur champion posted on Instagram and has created a blog, named Saving Grace, to keep others up to date on Grace's health. Her first post, titled The Long Journey Begins, poignantly describes the pain of being a new mother watching her daughter in the hospital.
Players and staff will have pink ribbons available to wear during the Marathon LPGA Classic to support Grace.