#59Watch
Watch two tour pros each just miss out on shooting 59 in the span of an hour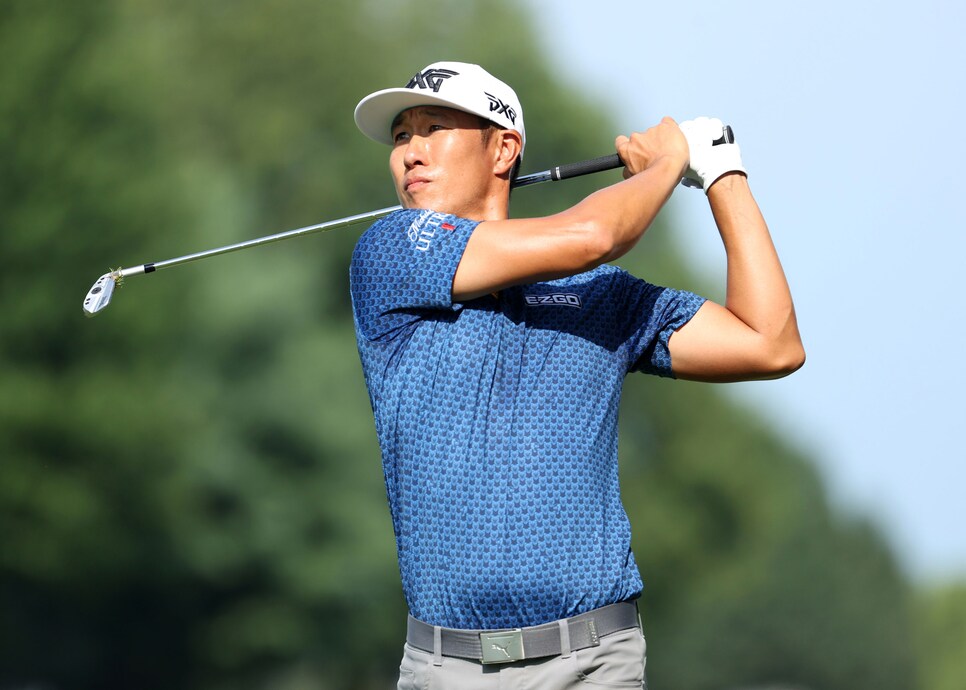 James Hahn had broke 70 just twice in his last 16 rounds on the PGA Tour dating back to April but missed a birdie try on Saturday for a 59 at the Barbasol Championship.
Andy Lyons
When Louis Oosthuizen and Collin Morikawa walked off the 18th green at Royal St. George's on Saturday to close out the third round of the Open Championship, it seemed safe to presume that the most notable moments in men's pro golf had played themselves out.
Little did anyone know that a continent away there would be not one, but two, near misses with golf's magic number—59.
James Hahn had started the rain-delayed third round of the PGA Tour's Barbasol Championship at five under par. He then proceeded to go flag hunting at Keene Trace Golf Club in Kentucky, making eight birdies and two eagles (under lift, clean and place conditions) on his first 17 holes to set up the chance to record the 13th sub-60 round in PGA Tour history.
Hahn's approach shot on the par-4 18th hole landed close to the flag, but then spun back and stopped 35 feet away. It was a long shot for sure (literally and figuratively) but Hahn wasn't deterred:
Pretty impressive given how far away he was. The par gave him a not-too-shabby 12-under 60 with a birdie-birdie-eagle-par-birdie-par finish that in the moment pushed him into the lead.
Asked about his mindset on the 18th hole, Hahn, more than five years removed from the last of his two career PGA Tour wins, was very honest.
"Felt like you only get so many opportunities to shoot 59, so I wanted to be aggressive," Hahn said. "Took driver off the tee, didn't make a great swing but ended up in the fairway. I was lucky enough to put my hand on it. Hit a great second shot. The balls haven't been spinning back all week and to see it spin back 20 feet was kind of heartbreaking. But I hit a good number, landed right next to the flag, and I hit a really good putt. Speed was perfect, just didn't give it enough break."
Not bad for a guy who hadn't made a cut in a PGA Tour event since the Honda Classic in March. Before shooting the 60, Hahn had only broken 70 twice in his last 16 rounds.
Amazingly, enough, however, less than an hour later another pro golfer had a putt for a 59 as well. This time it was on the Korn Ferry Tour at the Memorial Health Championship, where Taylor Moore made six birdies on his front nine during the third round. He then made three more on the back, before an eagle on the par-5 16th got him to 11 under for the round at Panther Creek Country Club, a par-71 course in Springfield, Ill.
A par on the 17th meant he'd need birdie on the 18th for his 59. But his chances diminished greatly when he hit is approach shot into a greenside bunker. Still, as Hahn noted, you don't get many opportunities to shoot 59, so Moore did his best to see if he could pull off a miracle bunker shot.
Moore had to "settle" for his 60, a course record that gave him a share of the lead with Erik Barnes.