News & Tours
James Hahn rips new PGA Tour plan and says the stars are being 'very hypocritical'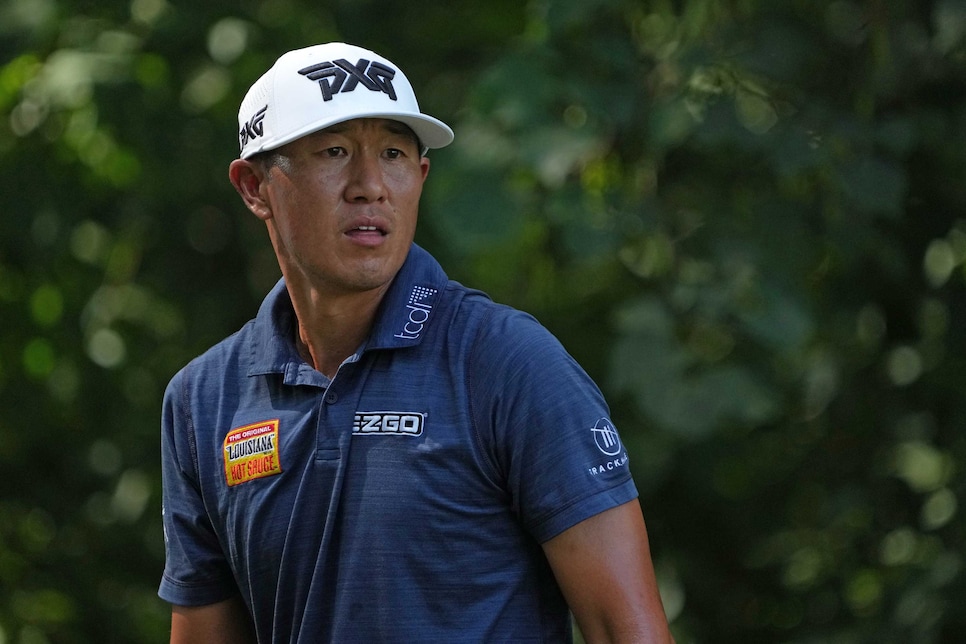 In the three days since the PGA Tour detailed its plan for limited-field, no-cut events beginning in the 2024 season, the stars in the game have gushed about the opportunities that await, while those potentially outside the gilded bubble have been mostly silent. Are those players concerned about being labeled as whiners, or ingrates for the nice living they do make? Or were they just waiting for someone to step up with a megaphone and tell it like it is?
Wait no more. Veteran James Hahn has put the hard feelings out in the open in an interview with Golfweek, even calling out Tiger Woods for making big money from the tour despite rarely competing.
"I hate them," Hahn said of the changes. "I'm gonna say exactly what 99.99 percent of fans said about players leaving for the LIV Tour. If our players just said, 'We're doing this for the money,' I would have a lot more respect for them. But how they're covering up what they're doing and trying to make it a thing about sponsors and fans and saving opposite-field events. I think that's all BS.
"Right now, they're just covering their ass and saying everything that the PGA Tour basically has trained them to say, have taught them to say and try to make it not about money when everyone knows 100 percent it's about more guaranteed money being funneled to the top players in the world. We've been talking about money for the last two years and for them not to say that that's not the No. 1 reason why they're making these changes —it's very, very hypocritical."
In the tour's new plan, there will be 16 "designated" tournaments in the '24 schedule, including the four majors, Players Championship, three FedEx Cup Playoffs events and eight other selected tournaments. Four of those likely are the Sentry Tournament of Champions, Genesis Invitational, Arnold Palmer Invitational, and the Jack Nicklaus-hosted Memorial. The tour has said that some of the events will have fields that are limited to 70 to 80 players, with a guarantee to play all four rounds for purses of $20 million or more.
A number of the top players have touted the changes as a big step forward amid the PGA Tour's efforts to counter the guaranteed contracts and hefty purses being offered by LIV Golf. Other observers have expressed concern that rank-and-file players will be shut out from some of the most high-profile events.
Hahn, 41, sits firmly in that second group. The Cal alum is in his 11th year on the PGA Tour and has two wins. He is coming off a season in which he finished 113th in the FedEx Cup standings while posting three top-10 finishes. This season, he's missed six cuts in nine starts and isn't in the field this week at the newly "designated" Arnold Palmer Invitational or the concurrent Puerto Rico Open.
"They have created these elevated events where it significantly impacts other full-field events sandwiched in between full-field events," Hahn told Golfweek. "The solution to their problem is to limit the number of players that get into elevated events to force the other players to play in the other full-field non-elevated events.
"To me, it's a road that we have to be very careful on because going to back our mission and our purpose is to be able to create the best playing opportunities for our membership and be able to contribute and donate back to the communities and the charities that we play in. It seems like the major theme over these past few years has been how do we get the most money to the most popular players on our tour?"
Hahn was referring in part to the Player Impact Program, which rewards players for their visibility on social media and TV broadcasts. This year, the PIP pool is $100 million, with 20 players sharing the pot. As one of four player directors on the PGA Tour Policy Board last year, Hahn was the only one to vote against raising the PIP. Next year, the PIP will be reduced to $50 million and go to 10 players.
"We never should have gone to $100 million to begin with, but that's $50 million we just threw away on this experiment," Hahn said. "And we knew that no one was really gonna go jump ship [to LIV]. You're just funneling money to this small group of people just because they were demanding it. They were literally negotiating with the tour, and they were saying that this is what they want or else. They basically said, not word for word, 'We want $120 million in the PIP or else,' and we said, 'OK, what if what if we give you 100?' 'OK, we'll settle for 100.' That's not how a business is run. That's not how an organization is run. That's not how the PGA Tour should be run."
In the first two years of the PIP, Woods finished atop the standings, despite only six total starts in those two seasons.
"I use the word popular instead of best players because, granted that Tiger is one of the best players to ever have played this game, but he just won the PIP money two years running without really playing golf, without being ranked in the top 1,000 and without keeping his card," Hahn said. "I never would have imagined growing up that someone could make more money just for being popular than for how good they are on the course.
"And I say that as one who believes pay that man for bringing our tour to where it is today, and I'm not saying he doesn't deserve it. But what are we doing as a business, as a company, what are we doing? We're not spending money to provide the best playing experience for our members; all we're concerned with is just pushing money to the top players on our tour. That's where we are getting a great divide between the elevated events and non-elevated events and the players who play those two different tours."