Courses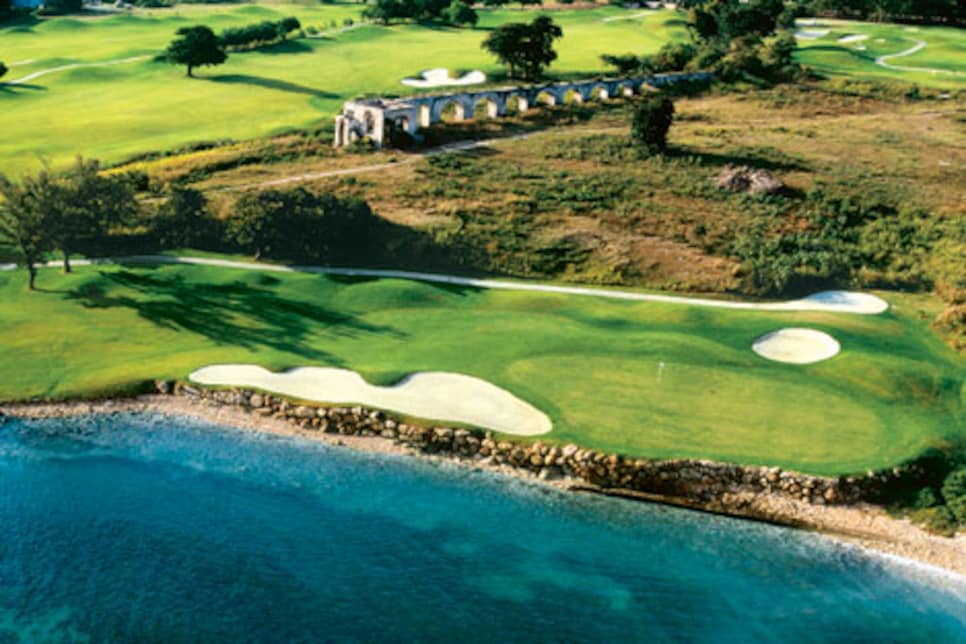 Water music: The eighth at Cinnamon Hill, with an old aqueduct on one side and the sea on the other.
Jamaica's most recognizable "brand identification"—a dreadlocked Rastafarian smoking a spliff and listening to reggae—has been both a blessing and a curse. Nobody confuses the island with, say, one of those interchangeable Saint places. But on the other hand, pot smoke isn't the most family-friendly scent. In truth, Jamaica is a complicated, alluring place—a strange and spicy mix of laid-back, elegant island life and gritty urban sprawl.
It isn't for everyone, but if you're looking for incredible golf, spectacular weather and incendiary night life, you've found the place.
Montego Bay, Jamaica's second-largest city after Kingston, is its golf capital. Three major course-construction and renovation projects have been completed here in the past five years, making it one of the Caribbean's premier golf destinations.
Is Montego Bay accessible for the average American traveler? Well, sort of. MoBay's small international airport is a Caribbean hub for U.S. Airways and Air Jamaica, which makes it an easy trip from New York, Miami and Boston. Air Jamaica has cheap (about $250 round trip) and plentiful flights from the East Coast.
Like most of the Caribbean, Montego Bay has prices and speeds for every budget and temperament. The Ritz-Carlton offers self-contained, effortless luxury, with rooms that will run you $365 a night in high season. Connoisseurs interested in something a little less standardized can choose from a menu of elegant private villas managed by The Tryall Club. They range from $300 a night for a quaint two-bedroom to $19,500 for a week in a seven-bedroom mini-estate. The Wyndham Rose Hall and Half Moon Resort—along with the various Sandals all-inclusive properties sprinkled between Montego Bay and Ocho Rios—occupy the tier just below. All-inclusive packages start at about $200 a night.
The Tryall Club, Hanover (876-956-5681, $80-$115). For those of a certain age, Tryall is Jamaican golf. Peter Alliss and Dow Finsterwald played a match here for the classic "Shell's Wonderful World of Golf" series back in 1962, when Montego Bay was a sleepy fishing town with no paved roads. A series of big-budget Johnnie Walker World Championship tour events in the 1990s established Tryall's credentials as the Caribbean's preeminent championship course. The problem was, the course was starting to show its age, especially when compared to the shiny new resort courses on the other side of MoBay. The club invested almost $10 million for a face-lift, and the money was well spent. Tryall is what it has always been—a fun and fast thrill ride that demands every shot you know, and even some you don't. Now, the conditions befit the setting. The prevailing winds—here, they prevail at 20 or 30 miles per hour—taunt you during your club selection. Luckily, the club has the best collection of caddies on the island, including some that have been carrying there since the place opened in 1959. Don't get too cocky on the short par 4s, either. Golf Director Nelson Long Jr. tells a story about three LPGA pros who collectively took 22 strokes to complete the 340-yard 17th—where the wind will take your slightly faded tee shot and deposit it on the road that leads back to down-town Montego Bay.
The Ritz-Carlton White Witch G. Cse. (not yet rated), Rose Hall (876-518-0174, $125-$159). Tooling around the dramatic White Witch, you wonder why somebody didn't put a golf course here decades ago. Your caddie points toward the dense mountainside scrub that surrounds the course. Then you understand why this was one of the most ambitious construction projects in Jamaican history. It's hard to imagine how they even got chain saws up here, never mind graders and bulldozers. The result is visually stunning. Who needs water frontage when your first tee has commanding 270-degree views of the sea? In reality, the White Witch shouldn't make a Best-of-the-Caribbean list for its design. It has some strange forced carries and punishes you excessively for the slightest miss off the tee, which can make for some long rounds. Yet this is one seriously beautiful course. The deck on the back of the clubhouse is not only the perfect place for a Red Stripe or a Ting grapefruit drink, but it's the perfect place for a golf-crazy marriage proposal.
Wyndham Rose Hall Cinnamon Hill Ocean Cse., (not yet rated) Rose Hall (876-953-2650, $80-$150). When the White Witch course went in, it immediately overshadowed the three-star Henry Smedley waterfront design at the Wyndham Hotel below. So, the Wyndham folks hired designer Robert von Hagge to revamp their course and provide more viable competition for the Witch. They got their wish. The re-christened Cinnamon Hill Ocean Course is superior to the old design—both in its routing and for its use of a more modern irrigation and turfgrass strain. The front nine takes you on a windblown sweep along the beach, and the back snakes up into the mountains. Even after its redesign, the course has plenty of holdover landmarks. The massive Rose Hall plantation house sits as a sentry above the back nine, Johnny Cash lived for years in a villa next to the 14th hole, and the waterfall behind the 15th green served as the set for a classic James Bond seduction scene in the movie "Live and Let Die." Guests at the Wyndham can play for $80 in season—one of the best bargains for a waterfront course in the Northern Hemisphere.
Half Moon G.C., Montego Bay (876-953-2560, $130). If the White Witch is the splashy, expensive special-occasion restaurant you visit once or twice a year, Half Moon is the reliable corner place where the food is good and the owner knows your name. It doesn't have the waterfront location or spectacular views of its counterparts, but the Robert Trent Jones design is still a stimulating test. Jones took a relatively flat piece of land and molded some challenging green complexes, including the nastiest collection of bunkers on the island. Half Moon's straightforward design is Pinehurst-like in its accessibility for the first-time visitor. And like No. 2, it won't be easy for you to score, but you'll almost always be able to find your ball.
Montego Bay's reputation as the party capital of Jamaica is well deserved. The Hip Strip, a stretch of bars and restaurants on the downtown beachfront, is even more packed at 2 a.m. than it is at midnight. Margaritaville (yes, it's part of the Jimmy Buffet-owned chain) is the unofficial epicenter of it all. Its three-level deck offers a commanding view of the bay and the giant sailboats that anchor there—and Margaritaville's three-story water slide, which takes you right out from the bar. Jamaica is a lot like South Philadelphia in that the best places to eat don't always look like much from the outside. The Pork Pit, for instance, is a grungy hut that serves the area's best jerk pork. Wash it down with a brew and count the change from your $10. If you'd prefer to wear something other than a swimsuit and flip-flops when you eat, walk over to the Town House, which occupies the basement of a 300-year-old customs building. Try the escoveitched fish—snapper marinated in lime juice and thermonuclear Scotch Bonnet peppers, then boiled. They'll wait while you screw your head back onto your body.
Course ratings are derived from the exclusive 5-star Golf Digest Places to Play scale. A single star represents "basic golf." Five stars indicates "golf at its absolute best." Golf Digest's Best Places to Play guide, based upon the ratings of tens of thousands of readers, is available for $24.95.
Very good. Tell a friend it's worth getting off the highway to play.
Outstanding. Plan your next vacation around it.
Superb. Golf at its absolute best. Pay any price to play at least once in your life.
The equivalent of one-half star.
If a course has no star rating, it means that the course did not receive a minimum of 10 ballots, either because it is very new or simply was not visited by a sufficient number of Golf Digest readers. If you've played one of these courses and would like to rate it, click here.