News
Jake Owen's Web.com Tour playing partner scolds critics, praises country music star for fiery in-round tweet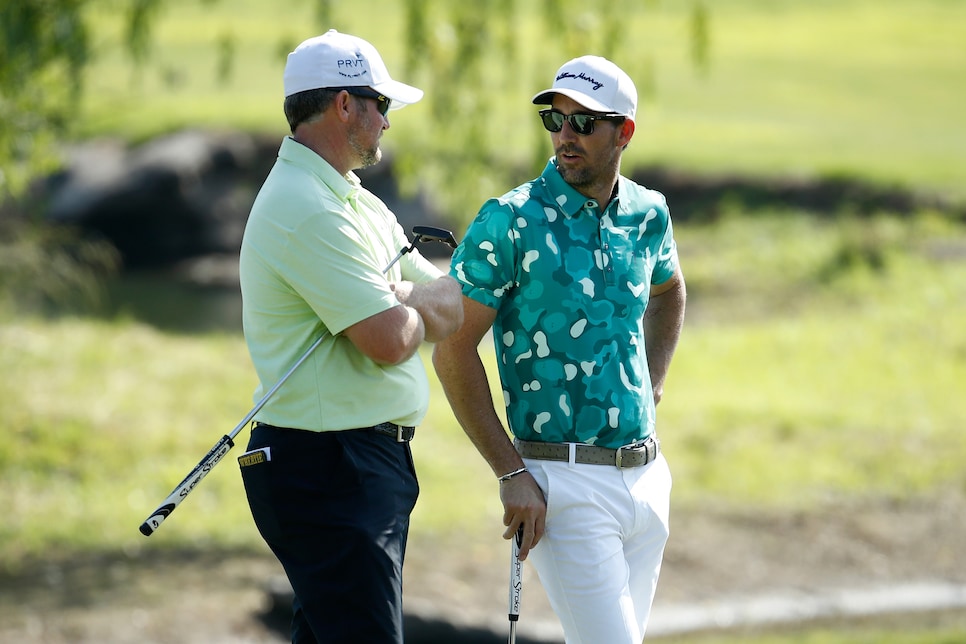 Jake Owen became the latest celebrity to try a turn on the Web.com Tour on Thursday at the Nashville Golf Open. Predictably, it did not go well for the country music star as he opened with 86, the worst score of the first round by six shots. But while critics took shots of their own at him -- including one that Owen responded to during his rough round -- one of Owen's playing partners, Steve Wheatcroft, rushed to defend the sponsor's exemption he was given and that mid-round tweet.
The two-time Web.com Tour winner later added this:
As Wheatcroft points out, these types of sponsor's exemptions can go to anyone. Often they don't go to tour pros, but to local pros or amateurs. Of course, those cases don't draw nearly the scrutiny or attention.
And if Owen wasn't holding up the proceedings according to his playing partners, even during a front-nine 46, then his presence at the tournament is doing a lot more good than harm. And Wheatcroft came to Owen's defense after shooting a disappointing 75 himself.
For what it's worth, Owen posed for photos with a smiling Dawson Armstrong, the third member of the group, after the round. Armstrong, playing in his first event as a pro, opened with a two-under-par 70.
And even that mid-round tweet exchange turned into some good. After getting roasted by Owen, twitter handle @DougWalker21 turned the moment into a charitable opportunity.
Well done. And this effort has really taken off with people from Wheatcroft to tournament sponsor Brandt Snedeker, jumping in on the action. As of Friday morning, five hours before Owen's second-round tee time, check out how much each birdie he makes would be worth:
Of course, Jake will actually need to make a birdie for this to pay off. Hopefully, he was saving all his low scores for Friday.