Details
Masters 2023: The subtle change Jack Nicklaus made for his honorary start that spoke volumes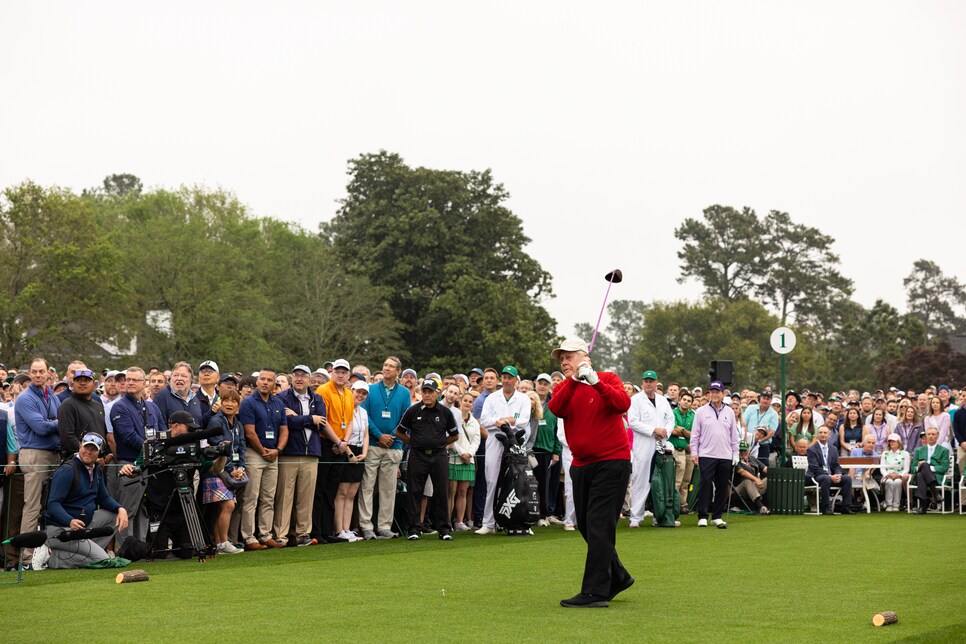 AUGUSTA, Ga. — You've got to get up pretty early to bear close witness to one of the great Masters traditions: the honorary start. Before Gary Player (87 years), Jack Nicklaus (83), and Tom Watson (73) hit their drives down No. 1 at 7:40am, Augusta National was aglow in floodlights and staff busily putting things in their right place. Wires for audio, chairs for distinguished observers, the various items of ceremony. As the dawn emerges, every blade of grass comes into view like a sky of stars.
Owing in part to the joy and wonder inspired by a sunrise here, people easily comply with being asked to stand back with their paper coffees. There will be a time later to converge on the rope line and jockey for position. And if you do well, you're treated to a feast of details. Like the earnest vigor of Gary Player toweling the morning dampness of his grip. The aging smile of Watson as he cracks a joke. And most pointedly with Nicklaus, the Augusta National logo on his sweater and cap.
Wait, where is the Golden Bear logo?
At the 2022 honorary start, and for what seems like all of time, the iconic logo of the six-time Masters winner has signified his prime years when his bodily strength and blonde locks brought to mind this ursine mythological being.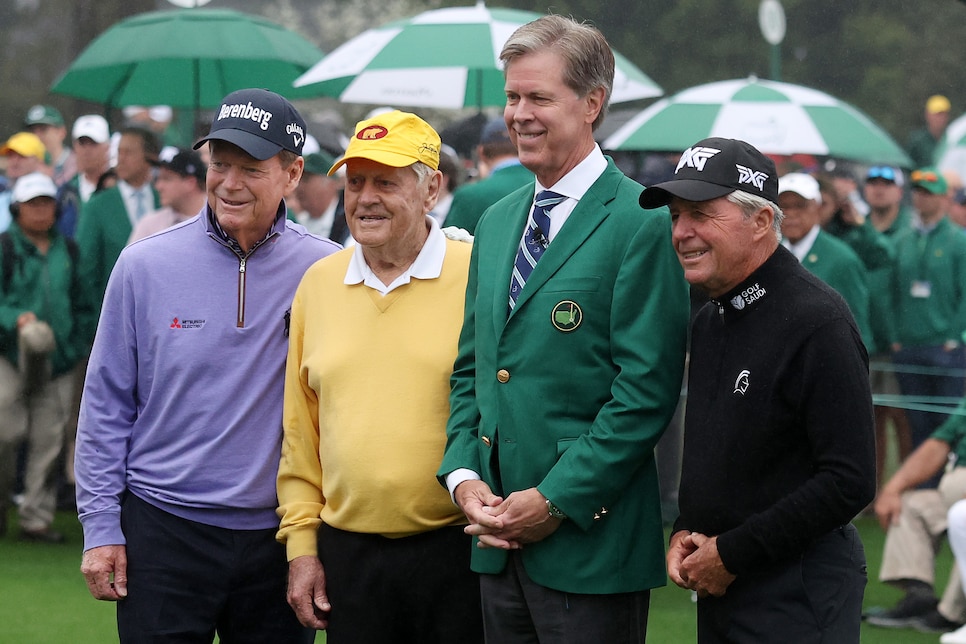 Nicklaus sported the Golden Bear logo for his opening tee shot in 2022.
Gregory Shamus
Well, the Golden Bear logo is one of several elements involved in a pending lawsuit between Jack Nicklaus and The Nicklaus Companies, LLC–which is the company Jack founded but sold control to Howard Milstein, CEO of Emigrant Savings Bank. (Milstein is also the chairman of 8AM Golf which holds GOLF Magazine, against which Golf Digest competes.)
In our next issue of Golf Digest, coming at the end of April, we dive into the history of this peculiar case. Given the sensitivities, let's leave it at that for now.
Although Nicklaus did hit his tee shot, a solid pop down the left side, with a Golden Bear logoed glove. It looked worn, although he's acknowledged he's not playing anymore. Maybe it was the only one in the bag.