Remembrance
Jack Nicklaus reflects on his friendship with the late Sir Michael Bonallack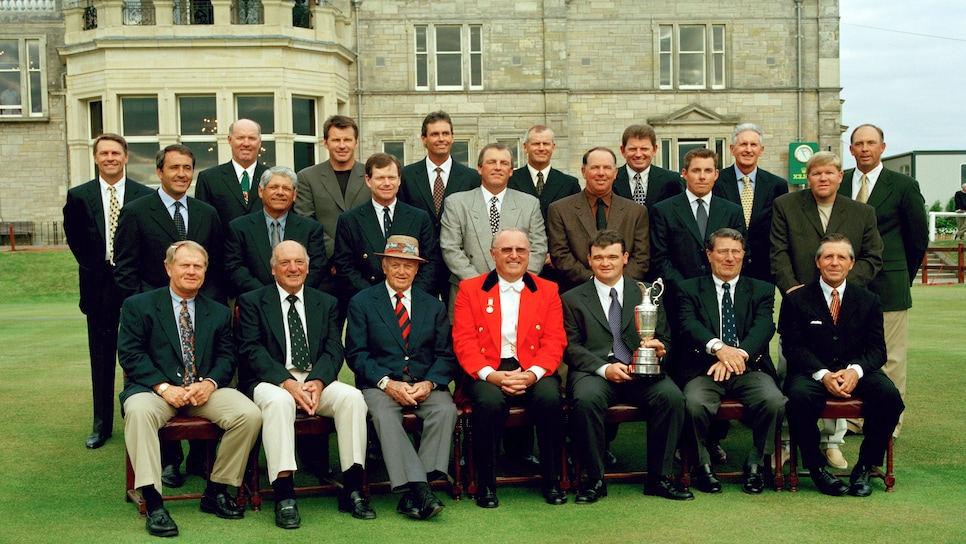 Jack Nicklaus (far left) and other Open champions pose with Sir Michael Bonallack, then captain of the Royal and Ancient Golf Club of St Andrews, in 2000.
Michael Joy/R&A
Editor's Note: Sir Michael Bonallack, a standout amateur and former secretary and captain of the R&A died on Sept. 26 at age 88. Jack Nicklaus, who first met Bonallack as an amateur golfer in 1959, reflects on their relationship, and Bonallack's sizable impact on the game.
My nearly 65-year friendship with Michael Bonallack began at a seminal moment in my life, when I realized the game of golf would be my chosen sport and career path. It was the 1959 Walker Cup, when at age 19, I made my first trip to Scotland and, as one of the top amateurs in the U.S., brought with me my first real convictions about a career dedicated to the game. That week at Muirfield is when I met for the first time the young man from England.
I immediately respected Michael as a player and a person. He was a gifted golfer, but an even more gifted individual and gentleman. My respect and admiration for Michael continued to grow with each decade of our friendship—one that my wife Barbara and I shared with both Michael and his wife of 64 years, Angela, who we lost in July 2022.
A kinship was at the foundation of our friendship—a shared respect and love for the game of golf. Michael's passion for the game, along with tremendous leadership skills, was always an ever-present asset in his work with The Royal and Ancient Golf Club, and even his role as a member of the Memorial Tournament's Captains Club.
While he always embraced our game's traditions, Michael was an important voice through golf's growth, evolution and global expansion. He was an influential ambassador and someone always dedicated to properly shaping the future of the next generations of golfers.
With the passing of Sir Michael Bonallack, our sport mourns the loss of a passionate, invested and devoted advocate. And personally, Barbara and I are deeply saddened, because our lives were made richer by being able to call Michael a friend, and we will greatly miss him.