News
Jack Nicklaus, Phil Mickelson, Fred Couples and other golf legends honor President George H.W. Bush at memorial service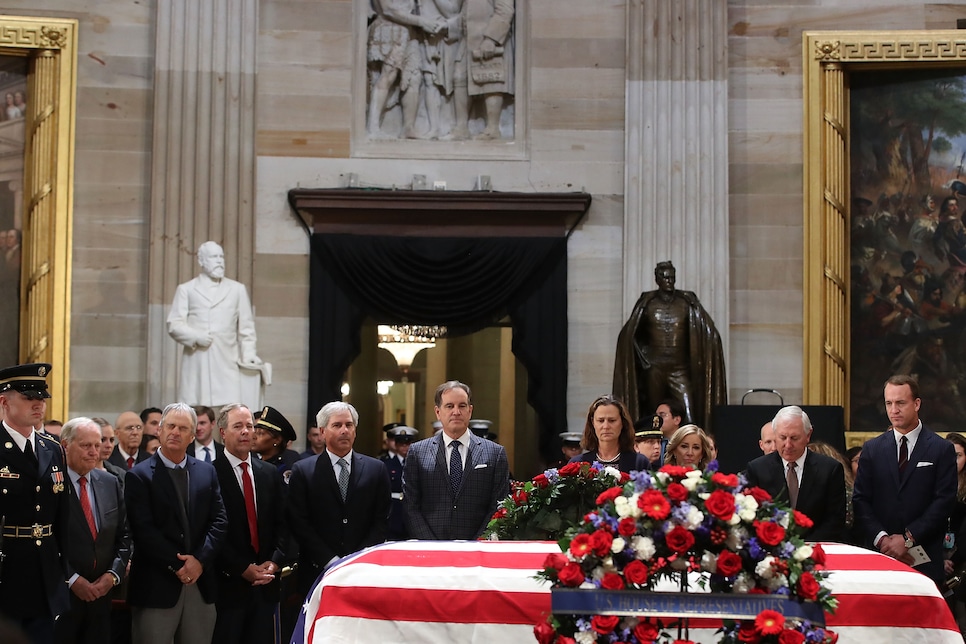 Bush, whose body was lying in state at the Capitol Rotunda in Washington, D.C. before his funeral on Wednesday, was visited by horde of sports notables. Among them were Nicklaus, Phil Mickelson, Fred Couples, Ben Crenshaw, Hale Irwin, Greg Norman, Brad Faxon and Jim Nantz.
The 41st president, who passed away on Friday at age 94, was a champion of the sport. While he once captured his club's championship, his game was more famous for its pace. "Speed may be the only thing I'm known for on the golf course," Bush told the authors of My Best Day in Golf: Celebrity Stories of the Game They Love. He claimed to have the course record at Cape Arundel: "An hour and 20 minutes," Ken Raynor, Cape Arundel's professional, would explain.
Bush's golf roots ran deep. His maternal grandfather, George Herbert Walker, was a former USGA president who was instrumental in founding the Walker Cup. Bush's father, Prescott, was also a USGA president.
Bush was the honorary chairman of the First Tee when the organization was founded in 1997. He attended several Presidents Cups, Ryder Cups, Houston Opens and other professional events, and played in the 1995 Bob Hope Chrysler Classic. He received numerous sportsmanship and service awards from the USGA, PGA of America and PGA Tour, and was named to the World Golf Hall of Fame in 2011.